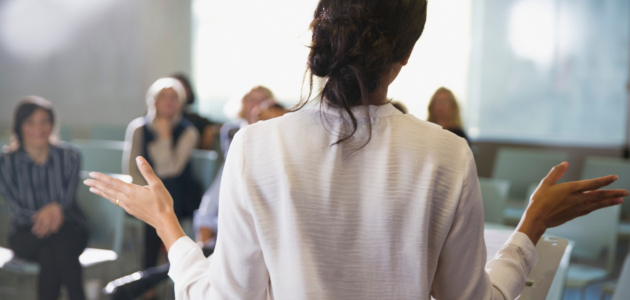 PRESENTATIONS THAT REACH YOUR AUDIENCE
So they don't tune you out
Description
Interactive and engaging workshop, learning how to create presentations and training materials which reach the variety in your audience. If you are a speaker, workplace trainer, or provide presentations, a moment that you would like to avoid, is when you see people 'tune out'. Find out what sparks engagement and interest in your learning experience design. Understand a variety of learning preferences and how to layer this into your presentations and tools. Receive an Audit Tool, and Presentation Resource Guide . Whether you create using PowerPoint as a tool, or facilitate workshops with flip charts, lead lunch 'n learns, provide keynotes, create training curriculum, online or offline, you will receive valuable knowledge to implement into your organization or business education and communications.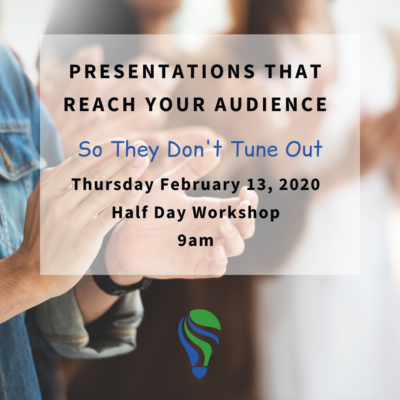 Thursday February 13, 2020 9 am - 12 noon $250 + Tax/Fees Free parking. Continuous refreshments provided (included). Workshop materials and take home resources also included.
Workshop Goal
Grow your confidence and awareness on how to reach the variety in your audience, so some people don't tune you out when you start speaking or training.
Workshop Outcomes
To understand a variety of learning preferences and how to incorporate this into your presentations and training materials. Understand practical ways to reach a diverse audience, going beyond the way you like to receive information. Grow your confidence if you use PowerPoint as a tool, along with expanding your facilitator, or speaker toolbox, if you create learning experiences by other methods. Expand your awareness of online and in-person tips and resources you can implement into your speaking and facilitation practices.
Bio
Patricia Regier brings over twenty years of experience creating and facilitating training within workplace and community setting, across a variety of sectors. She is an engaging and sought-after speaker and facilitator, merging a Master of Adult Education with practical application. Patricia uses a variety of multi-media tools and resources when designing learning experiences online or in-person. Her enthusiasm for making any training topic engaging, equips others to elevate their presentations and training materials. Patricia's skills include academic knowledge, practical experience, and technical expertise, to help you create and design learning experiences which reach, engage and light up the variety in your audiences.
Recent Posts
I'd love to connect. Here's my calendar link to make finding time easy.
October 2023
S
M
T
W
T
F
S
1
2
3
4
5
6
7
8
9
10
11
12
13
14
15
16
17
18
19
20
21
22
23
24
25
26
27
28
29
30
31
Engage your audience, turning them into participants! Join our learning community:
Subscribe for Free
© 2023 Regier Education Inc. | Online Learning, Workshops & Facilitation. Designed by Ex Nihilo Designs

We live and work on the traditional territory of the Haudenosaunee, Anishinaabe, Mississauga and Mississaugas of the Credit First Nation Lands.