I am very excited to share what I have been working on:
YOUR Access to the Free Infographic Resource Download
Transcript of video message above:
I'm so excited to be sharing with you a little bit behind the scenes a quick peek behind the curtain of what I've been working on for you.
I've been spending a little bit less time on the weekly videos, although more will come on to YouTube or the weekly blogs, but more will come with that too. I've been taking a step back and really responding to what people have been asking me for. They would tell me they would love a blueprint as to how to create an online learning event, a virtual learning experience what's involved, what should they make sure that they don't forget to do that they don't even know to do. So I've been creating this five day mini course the five day challenge on different elements that are super important.
I haven't cut this and laminated it yet, but it's Live virtual events Resource.  This is going to be a free download. It's a quick reference card infographic with, you know, very quickly promotions. What do I mean by those five PS with a five day challenge, there's going to be a little challenge each time to a call to action for what can you do with the information so it's practical, applicable, and in really quick and easy information that you can apply them right away.
If people want to get into more in depth, I will have other resources and information too. But let me just take you behind the scenes going to share here a little bit. I've been working on this course Pretty soon, I hope this week and maybe in the link below this video or in the blog that's included with this. I might have this Ready even today. So I'm creating this five day challenge course facilitating online learning events, it could include meetings to a roadmap for creating that virtual learning experience.
I'm hoping to have it soft launch the end of this week. There's so many moving parts behind the scenes that I need to get ready, but it's so exciting. So I'm going to show you a little sneak peek as well. And so you can already sign up for the course but what I'm planning to do as well, following the lead of a colleague, that each week when I'm ready to launch it fully, I will offer the module free for a week and then the next one free for a week for one of the five day challenge. If people want to buy the whole thing, super low cost earlybird introductory rate with huge high value.  I just I have most of the videos all up just some of the checklists and additional resources I'm still creating. But let me just take a look here and I'll show you is so day one I have the quick intro then a little image of the the checklist that goes with it the beginning of the course you would get the download as well.
Additional information is going to be added and expanded on even more in upcoming book.
So many exciting things are happening. And then you can download this checklist too. So I'll make sure when I go in here that I have made the checklist enabled download so that you can download that as a checklist and then I have this has a lot of fun. The challenge as well.
I'm working on some additional supports and resources. (Video Screen Sharing) So, that's day one. I wanted to create a course that fit into your busy life, but give you that blueprint jump-start on. What's the difference facilitators, if you're used to speaking in person, and now you are jumping online? What's the difference with a live event? Or you're running, leading your team online? and feeling? Maybe not as connected? What are things you can do to reach and engage the variety of learning types in your audience? And what are the pieces from that learning experience journey that maybe you don't realize or miss steps to help you set up your event for success and set it up as an amazing, fantastic experience for your participants. And that means engaging, and interactive and I give you lots of ideas and resources. I'm just so excited to be sharing This knowledge that I have to share it with you.
So this is just a sneak peek as to what's coming soon to stay tuned but if you're interested I will put links below and if you don't see it today it will be there within the next few days. And thanks for checking this out. You're watching this on YouTube, please subscribe it's free it really helps support the channel and support me in letting YouTube know that this free content is a value in helpful to other people recently had a video go over 500 views super exciting and people can find it a lot easier. If I'm getting likes on the videos, comments people are sharing them. But especially that's subscribe and let other people know if you're a facilitator, entrepreneur speaker, you create content and speak and Lead presentations or training. This is the place for you. My name is Patricia Regier. This is Regier Educational Services recently changed some of my social media channel, handles to @RegierEducation
I hope that you have a light bulb learning moment today and that you're able to reach and engage your audience and create those light bulb aha moments when you're creating your learning experiences. Thanks again and until next time, I'll see you soon.
Transcribed by https://otter.ai  (Not fully edited)
Want More Tips & Resources?
Join our email list, and gain access to downloads, resources and tools you can use, through our secret and exclusive member web page. Get this free two page download, packed with TIPS, when you join the email list.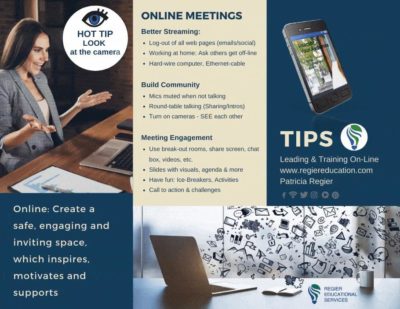 Book a complimentary meeting if you are interested in exploring to design your next learning experience or event.
Author

Patricia with Regier Educational Services, helping you reach and engage the variety of learning personalities in your audience. Education includes a Master of Adult Education, a BA in Psychology, and twenty years experience developing and facilitating workplace, community and collaborative training.  Online learning experience facilitator, and workshop trainer. Utilizing teaching adults best practices, and innovative multi-media resources to emphasize your message. As a content creator, speaker, and facilitator, learning experience design ensures that the variety of people in your audience are engaged.
What We Do
Expertise: Multimedia Content Creation, Engaging Variety Learning Types & Online Workshop or Meeting Hosting.
Production Partner, supporting your online learning event: We do more than tech
Content Creation Services  (Tune-up Your Tools)
Speaking & Group Facilitation (Online & In-Person Workshops)
Consultation & Individual Training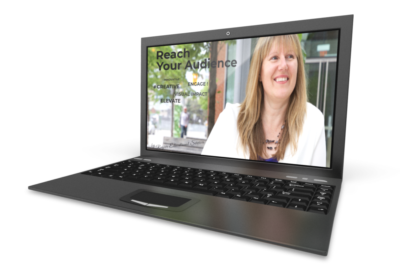 Engage Your Audience 
Regier Education Online Courses
Inspired Learning Personality Quiz
Affiliate Links: Tools I Use
CyberLink PowerDirector: https://bit.ly/2Tn4bZz
LATER Referral Program: https://later.com/r/7bb9ed
Canva Affiliate Link: https://canva.7eqqol.net/reachyouraudience
PresenterMedia Affiliate Link: https://bit.ly/2YqBk7H
ZOOM Affiliate Link: http://bit.ly/2DZ3gWE
TOOLS I USE Video Playlist: https://bit.ly/2TkGqS6
[social_warfare buttons=" "]
To request more information about learning and development opportunities, or book Patricia as a speaker please use the contact form below, or Email patricia@regiereducation.com