Let's welcome people in…
Today we're going to take a look at how to customize your Zoom waiting room. This will ensure your audience has a welcoming experience right from the start. The Zoom waiting room is the first part of your attendees' meeting or learning event experience. Let's take this opportunity to make them feel welcome and let them know they're in the right place.
Your Zoom account settings:
The Waiting Room settings are in your Zoom account (where you need to log-in through a browser).  Our video shows you the pathway to finding the Zoom Waiting Room location where you can customize and edit.
First things first:
Make sure your Zoom waiting room is turned on, and then you will find the option to edit.  You can choose to have everyone placed into the waiting room.
Customize your Zoom waiting room:
Now you can customize your Zoom waiting room, so it is a welcoming and provides the information people need.  You will find the Customize Waiting Room link beside the edit link.  Here's where the magic happens.  Once you're in, you can add a welcome message such as "We're so happy you're here!  We'll get started shortly." or however you would like to greet your audience.
Add your logo or picture:
You will see the option here to add an image.  This can be your logo, a picture of yourself or if you're collaborating with another company, you might create a graphic of both logos.  This might just be where people get their first glimpse of you or your company.  Make it memorable.
If you are collaborating for the meeting:
If you are working with another group, you can add a customized join logo or image for your event. However, remember that this is the waiting room for ALL your meetings and events, and you may want to edit this logo before your next meeting.
Meeting title or topic:
Right beside the image option is where the waiting room will pull from your meeting topic or title.   This will always be specific to each meeting (along with the date and time) and will ensure that people know that they're in the right place at the right time. This pulls from your meeting title, so make sure that it's clear and not just a generic name, when you schedule the meeting.
Your final waiting room message:
Near the bottom, you will see where you can edit the message that tells everyone who is waiting that you will let them in soon.  This is important information so people know it may take a few minutes for them to be let in and to be patient and not to leave.  You can add additional details such as if you are having technical difficulties what to do… or "Get ready to have your mic and camera on".  When you're message is perfect, be sure to press the checkmark, and then close, in order to save it.
Hot Tips!
People may test your link ahead of time, therefore it's important to have your waiting room activated. This is another opportunity for people to see a friendly and inviting message before the event and make sure they have the correct link (by seeing the meeting name, time and date).
PLUS don't forget that when people are in the waiting room they don't see anyone else. It's important to send them messages, as each new person arrives. If you aren't opening the room right away, let them know you are happy they are here.
Your new Zoom waiting room:
Now that you have made all of your edits and are happy with your new and welcoming waiting room, you are on your way to creating an engaging online learning experience for your group.  Everything you do to customize your meeting just makes people realize that you've put in the extra effort to make them feel special.
How To Customize Your Zoom Waiting Room Tutorial
I hope you find these tips to customize your Zoom waiting room helpful.  How to prepare and make your guests feel most welcome to their next online learning experience.
10 Tips for Opening Large Group Meetings. Please check out his fantastic blog as well.
Regular Quick Tips & Full Tutorials
I share quick tips and tutorials with you, saving you time, and helping you create engaging online learning experiences! Keep following us on social media for regular quick tips, our videos for weekly insights and tutorials and our blogs to access added highlights! If you have not subscribed to our YouTube channel, we invite you to do this. It just lets you know when a new video is posted. Not all videos are included in blogs. However, our Blogs provide additional tips!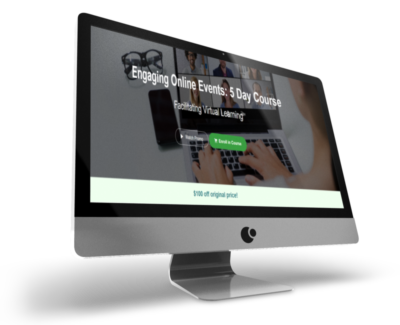 Click for your exclusive offer
Don't Forget About:  Our Free Quiz, about different learning preferences.
Author

Patricia with Regier Educational Services, helping facilitators engage the variety of learning types in your online audience. Education includes a Master of Adult Education, a BA in Psychology, and twenty years experience developing and facilitating workplace, community and collaborative training.  Online learning experience designer and facilitator. Utilizing teaching adults best practices, and innovative multi-media resources to emphasize your message. Engaging content creator,  facilitator and online production partner.
 Engage Your Audience 
Affiliate Links:
LATER Referral Program: https://later.com/r/7bb9ed
Canva Affiliate Link: https://www.canva.com/affiliates/CCCPR45
PresenterMedia Affiliate Link: https://bit.ly/2YqBk7H
ZOOM Affiliate Link: http://bit.ly/2DZ3gWE
CyberLink PowerDirector: https://bit.ly/2Tn4bZz
Tubebuddy: https://www.tubebuddy.com/PatriciaRegier
SurfShark VPN: https://surfshark.club/friend/8epqkB3N?locale=en
Melon Live Streaming APP: https://melonapp.com?ref=patricia
Want More Tips & Resources?
Join our email list, and gain access to downloads, resources and tools you can use, through our secret and exclusive member web page. Get this free two-page download, packed with TIPS, when you join the email list.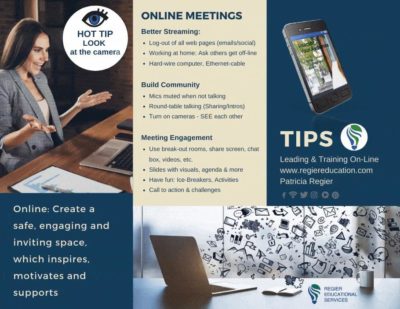 [social_warfare buttons=" "]
To request more information about learning and development opportunities, or book Patricia as a speaker please use the contact form below or Email patricia@regiereducation.com