New Canva Screen Record & Video Editing Options!
Canva has a new Screen Record feature!  I am excited to share this new option with you, along with Canva's video editing options too!
For this tutorial, I will use a free Canva account instead of the paid pro account. I usually use my Canva Pro account to create tutorials for you, but I wanted to show you that anyone can start with Canva.  [You will find a link below to sign up for your own account.}
To get started on your first Canva Screen Record, click/pick 'Uploads' and there you will see the option to record yourself.  Be sure that you have the correct camera and microphone connected before you begin.  You have the choice of using more than one monitor which is amazing for screen sharing your slides and putting together a wonderful video for any occasion.  You will see that when you hit the Record button that you get a 3-second countdown that gives you time to make sure you're camera-ready.
When you are screen sharing, your image will record in the lower-left corner of your screen and you can pause and restart yourself on the screen.  Keep in mind that this will record both files separately, or you can download the combined file first.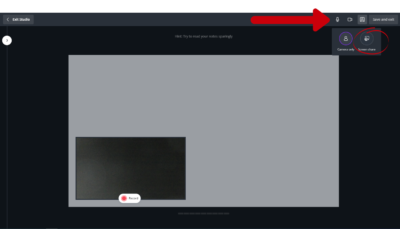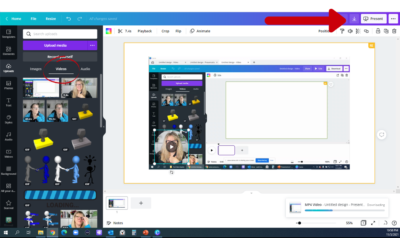 Create your video then edit…
Now that you've recorded a video, you can open it with the Video template option in Canva and edit.  You will click on Uploads and then Videos to find your file(s). You can combine a variety of video clips and Canva options.
This is where the Canva Design magic happens.  You have the ability to overlay the recordings and use both files to create your ultimate presentation! You can overlay one file onto the other. Canva also gives you the option to make the video file of yourself talking, larger or smaller. I found the recorded files, under 'uploaded' and videos.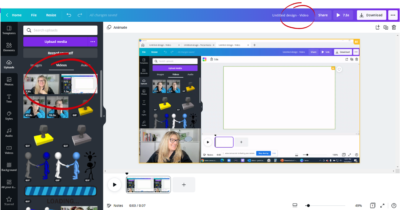 Just a few of the 'Canva Screen Record' and 'Video Edit' options available to help create.
You can:
Flip your video around
Use animations to have your video enter the screen
Add text to your screens
Add sections to your video such as intro and outro images and recordings (many edit options and templates in Canva)
Insert interesting transitions are available in-between video clips
Music is also available in Canva
And so much more!
When you're finished looking at all of the terrific options and tweaking your video, you're ready to download.  Just click the Download button at the top of the screen and you can save your file where you will easily find it to use in the future.
I have explained a variety of options within this article, however you really have to watch the video to see just how amazing it all is. You can create a customized video with the templates that Canva has to offer.  This new Screen Record option will take your presentation to the next level and this can all be done on a FREE Canva account.
You can sign up for a free account with Canva, or the paid Canva Pro Plan – with a lot more options. In my opinion, it is 100% worth it! NEW Canva Affiliate Link: https://partner.canva.com/PRegier
Canva's New Screen Recorder & Video Editor
I hope you found this helpful and that you will explore all of the options in Canva. This is one tool to help you create engaging presentations that will turn your audience into participants.
If you have any questions or topics that you would like me to create quick tip videos or tutorials about, please be sure to click through the video above and leave a question/comment.
If you missed them, we just ran a series of 3 blog posts/videos that help you prepare your virtual facilitator back-up plans, whether it be a computer crash, power or internet failure:  
Cell Phone Booster and Internet Backup Option
What a Virtual Facilitator Can Do During a Power Outage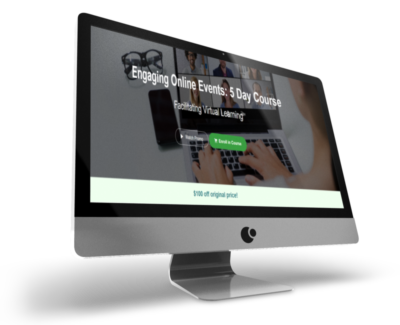 Turn your audience into participants!
Regular Quick Tips & Full Tutorials
I share quick tips and tutorials with you, saving you time and helping you create engaging online learning experiences! Keep following us on social media for regular quick tips, our videos for weekly insights and tutorials and our blogs to access added highlights! If you have not subscribed to our YouTube channel, we invite you to do this. It just lets you know when a new video is posted. Not all videos are included in blogs. However, our Blogs provide additional tips!
Author

Patricia Regier is the founder of Regier Educational Services. Expertise in helping facilitators engage the variety of learning types in your audience. Education includes a Master of Adult Education, a BA in Psychology, and twenty years experience developing and facilitating workplace, community and collaborative training. Learning and Development Consultant, Facilitator, and Master Virtual Producer. Utilizing teaching adults best practices, and innovative multi-media resources to emphasize your message.
 Engage Your Audience 
Affiliate Links:
Jackery Battery Back-up System: https://www.jackery.com?aff=567
Canva Affiliate Link: https://partner.canva.com/PRegier
PresenterMedia Affiliate Link: https://bit.ly/2YqBk7H
ZOOM Affiliate Link: http://bit.ly/2DZ3gWE
CyberLink PowerDirector: https://bit.ly/2Tn4bZz
Tubebuddy: https://www.tubebuddy.com/PatriciaRegier
SurfShark VPN: https://surfshark.club/friend/8epqkB3N?locale=en
Melon Live Streaming APP: https://melonapp.com?ref=patricia
Want More Tips & Resources?
Join our email list, and gain access to downloads, resources and tools you can use through our secret and exclusive member web page. Get this free two-page download, packed with TIPS, when you join the email list.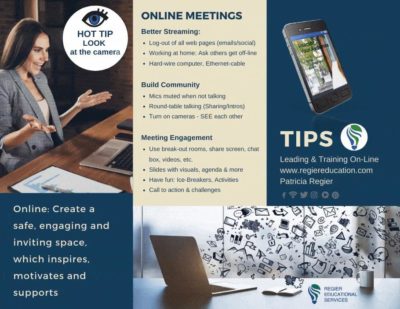 [social_warfare buttons=" "]
To request more information about learning and development opportunities or book Patricia as a speaker, please use the contact form below or email patricia@regiereducation.com