Celebrations & Milestones to Commemorate Together!
Ending a chapter is full of celebrations, and envisioning what is next. It is a time of looking back and ahead and trying to also celebrate and be present in this moment. It is the time in-between that is full of potential and ponder. The end and the beginning are almost one and the same. I hope I have not lost you here, as I reflect and share. I have marked almost every year of the business, and at the same time, I have also published a book. It's not a bad way to reach five years in business, by also becoming an author! Join me to celebrate! And of course, I always want to give you value with tutorials and pro tips
There is a lot we are celebrating today!
I just celebrated five years in business
My first book is published: The Online Shift
Thank you for being part of these celebrations and this journey!
Celebrating Business Milestones
Reaching five years in business is an achievement. My goal is to be growing Regier Educational Services, and my work for many years to come. However, when starting out, it is not an easy path! I remember hearing in the new business classes I took, that many businesses don't reach three years and even less reach five years. I want to celebrate with you, this achievement! Here is my live stream from the five-year anniversary day.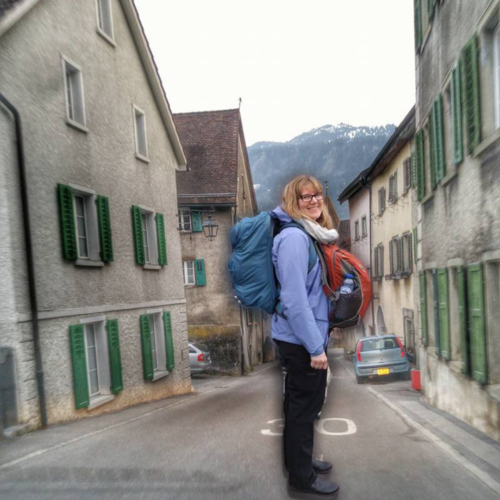 Celebrating Then and Now
You may have already heard my story, of the three leaps of courage. Five years ago I left a job without having another job lined up (not typical for me!). Next, I went to Europe for the first time and backpacked for three weeks. After returning home, it became clear that it was time to build my own business, and that is when Regier Educational Services began. It's been quite the journey!
Celebrating What is Next:
More focused themes for upcoming blogs, videos and podcasts. If you have a topic, please share it with me
Some collaborations on videos and podcasts, I welcome the opportunity to be a guest and host guests
Another book in the future, but I will be focusing on The Online Shift, my current book for a while first!
Maybe a book tour, at local libraries, or bookstores?
The intention is to share my keynote at conferences, events and organizations
Future blogs and videos will give you information relevant to you, and content you can use!
Celebrating Becoming an Author
The journey to becoming an author officially began two years ago, when I started to pull together the content that I had created over (at that time), three years. Actually, 20+ years of experience and a Master of Adult Education, plus my degree in Psychology all fuels the knowledge and pro tips I share with you. I share more about this journey in this blog/video. I can hardly believe that the day is finally here!
Publication Day was busy but very rewarding! Having a launch party on the day of the big push into the world, was an experience that completely filled my heart and soul! The affirmations and celebrations within our group of 20, and with more colleagues and friends on all social media platforms, plus texts and messages from friends and family meant a lot to me. The launch party included the best people I could have been blessed with in walking alongside me on this journey. Thank you to all of you who have celebrated with me, who sent me messages, who bought the book, and who told others about it.. [I will add the Launch Party edited video – so that it's shorter, here as well, soon]
There is more to do after 'pub day', but I am intentionally enjoying this moment! Thank you! Check out the NEW promo video below.
Thank you to Life to Paper Publishing, Tabitha, Monty & Matt for creating this fantastic video!
Celebrating the Book
I am thrilled to share my book with you, which is available now. You can get your copy of: THE ONLINE SHIFT, 101 Pro Tips for Online Facilitators, Digital Teachers, Workplace Trainers, Virtual Speakers & Online Meeting Leaders.
The whole world is now online. We've shifted. Whether it caught you by surprise and made you pivot your business or you saw it coming a mile away, The Online Shift will help you handle your online presence like a Pro. With over 101 tips that are far from generic, Online Expert, Patricia Regier, helps you stand out from the crowd, make your meetings, virtual workshops, training and online events memorable and do it with ease. If you think you've got a lot to learn or there's nothing left to know – this book will surprise even the most seasoned of online professionals. Turn your audience into participants, deliver the unexpected, learn to teach online the way your audience learns and retain best, and have fun doing it.

Ways to Support an Author
Write a review – Amazon and GoodReads
Share with others – take a photo, post it on social media, tell others about the book, and buy the book as a gift.
Please tag me @RegierEducation and use the hashtag #TheOnlineShift
If you have never written a review before:
Hot Bonus Tip:
If you have a dream, even if it's big, go for it! Just over 5 years ago, I took a HUGE leap of faith and courage, and I am very glad I did! Thank you for being on this journey with me.
Celebration Live Stream Video & Podcasts
Author

Patricia Regier, MEd is the Online Expert who's built a career on the belief that training and online learning doesn't have to be boring. As Owner of Regier Educational Services and with a Master of Adult Education, Patricia is known for making her audience feel empowered, engaged, courageous and confident. Her debut book and keynote, The Online Shift teaches newcomers to the online space and seasoned professionals alike how to optimize their online presence and maximize engagement. She's tried, tested and refined using the latest behavioral science, research and psychology to make sure your next online experience is a hit!
Complimentary 15 Minute Meeting
To book Patricia as a speaker or consultant:
Please use the button above or email patricia@regiereducation.com
Regular Quick Tips & Full Tutorials
Sign-up for Facilitator Tips & Resources email member news
Subscribe to our YouTube channel!   
Like us on Facebook 
Pin this on Pinterest
Share on LinkedIn
Listen as a Podcast
Take the Learning Quiz
Register for our Course
Additional resources