Who doesn't love a good chat?
I often have great conversations with my colleagues about online facilitation and the different aspects of creating great training programs. The other day I had one of those chats about evaluations and we decided to record the conversation. We curated some clips that I thought would be helpful for you in, when creating your learning evaluations. The training return on investment is an important aspect when planning learning design and working with our clients and participants. (I kept the confidentiality of the person I was chatting with, and provided this video/podcast with their permission). How do you measure training outcomes and validate the return on investment?
We don't know what we don't know.
Evaluations can be tricky and it is sometimes a good idea to do a pre and post-evaluation with your participants. Many times people may come into a program thinking that they know a lot more about a topic than they actually do. If you have a measurement of what they know before you start, you can get a better sense of what they have learned. Your participants will also realize how much progress they have made and how much more they have to learn. Just a caution, that in these situations the 'how much did you learn' may appear to go backwards.
Testing Methods
When creating a certification course, you should start with the outcomes. As the instructor, you want to be able to gauge how much your students have learned. Make sure you are asking the right questions. We also must provide the content that is being evaluated. Evaluations are a good way to test the transfer of knowledge and if the desired outcomes have been reached. You will need to know what you are expecting participants to learn. Plus, how they will apply the knowledge is also important to them when you evaluate the learning outcomes.
Learning Outcome Statement
Learning Outcomes are statements that clarify what participants will learn, or be able to do or demonstrate when they have completed a Course or Program. They should be specific and include:
WHAT: Begin with an Action Verb – describes the level of learning expected.
HOW: Describe the knowledge and abilities, and how they will be demonstrated.
WHEN: Time-bound – i.e. by the end of the course/class/program/seminar/workshop

Follow up the learning.
Not all evaluations should be at the end of a program. Some will be done weeks or even months after the program has ended. There will be sometimes when your students will learn by doing and you will want to keep on going evaluations in place to measure how they are doing post-course. These touchpoints will keep your participants engaged and keep you up to date with their progress.
Keep it interesting and engaging.
We have all had people show up for a program as a must-attend by their employer. Therefore those evaluation results may differ from those who wanted to attend the training. Adding questions that will not only invite negative complaints is important.  For example, "Name something you enjoyed in the learning." Or "Name one thing that gave you a lightbulb learning moment". Or "Name something you will apply from what you learned." You can also ask how committed they are to using what they have learned.  These invoke positive answers even from those who were dissatisfied due to not wanting to attend.  Instead of asking "What would you like us to do differently", you can ask "What is your wish for the learning program?" These are often referred to as 'Two Stars and a Wish' short evaluations.

What is their why?
What is something that your participants would like to learn more about? People will use what they are interested in and committed to.  Finding out what motivates people can be crucial in creating positive behaviour changes.
Keep it simple.
Clear, concise questions will invoke clear concise answers. Keeping the questions easy to understand will help people of all learning types to more easily digest and respond to. If you have your participants do the evaluation while still in the course, or before the end of the workshop. This will ensure that you get the majority of the participants to complete the survey. You can provide a link and a timer and have them fill it out so that they don't forget. There will also be times when you want them to think about what they have learned first, before completing the evaluation. In this case, you can send the survey when the timing is appropriate.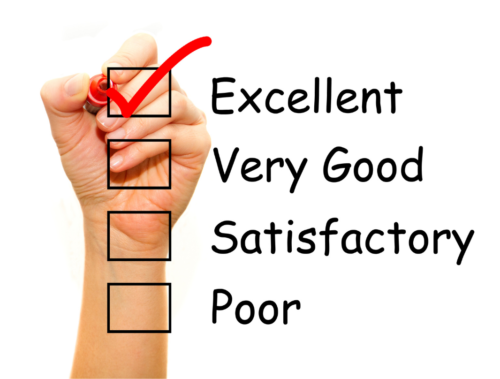 Not just at the end
Evaluations are an important part of the learning experience design process before you create the training. Evaluations can test the content, the experience, the facilitator, and the learning outcomes. And sometimes you need to test the test and make sure that the questions are being understood. Plus don't forget to always make sure that you are evaluating something that you have included in the content. I know this sounds obvious, but having a checklist of what to consider when creating learning evaluations would be helpful. Evaluations are more than satisfaction surveys.
Hot Bonus Tip: Ask what to Ask
Don't be afraid to ask participants what to ask. This is an important part of the evaluation as we don't always ask the questions that are important to our participants. Give opportunities to find out what is important to your participants when learning or attending training. Also, remember to do something with what you find out.
Extra Bonus Resource

This blog is wonderfully written, clear and concise. An excellent resource about Evaluating Training: https://performancematters.ca/evaluation/how-to-evaluate-training-programs/
Video & Podcast
Check out our other videos…
Our YouTube channel offers tutorials on various topics, including Zoom, Canva and many other platforms. We also provide Quick Pro Tips for Virtual Facilitators. If you would like me to create a YouTube tutorial or video about a particular topic, I welcome your comments below any of our videos on YouTube.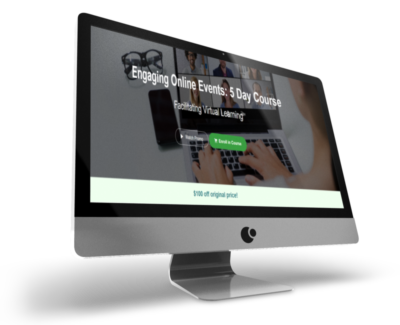 Turn your audience into participants!
Regular Quick Tips & Full Tutorials
I share quick tips and tutorials with you, saving you time and helping you create engaging online learning experiences! Keep following us on social media for regular quick tips, our videos for weekly insights and tutorials and our blogs to access added highlights! If you have not subscribed to our YouTube channel, we invite you to do this. It just lets you know when a new video is posted. Not all videos are included in blogs. However, our Blogs provide additional tips!
Author

Patricia Regier is the founder of Regier Educational Services. Expertise in helping facilitators engage the variety of learning types in your audience. Education includes a Master of Adult Education, a BA in Psychology, and twenty years experience developing and facilitating workplace, community and collaborative training. Learning and Development Consultant, Facilitator, and Master Virtual Producer. Utilizing teaching adults best practices, and innovative multi-media resources to emphasize your message.
Affiliate Links can be found under the description of the video on YouTube, or on our LINKS library page.
Want More Tips & Resources?
Join our email list, and gain access to downloads, resources and tools you can use through our secret and exclusive member web page. Get this free two-page download, packed with TIPS, when you join the email list.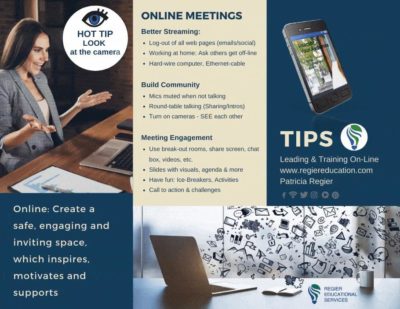 To request more information about learning and development opportunities or book Patricia as a speaker, please use the contact form below or email patricia@regiereducation.com
 Engage Your Audience