CONTENT CREATION INNOVATION
Another episode of 'Tools I use': PresenterMedia
Get innovative with your content creation, whether it is for your website, bite size learning resources, vlogs, PowerPoint presentations, or workplace training curriculum, PresenterMedia is a great resource! The following video (later in this blog, including a table of contents), is a behind the scenes look, with some step by step 'How To' information.
Get creative with your workplace, community or volunteer learning resources, by adding content that demonstrates what you are talking about. Start with great content, and then add interest with visuals. Expand your reach and do a better job teaching or training your audience, by using tools like PresenterMedia. This online tool includes: PowerPoint (PPT) Templates; Clipart; Animations; and Custom Graphics. [PresenterMedia Affiliate Link later within this blog.] All visuals within this blog can be found or customized with PresenterMedia. Tips and Uses next….

Expand your Reach & Teach
Innovative & Creative Content
Reach Different Learning Preferences
Light-Up A Person's Interest
Bite-Size Learning Content
Visuals To Demonstrate Your Content
Have Fun

Uses For PresenterMedia
PowerPoint Presentations
Social Media
Training Resources
Website
Within Videos
And More….
Time Markers In Video:
Topics With Time-Stamps
Look Around/Overview 1:05
Customization 2:00
PPT Templates 2:57
Animations 3:25
Clipart 3:49
Search by Key Word 4:05
Video Backgrounds 4:21
Customization 5:08
File Types 5:28
Add Your Own Images 5:28
Build & Download 6:55
Final Product 7:32
Custom Graphics 8:15
Related Images/Templates 8:39
Customize An Image 9:10
Screen Shots 10:47
Cropping Pics in PPT 12:08
Upload Images 14:21
Website Animations 15:58
Sizes 17:50
Clear Background 18:01
Side-clips & Captions 18:24
Wrap-up 19:00
Get More Like This
Get access to informative 'Content Creation' courses, before they are finished. What this means, is that you get a special early bird price. You can take advantage of the content available now within this course, AND you get access to everything as it is added. Get this special price now, before the course is completed, and then the price goes up. You get lifetime access even though you paid this special price.
Sign-up for our email list to find out when blogs and vlogs are posted. These are resources that can help you your professional and personal development. Keep learning and have fun with your next content creation!
Engage Your Audience 
Regier Education Online Courses
Inspired Learning Personality Quiz
[social_warfare buttons=" "]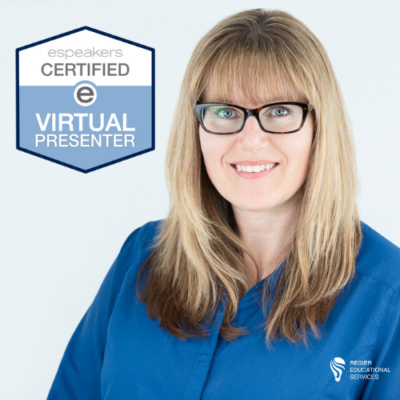 Patricia with Regier Educational Services, helping facilitators engage the variety of learning types in your online audience. Education includes a Master of Adult Education, a BA in Psychology, and twenty years experience developing and facilitating workplace, community and collaborative training.  Online learning experience designer and facilitator. Utilizing teaching adults best practices, and innovative multi-media resources to emphasize your message. Engaging content creator,  facilitator and online production partner.
To request more information about learning and development opportunities, or book Patricia as a speaker or production partner please use the contact form below, or Email patricia@regiereducation.com