Canva now offers a QR code creator!
This is exciting…Canva now offers the option for you to create and share custom QR codes and I am going to show you how easy it is to use!
Before we get into how to create your QR code, let's chat about what it is and what it can do for us. And if you like to geek out with the tech speak I have included this too. If you don't have Canva yet and want to follow along in your own account, you can sign up for a free account with Canva, or the paid Canva Pro Plan (more options!). In my opinion, it is 100% worth it! NEW Canva Affiliate Link: https://partner.canva.com/PRegier
Tech Speak Explained
The QR – stands for "quick response" – code is basically a barcode on steroids. While the barcode holds information horizontally, the QR code does so both horizontally and vertically. This enables the QR code to hold over a hundred times more information.
The data stored in a QR code can include website URLs, phone numbers, or up to 4,000 characters of text. QR codes can also be used to link directly to download an app, authenticate online accounts and verify login details.
How to use a QR Code
To use a QR code, all you do is open the camera on your phone and hover over the code.  Your camera will read the code and give you the option to open the link almost instantly.  You will find all kinds of uses for QR codes! If your phone camera is older, you just need to download a QR code scanner.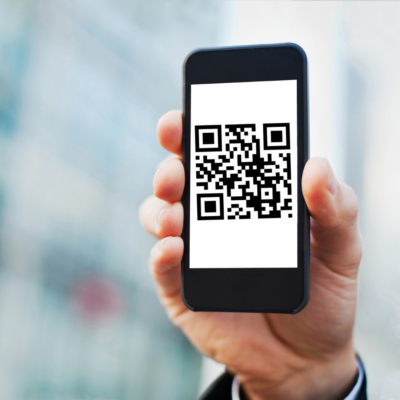 Why use a QR code?
I may add a QR code into my slides online or in-person in order for people to pull out their phones and anonymously interact with a word cloud that I have embedded into my slide. This is a fun way to draw people into the presentation. Even though it may be asking for people to pull out their phones, it can be an engagement tool. This may be even more important when we enter hybrid learning experiences.
You can also take people to an evaluation survey, your website to download a tool, or enter a draw. QR Codes are a user-friendly fast way for people to connect with information.
You can also add a QR code into your flyers, your business card, or a postcard promotional tool. The ability for people to easily connect with your workshop handout or resources without having to even click a link or enter a web address. QR codes are user-friendly, provide ease of access, and can be an engagement tool.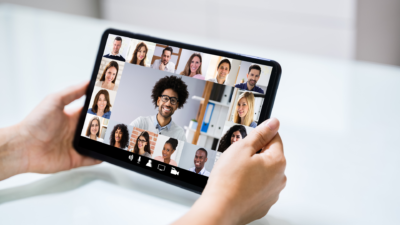 Let's create a QR code…
First, you need to type in https://www.canva.com/apps/ and then Canva will open with the option to choose a specific application.
In Apps Directory that will appear, you will see a box called "Discover Apps".  In the box, you will type QR code and the app will pop up for you.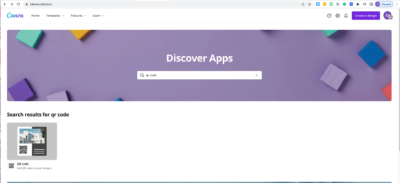 When you click on the app, it will open and you will see the space to add your link and create your custom QR code that you can add to any design!  How wonderfully easy is that?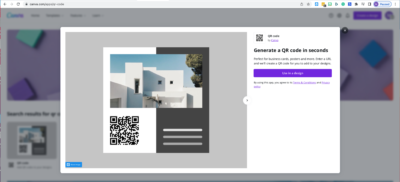 From there, you will click on "Use in a Design" and the dropdown will allow you to choose want you would like to create.
Now here is where we add our link and Canva will instantly create our custom QR code to share in our design.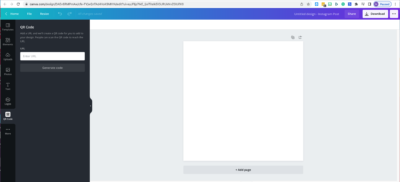 And voila…we have our custom QR code that can be used to promote whatever it is we want to share with ease!

You can see here that I have created a QR code for the blog page of our website. Within the video tutorial, I created a QR code for our online course page.  Get your phone out and give it a try, it really is that easy to use! (Some phones will give you the option within the camera, in other phones you may need to download a QR code reader in your app store – for free.)
You can use your QR code in social media posts, in your presentations and slide shows, and on other platforms.  Your audience can scan and use the QR code from just about anywhere!
Get in there and play around with it.  I know you'll find all kinds of uses for this.
ANSWERING QUESTIONS:
Q. Can you change the colour of the QR code?  A.  https://youtu.be/VptN8QftCPs
Q. Can I get Canva Pro for a free trial for 45 days? A. Canva Affiliate Link: https://www.canva.com/affiliates/CCCPR45
Video
If you have any news, questions or topics that you would like me to create quick tip videos or tutorials about, please be sure to click through the video above and leave a question/comment.
If you missed it, here's the blog post from last week:  HOT SUMMER SHORTS SERIES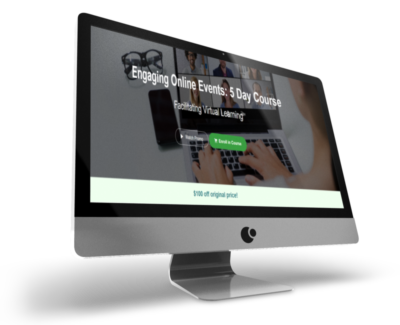 Turn your audience into participants!
Author

Patricia Regier, MEd is the Online Expert who's built a career on the belief that training and online learning doesn't have to be boring. As Owner of Regier Educational Services and with a Master of Adult Education, Patricia is known for making her audience feel empowered, engaged, courageous and confident. Her debut book and keynote, The Online Shift teaches newcomers to the online space and seasoned professionals alike how to optimize their online presence and maximize engagement. She's tried, tested and refined using the latest behavioral science, research and psychology to make sure your next online experience is a hit!
Complimentary 15 Minute Meeting
To book Patricia as a speaker or consultant:
Please use the button above or email patricia@regiereducation.com
 Engage Your Audience 
Regular Quick Tips & TutorialsI share quick tips and tutorials with you, saving you time and helping you create engaging online learning experiences! Keep following us on social media for regular quick tips, our videos for weekly insights and tutorials and our blogs to access added highlights! If you have not subscribed to our YouTube channel, we invite you to do this. It just lets you know when a new video is posted. Not all videos are included in blogs. However, our Blogs provide additional tips!
[social_warfare buttons=" "]
To request more information about learning and development opportunities or book Patricia as a speaker, please use the contact form below or email patricia@regiereducation.com