Let's take a peek the new Content Planner in Canva!
Canva now offers a Social Media Content Planner!  It's fairly new and this is my first time using it so I thought I would take you along as I explore.  I don't post all of my social media in real time (all the time) and have tried out a few different platforms.  I like them but find that they can be expensive and there are pros and cons to each.  Also, there is a learning curve to each new platform so I think this is a great new service for Canva to offer. Plus, if you're already paying for a Canva Pro account, you should utilize all of the features they have.  CLICK HERE to find out how you can take a peek around Canva Pro at no cost. You can use this special link

Here we go:
After you open your Canva account, you'll find the Content Planner on the left side in the menu about half-way down.   Then open the content planner, you will see a calendar that allows you to click on the date that you would like to schedule your post (when you hover over a date you'll see a plus sign to click on).  When you have chosen a date, you will see that your recent creations, templates and library are all available on the screen.  This makes it easy to find and choose what you would like to add to your post.
Where can we post with the Canva Content Planner?
Canva's Content Planner and scheduling currently supports Facebook pages and groups as well as Instagram Business, Twitter, LinkedIn, Slack, Pinterest and Tumblr.
Tip: When you have a design ready to post it directly from where you created it (not in the planner, with this tip), when you pick Instagram – pick Instagram Business. You need to have a Instagram Professional account. This step helped me connect my Instagram Account to Canva.
Let's connect our accounts…
In order to schedule your post, you will have to link your social media accounts to Canva.  When you've created your beautiful image, you can click on the 3 dots in the upper corner for more options.  You will see the "schedule" option.  Click on that and it will open a calendar for you to choose the day and time you would like your post to go out.  Then you will click next.  This will allow you to confirm the date and time as well as what platform you want your post to go out on.  If that particular account isn't already linked to Canva, you can add it here by clicking the plus sign.
Time to create and schedule a post!
Now that your accounts are all set, we can create and schedule our post.  After you have found and edited the perfect template, you will click on the 3 dots in the upper corner and  hit "schedule".  This will bring up the calendar and after you choose the date and time you want to send you post, you will click next.  Here is where you will choose the destination of your social media account to publish on and gives you a box to add the text for your post.  From there you can either save as draft or schedule your post to go out.  You'll learn a lot more about how to navigate the content planner when you watch the video below.
Canva Scheduler and Content Planner Walkthrough and Tutorial
It really is that simple!  CLICK HERE for a Canva affiliate link that gives you 45 days free with Canva pro.  Take the opportunity to look around and test this out to see if it will save you money from other platforms and provide ease of use and save you time.  I invite you to also create different things, not just promoting your business or your services, but to provide value added information as well for your followers.  I hope you found this walkthrough helpful and fun.
Regular Quick Tips & Full Tutorials
I share quick tips and tutorials with you, saving you time, and helping you create engaging online learning experiences! Keep following us on social media for regular quick tips, our videos for weekly insights and tutorials and our blogs to access added highlights! If you have not subscribed to our YouTube channel, we invite you to do this. It just lets you know when a new video is posted. Not all videos are included in blogs. However, our Blogs provide additional tips!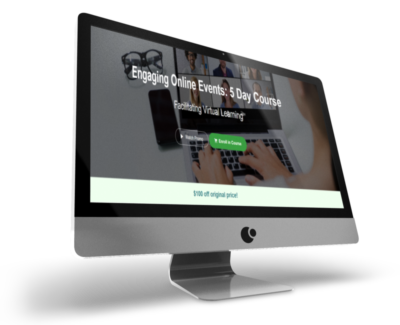 Click for your exclusive offer
Don't Forget About:  Our Free Quiz, about different learning preferences.
Author

Patricia with Regier Educational Services, helping facilitators engage the variety of learning types in your online audience. Education includes a Master of Adult Education, a BA in Psychology, and twenty years experience developing and facilitating workplace, community and collaborative training.  Online learning experience designer and facilitator. Utilizing teaching adults best practices, and innovative multi-media resources to emphasize your message. Engaging content creator,  facilitator and online production partner.
 Engage Your Audience 
Affiliate Links:
LATER Referral Program: https://later.com/r/7bb9ed
Canva Affiliate Link: https://www.canva.com/affiliates/CCCPR45
PresenterMedia Affiliate Link: https://bit.ly/2YqBk7H
ZOOM Affiliate Link: http://bit.ly/2DZ3gWE
CyberLink PowerDirector: https://bit.ly/2Tn4bZz
Tubebuddy: https://www.tubebuddy.com/PatriciaRegier
SurfShark VPN: https://surfshark.club/friend/8epqkB3N?locale=en
Melon Live Streaming APP: https://melonapp.com?ref=patricia
Want More Tips & Resources?
Join our email list, and gain access to downloads, resources and tools you can use, through our secret and exclusive member web page. Get this free two-page download, packed with TIPS, when you join the email list.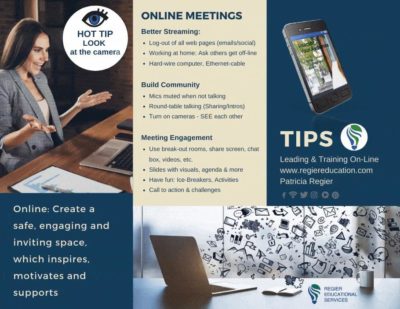 [social_warfare buttons=" "]
To request more information about learning and development opportunities, or book Patricia as a speaker please use the contact form below or Email patricia@regiereducation.com