ZOOM: Whiteboard, Annotation and more
Here is a behind-the-scenes look at sharing your screen while using the whiteboard and annotation features in Zoom.  In person you could use a white board or flip-chart paper, online you have similar tools that you can use!  This is a quick tips tutorial that you can use in your next online workshop.  Video tutorial is below, but check out our blog about sharing screen via Zoom with only one monitor. Using Zoom Whiteboard has a few additional details, that I will share with you today.
Let's take a peek behind the curtain…
To Share Screen in Zoom you click the green button at the bottom of your navigation bar, beside the Chat option.  When you click on Share Screen, you will then see another box that pops up, which shows you all of the available choices on your computer, including the whiteboard. (Anything you have open on your computer.)  From there you will have to choose the option that you want your participants to see.  Once you click on the box that you want to share, you then have to click on the blue share button in the bottom right-hand corner.  This will allow everyone in the meeting to see the whiteboard, if you pick that option.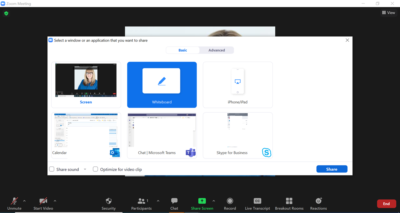 Zoom Whiteboard Controls
If you choose the Zoom whiteboard, this opens up a whole new control panel for annotations.  Please see in the image below the select icon, for moving text boxes. There is the text tool, and a draw freehand option, and stamps. When people type others can agree by using a stamp.  Plus you can erase (that's an important one).

The format tool has many options such as colour,  line width and font controls for sizing, bolding or italicizing your text.
There are also the undo and redo buttons, clear and save.  The save button allows you to save your whiteboard image as a PNG or PDF file so you can save it to your computer and share it with your participants in the chat or send it to them later by email.  The Save button will also show you where the file is saved on your computer.
Bonus Tip for Zoom White Board  
If you are the person sharing your screen, or the white board, you can also use the 'Select' tool to move the text, that people have accidently typed on top of each other.  However with Zoom White Board, your participants CAN see your  floating navigation bar. This can be confusing for people. Type what you need to type, or use the 'Select' tool to move text boxes. Then close that navigation bar, while your participants are typing. (With the regular Annotation tool, while you are sharing a slide, your participants don't see your navigation floating bar.)
Stop Share
When you are finished sharing, you simply click Stop Share which will usually be showing at the top of your screen in red, right under the green Start Share button.

More…
If you have access to the …More in the upper corner, this visual shows you what you will see and what you can do, which includes 'Disable Annotation' or 'Hide Names of Annotators' and more…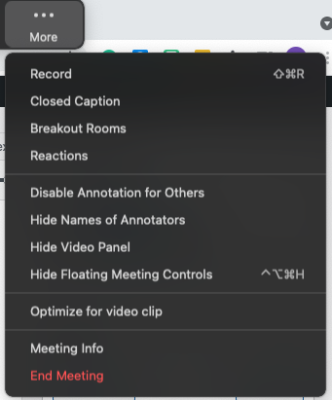 Look Around
I hope that you will take a look around at all of the options that Zoom has to offer in Screen Share.  When you are the Host or facilitator, you bring added value, when you use Zoom tools to increase engagement.  Understanding tools such as Share Screen and Zoom Whiteboard, also helps you explain the navigation to your participants.
Zoom Participant
As someone attending a Zoom Meeting it's good to know this as well. For example if you are going into a breakout group, and the host has activated 'multiple participants can share', you can use the white board as flip chart paper. Just remember to hit 'save', and find your photo of the flip chart in your documents in a Zoom folder.
ZOOM: WHITEBOARD, ANNOTATION AND MORE
I hope you found these tips and tutorial helpful!  Zoom's tools for engagement including Whiteboard and Annotation are ways you can provide a similar experience online, that you did 'in person'.  My goal each week is to give you some lightbulb learning moments that will help you create a more memorable online learning experience for your participants.
Sharing Screen in Zoom With Only One Monitor – In case you missed it last week, please check out his fantastic blog and video as well!
Regular Quick Tips & Full Tutorials
I share quick tips and tutorials with you, saving you time, and helping you create engaging online learning experiences! Keep following us on social media for regular quick tips, our videos for weekly insights and tutorials and our blogs to access added highlights! If you have not subscribed to our YouTube channel, we invite you to do this. It just lets you know when a new video is posted. Not all videos are included in blogs. However, our Blogs provide additional tips!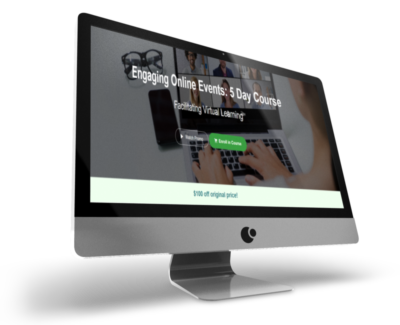 Click for your exclusive offer
Don't Forget About:  Our Free Quiz, about different learning preferences.
Author

Patricia with Regier Educational Services, helping facilitators engage the variety of learning types in your online audience. Education includes a Master of Adult Education, a BA in Psychology, and twenty years experience developing and facilitating workplace, community and collaborative training.  Online learning experience designer and facilitator. Utilizing teaching adults best practices, and innovative multi-media resources to emphasize your message. Engaging content creator,  facilitator and online production partner.
 Engage Your Audience 
Affiliate Links:
Jackery Battery Back-up System: https://www.jackery.com?aff=567
Canva Affiliate Link: https://www.canva.com/affiliates/CCCPR45
PresenterMedia Affiliate Link: https://bit.ly/2YqBk7H
ZOOM Affiliate Link: http://bit.ly/2DZ3gWE
CyberLink PowerDirector: https://bit.ly/2Tn4bZz
Tubebuddy: https://www.tubebuddy.com/PatriciaRegier
SurfShark VPN: https://surfshark.club/friend/8epqkB3N?locale=en
Melon Live Streaming APP: https://melonapp.com?ref=patricia
LATER Referral Program: https://later.com/r/7bb9ed
Want More Tips & Resources?
Join our email list, and gain access to downloads, resources and tools you can use, through our secret and exclusive member web page. Get this free two-page download, packed with TIPS, when you join the email list.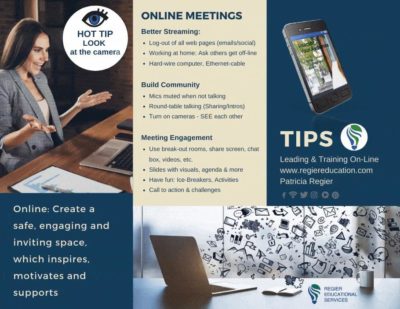 [social_warfare buttons=" "]
To request more information about learning and development opportunities, or book Patricia as a speaker please use the contact form below or Email patricia@regiereducation.com