Let's take a look at your FAQs.
I've been excited to see our YouTube subscriber numbers climbing and am grateful for all of you who take the time to watch, comment and ask questions. I thought this would be a good time to answer some of the burning questions that we've received in the comments. Today we're going to look at Zoom Transcription and Closed Captioning. Here's a link to the first video that I did on this topic. Future blogs will answer your other questions from our video tutorials, stay tuned!
Closed Captioning
Question One: Does the transcription or closed captioning in Zoom still work if the host is sharing the screen?

Answer: Yes, it works!
If I am sharing my screen in a meeting perhaps to take a look at my website or share a document, or slides, the closed captioning (or subtitles) shows for participants if they have turned this on. (As the host I must have activated CC first).
Question Two: Will closed captions (CC) show up on the recording?

Answer: CC  won't show up in the recording unless you are screen recording.
Breakout Rooms & CC
Question Three: Will the Closed Captions work when you go into a breakout room?

Answer: No they don't follow you into a breakout room, but I have a pro tip that will help.

Hot Pro Tip: If you do need to accommodate a participant with closed captioning in a breakout room, I would suggest that you use your main room for them and the group that they're meeting with and have the other participants use the breakout rooms. This will ensure accessibility for everyone.
However, Zoom is constantly updating its platform with a lot of new features, therefore this answer could change in time. I almost find that when I have made a Zoom wish, it comes true; it's just a matter of time. Here's a link to a video on How to Update Zoom
Languages
Question Four: Does Zoom account for different languages?

Answer: (UPDATE December 7, 2022): I am seeing new options today and will investigate further.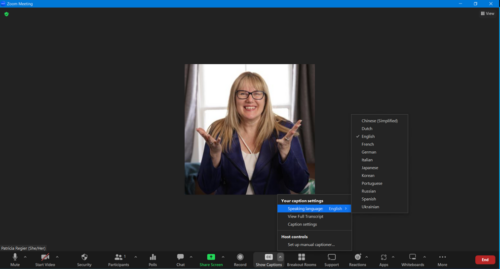 Closed Captioning & Transcript Options
Whether you're the host or participant and have activated the closed captioning or transcript, here's a screenshot below of how it looks on your computer.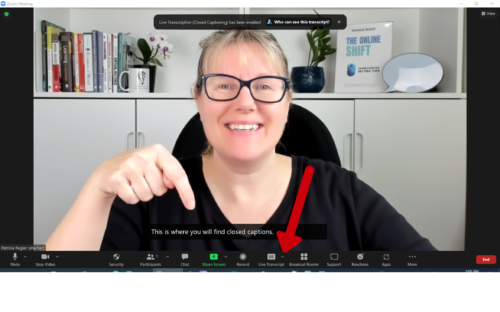 Video & Podcast
Check out our other videos…
Our YouTube channel offers tutorials on various topics, including Zoom, Canva and many other platforms. We also provide Quick Pro Tips for Virtual Facilitators. If you would like me to create a YouTube tutorial or video about a particular topic, I welcome your comments below any of our videos on YouTube.
If you missed it, here's the blog post from last week: Fiscal Year-End Budget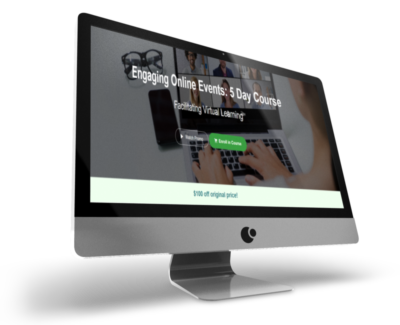 Turn your audience into participants!
Regular Quick Tips & Full Tutorials
I share quick tips and tutorials with you, saving you time and helping you create engaging online learning experiences! Keep following us on social media for regular quick tips, our videos for weekly insights and tutorials and our blogs to access added highlights! If you have not subscribed to our YouTube channel, we invite you to do this. It just lets you know when a new video is posted. Not all videos are included in blogs. However, our Blogs provide additional tips!
Author

Patricia Regier is the founder of Regier Educational Services. Expertise in helping facilitators engage the variety of learning types in your audience. Education includes a Master of Adult Education, a BA in Psychology, and twenty years experience developing and facilitating workplace, community and collaborative training. Learning and Development Consultant, Facilitator, and Master Virtual Producer. Utilizing teaching adults best practices, and innovative multi-media resources to emphasize your message.
Affiliate Links can be found under the description of the video on YouTube, or on our LINKS library page.
Want More Tips & Resources?
Join our email list, and gain access to downloads, resources and tools you can use through our secret and exclusive member web page. Get this free two-page download, packed with TIPS, when you join the email list.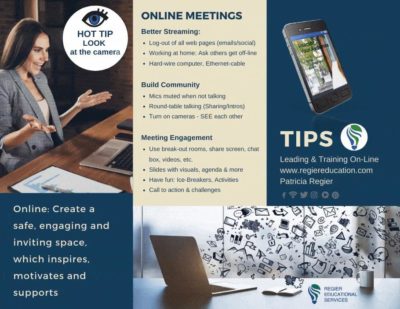 To request more information about learning and development opportunities or book Patricia as a speaker, please use the contact form below or email patricia@regiereducation.com
 Engage Your Audience