Let's take a look at the New Zoom Immersive View!
I get so excited when there's a new feature on Zoom and I have to try it out right away!  Today we're looking at the new Immersive View that allows you to choose a virtual background for you and your participants to enjoy.  It's just another fun feature that will help to make your online experience more engaging.  You'll be learning with me as we go…I filmed the video the first time I opened the new feature because I just couldn't wait to try it out and share it with you! Plus you get a second bonus video (and podcast) in today's blog, showing you the pros and cons, with additional quick tips about how this new Zoom option fits into your online facilitation.
Update – one year later:  https://youtu.be/gkM_6IhKyUw 
Let's get started:
1. Be sure to update your Zoom first:
You are going to have to update your Zoom to the latest version in order to enjoy the new features including Immersive View.  CLICK HERE to view a quick video on how to check to make sure you have the latest version and to update Zoom.
2. Now you can see the new Zoom features:
You will find the New Zoom Immersive Scene option in the dropdown menu at the right top corner of your screen.  Look for the View button and when you hover over it, you will see a dropdown menu that has Immersive Scene at the bottom of the list.  Make sure you're not sharing your screen when looking for this option.
3. Next, let's choose a Zoom Immersive Scene:
Depending on how many people are on your call will depend on which scene you choose.  There are several with options for different numbers of participants.  Also you will decide if you want to manually place people or have Zoom do it automatically for you.  I don't know about you, but I think it's pretty cool!
4. Place your participants:
In the new Zoom Immersive View, you can move people around to where you want to seat them but they can't move themselves around.  There are scenes to accommodate up to 25 people or as few as 2 people.  Have some fun while you play around and check out the options. The host is in control of this feature.
How To Use the New Zoom Immersive View Tutorial
Pros & Cons of Zoom's New Immersive View
Pros
New option and can capture your audiences attention
Great for interviews
Fresh look for those with Zoom Fatigue
Meetings may be the best fit for this view
Variety of background options
Fun is always a plus
This is also a good look for a speaker's panel
You can move around peoples video tiles
You can try something fun, such as 'high five' each other (takes practice)
Cons
Need to update first
Some people will only see a white background (not updated)
Live in Zoom or Screen recording only!
Up to 25 people only
No names – This has changed if people are not on video, you see their name.
People don't always like change
Must fit your context & audience
Some people may not like it
Does not work if Live Stream from Zoom to YouTube (or Facebook/LinkedIn)
I hope you found these tips helpful and fun.  This is another way to create a memorable online learning experience for your participants. To learn more about Zoom Immersive, including the version your device needs to be: https://support.zoom.us/hc/en-us/articles/360060220511-Immersive-View
Regular Quick Tips & Full Tutorials
I share quick tips and tutorials with you, saving you time, and helping you create engaging online learning experiences! Keep following us on social media for regular quick tips, our videos for weekly insights and tutorials and our blogs to access added highlights! If you have not subscribed to our YouTube channel, we invite you to do this. It just lets you know when a new video is posted. Not all videos are included in blogs. However, our Blogs provide additional tips!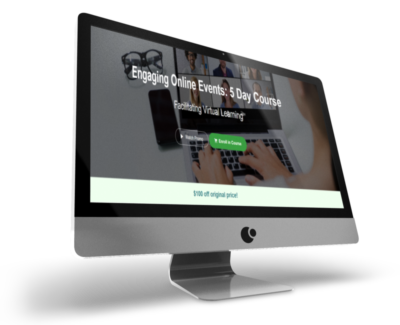 Click for your exclusive offer
Don't Forget About:  Our Free Quiz, about different learning preferences.
Author

Patricia with Regier Educational Services, helping facilitators engage the variety of learning types in your online audience. Education includes a Master of Adult Education, a BA in Psychology, and twenty years experience developing and facilitating workplace, community and collaborative training.  Online learning experience designer and facilitator. Utilizing teaching adults best practices, and innovative multi-media resources to emphasize your message. Engaging content creator,  facilitator and online production partner.
 Engage Your Audience 
Affiliate Links:
LATER Referral Program: https://later.com/r/7bb9ed
Canva Affiliate Link: https://www.canva.com/affiliates/CCCPR45
PresenterMedia Affiliate Link: https://bit.ly/2YqBk7H
ZOOM Affiliate Link: http://bit.ly/2DZ3gWE
CyberLink PowerDirector: https://bit.ly/2Tn4bZz
Tubebuddy: https://www.tubebuddy.com/PatriciaRegier
SurfShark VPN: https://surfshark.club/friend/8epqkB3N?locale=en
Melon Live Streaming APP: https://melonapp.com?ref=patricia
Want More Tips & Resources?
Join our email list, and gain access to downloads, resources and tools you can use, through our secret and exclusive member web page. Get this free two-page download, packed with TIPS, when you join the email list.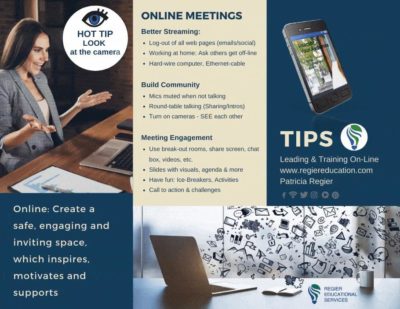 [social_warfare buttons=" "]
To request more information about learning and development opportunities, or book Patricia as a speaker please use the contact form below or Email patricia@regiereducation.com