Virtual Facilitation Pro Tips
Are you losing learners because you are going too fast, and they cannot follow you? Or maybe you are doing a great job, but don't realize that a few of your participants are feeling lost and getting frustrated. There is no judgment here! This is a great check-in to see if you follow these virtual facilitation best practices and pro tips. Plus, whether you are a virtual facilitation with a lot of experience, or new, this checklist will help.
Facilitator Check-in Check List
Basics: High energy for the topic; Look into the camera; Great video and sound quality
As much as I always recommend looking directly into the camera, as much as possible, also check in with your participants' body language once in a while
Slow Down: You may be losing some learners along the way, and they may want to give up and stop listening if they are having a hard time following you
Think about the different senses: See, Do, Feel, Hear. Are you covering these within your facilitation approach?
Your participants may not be watching you. Go beyond visual learning approaches.
Say Each Step. Consider if people are only listening to you; what are they missing if you only show them?
Build in Time to apply the knowledge, and if you can do this right away, while you are training, even better!
Say where the computer mouse is going
Show it and Say it
Consider different learning preferences (Take our Quiz)
Resources: Do they need them while your participants are following the training? If they have them ahead of time, some people will read them; some will not even open them. If they are following along, build in time for that too!
Be the Learner: It's always good to experience what it's like to participate in training, not only be the leader!
Describe and direct where the Eyes should be following your computer mouse.
Always consider Accessibility needs.
No judgement
We all need a check-in once in a while. There is no judgment here! As virtual facilitators, there is always room to grow, improve, and ensure we reach, engage, and support all participants.
Video & Podcast
Hot Bonus Tip  
If you are a visual learner, it's easy to forget the auditory elements that some learners need to process the training information. How would the training do if someone is only listening to you, or if your training session recording is turned into a podcast?
UPCOMING VIDEOS & BLOGS:  More Book Reviews, Hot Tech Trends in Learning and Development, Zoom Updates, The OWL, MS Teams, More Learning Experience Design Tips, and more!
I have not been posting weekly blogs recently, so if you are missing your weekly hot tips and tutorials, subscribe to my YouTube channel. Here are the latest videos and shorts (Each less than 1 minute).  Some videos will turn into future blogs and articles, with additional tips.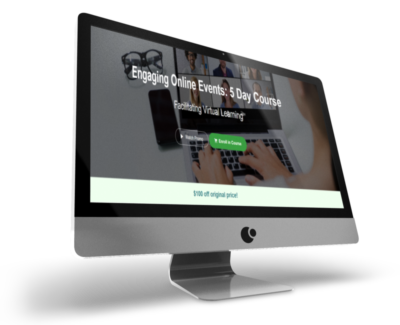 Turn your audience into participants!
Author

Patricia Regier, MEd is the Online Expert who's built a career on the belief that training and online learning doesn't have to be boring. As Owner of Regier Educational Services and with a Master of Adult Education, Patricia is known for making her audience feel empowered, engaged, courageous and confident. Her debut book and keynote, The Online Shift teaches newcomers to the online space and seasoned professionals alike how to optimize their online presence and maximize engagement. She's tried, tested and refined using the latest behavioral science, research and psychology to make sure your next online experience is a hit!
To book Patricia as a speaker or consultant:
Please use the button above or email patricia@regiereducation.com