Unboxing a new tool
Watch the Owl Unboxing in this week's video, and learn some additional specs and information within this blog. My new tool or piece of tech equipment can make a difference in hybrid meetings and learning experiences. Hybrid referrs to a blended audience when some people are in the same physical room, and some participants are joining virtually. This is a quick look and unboxing video. Let me know if you would like me to share more about this tool in a future video and blog.
Important
It's important to design the meeting or learning experience with both groups in mind. Consider what the technology and support needs are. Plan for everyone to have an opportunity to be heard and be able to hear everyone. When clients work with me to either help them design the experience and consider options, if they also hire me to produce their event, this tool can be part of my kit.

Meeting Owl 3
"The Meeting Owl® 3 device is a premium 360-degree camera, mic, and speaker combined into one easy-to-use tool." [According to Owl Labs, on their website.] This tool can aid in creating an immersive and inclusive space.
Tech Specs from Owl Lab's website: CAMERA has a Output Resolution: 1080p HD, Field of View: 360° and Video Pickup Radius: 10' (3m). The MICROPHONE has a 8 omni-directional beamforming Smart Mics, Audio Pickup Radius: 18' (5.5m). Plus the equipment is also a SPEAKER with Three built-in speakers for 360° coverage and clear in-room sound. The Speaker Output Level: 80 db SPL.
Owl Unboxing Video  & Podcast
Quote from a client
Jessica from Inspired Strategy Group writes: "Working with Patricia is an absolute dream! She put my mind at ease from the moment we first connected to start planning the session. Her simple templates and reference guides ensured a smooth and stress-free lead up. She thought of things that I hadn't even considered and ensured that the participant experience was always front and center. Once we were in session, her adaptability and creative problem solving skills under pressure are second to none. Simply put, having Patricia Regier as my virtual producer gave me the confidence to present with confidence, knowing I only had one thing to focus on – bringing it for my client!"
Hot Bonus Tip
Plan a hybrid meeting to include expectations for both groups in attendance and what outcomes are you facilitating during the experience.
UPCOMING VIDEOS & BLOGS: WebEx, iSpring Learning Solutions Course Platform, Zoom, Learning Experience Design Tips & More!
If you missed it, here's the last blog post about the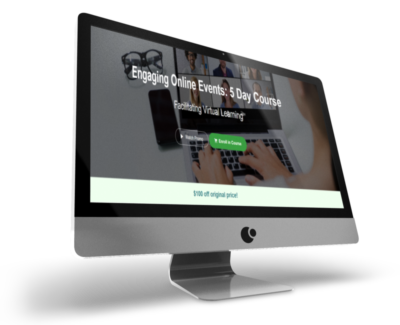 Turn your audience into participants!
Author

Patricia Regier, MEd is the Online Expert who's built a career on the belief that training and online learning doesn't have to be boring. As Owner of Regier Educational Services and with a Master of Adult Education, Patricia is known for making her audience feel empowered, engaged, courageous and confident. Her debut book and keynote, The Online Shift teaches newcomers to the online space and seasoned professionals alike how to optimize their online presence and maximize engagement. She's tried, tested and refined using the latest behavioral science, research and psychology to make sure your next online experience is a hit!
Complimentary 15 Minute Meeting
To book Patricia as a speaker or consultant:
Please use the button above or email patricia@regiereducation.com
 Engage Your Audience 
Regular Quick Tips & Tutorials: I share quick tips and tutorials with you, saving you time and helping you create engaging online learning experiences! Keep following us on social media for regular quick tips, our videos for weekly insights and tutorials and our blogs to access added highlights! If you have not subscribed to our YouTube channel, we invite you to do this. It just lets you know when a new video is posted. Not all videos are included in blogs. However, our Blogs do provide additional tips!
[social_warfare buttons=" "]
To request more information about learning and development opportunities or book Patricia as a speaker, please use the contact form below or email patricia@regiereducation.com