Visuals within Learning Design
As a learning experience designer, I constantly explore ways to improve the educational experience for my participants and clients. One of the most effective tools I have found for enhancing learning is visuals. In this article, I will discuss the aspects of visuals in learning experience design and how they can be leveraged to create engaging and effective knowledge transfer. Visuals are one way you can help your participants remember what you said because you layered elements to help increase attention and engagement.
Visuals or images can provide a way to communicate complex information quickly and effectively. They also help to create a sense of context and relevance, which is crucial for motivating people to learn. When appropriately used, visuals can engage your learners, team or participants. You can facilitate learning by providing a way to process memorable and meaningful information.
Why Include Visuals
The first aspect of utilizing visuals or images in learning experience design is their ability to convey information quickly and efficiently. Studies have shown that the human brain processes visual information much faster than text. This means that visuals in your educational materials can help students grasp complex concepts more quickly, improving learning outcomes.  (I am referring to the updated research – noted below).
The second aspect is their ability to create context and relevance. Visuals can help students see how the information they are learning fits into a larger context, making the learning experience more meaningful and engaging. By providing context, visuals can also help students see the relevance of the material they are learning, which can increase motivation and help them retain the information better.
The third aspect is their ability to engage students. Visuals can make educational materials more exciting and engaging, which can help keep students focused and motivated. When used creatively, visuals can also help students connect with the material emotionally, which can deepen their understanding and help them remember the information more effectively.
Effective Use Of  Visuals
To effectively leverage the power of visuals in learning experience design, it is essential to consider a few fundamental principles.
First, visuals should be simple and easy to understand. Complex visuals can be overwhelming and distract from the learning process.
Second, visuals should be relevant and meaningful to the material being presented. Random or unrelated visuals can confuse students and make the material difficult to understand.
Thirdly, they should be used sparingly and strategically. Too many visuals can be overwhelming and reduce their effectiveness.
Fourthly, when searching for images, consider diversity, inclusion and representing the variety in your audience now and in the future. Be intentional about including everyone so your participants see themselves in the content and visuals.
Fifthly, when searching for photos or graphics, be specific and intentional in gathering the right images so your participants feel safe and seen.
Finally, also remember to describe verbally what your visuals, infographics, and graphs are showing so that people who can't see the images get the benefit and feel included too. Don't forget the Alt Text when including images in your posts.
In conclusion, visuals are an essential component of learning experience design. They can help students process information more quickly, create context and relevance, and engage them emotionally. By following fundamental principles and using visuals strategically, educators can leverage their power to create more effective and engaging educational experiences for their participants.
Reference: Wu, Y., Wu, H., Chen, L., Wang, Y., & Kao, C. (2021). Visual preferences in digital learning: A comprehensive review. Interactive Learning Environments, 1-17.
Video & Podcast
Hot Bonus Tip  
Consider visuals as one of the elements you layer into your learning experience design, but it's not the only one!
UPCOMING VIDEOS & BLOGS: ChatGPT, WebEx, Zoom, The OWL, MS Teams, More Learning Experience Design Tips, reflections from I4PL conference & More!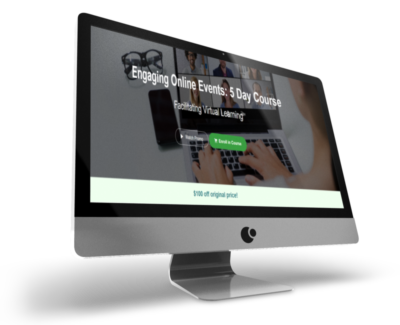 Turn your audience into participants!
Author

Patricia Regier, MEd is the Online Expert who's built a career on the belief that training and online learning doesn't have to be boring. As Owner of Regier Educational Services and with a Master of Adult Education, Patricia is known for making her audience feel empowered, engaged, courageous and confident. Her debut book and keynote, The Online Shift teaches newcomers to the online space and seasoned professionals alike how to optimize their online presence and maximize engagement. She's tried, tested and refined using the latest behavioral science, research and psychology to make sure your next online experience is a hit!
To book Patricia as a speaker or consultant:
Please use the button above or email patricia@regiereducation.com