A BEHIND THE SCENES FIRST LOOK AT THE NEW OPTIONS IN ZOOM 5.10
My wishes come true.
Wonderful zoom updates with new options are now available, and it can feel that Zoom is reading my mind.  Be sure that you update your Zoom account to access the new features. The latest version is 5.10. The options include fun engagement possibilities, along with assisting production efficiencies and flow.
It's a process.
When there is a new update, I test the aspects to see how they fit into facilitation and production needs and improvements. The latest update on Zoom added more options that have been on my wish list! However, when I first test out how they work and how it fits into what we do online, it can include a learning curve. Plus the next week or two I discover more, therefore it's always a good idea to check back at this blog, because I will include updates.
Invitations and Attendance.
As I clicked on participants, I noticed a fantastic new feature that shows you who is in attendance and who has still not joined the meeting! Amazing that you can see who has been invited to your meetings to have an accurate headcount and know if you still have to wait for anyone to arrive before getting started. This works if you have your Zoom and calendar invites connected.
There is also another option for a direct invite, similar to MS Teams (this was available in earlier updates). Please note that if you send a direct invite to someone, they may receive a "doorbell" notification. I recommend that you test these features and ask your colleagues that may have accepted your Zoom invites. If you are interested I can provide additional in-depth tutorials about these options.

Chat Channels are new.
You can now create chat channels connected to your Zoom meetings! This is another feature that is similar to MS Teams.  There are also Mentions, Missed Calls, and Contact Requests. An area to explore and understand further.
I love it when they create an option that I have been asking for!!!
I also discovered that you can move someone from a breakout room to the main session, which is wonderful!  When you do this your participant will have to accept, but the option to do this could be very helpful.
I was also thrilled to see that we can now 'uncheck' co-hosts when creating breakout rooms. This will be a big time-saver when producing. Especially if you are facilitator and producer at the same time.
There is also the option to save breakout room assignments. This is a feature that I must explore further to provide a tutorial, but it is good to know this is possible.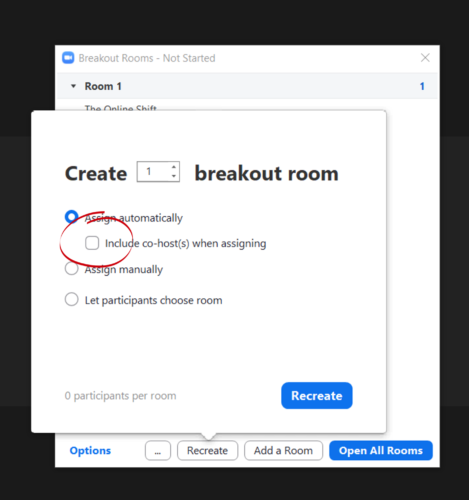 Share video to breakout rooms.
Another wonderful Zoom update is that you can now share your video with sound to breakout rooms! The participants must have the most up-to-date version of Zoom for this to work, so I advise that you ask people to update their Zoom before your meeting. It's something that you can add to your invitation and share how to do it. CLICK HERE for the tutorial (Please note that you can't share and join a breakout room at the same time. If you join a room, it will stop the share of your video or slide.) Since posting this blog and video, there has been another update: 5.10.1 AND the sound is working when you share a video to the breakout rooms! YAY!

Waiting Room Updates too.
As I create some visuals for this blog, I tested out another discovery from an event I produced today. We can now not only send a message to participants in the waiting room, but they can message us back. This is amazing!! You need to activate this in your account settings. Plus, I knew that a waiting room customization new option was coming soon, and just discovered that it is now available. I'll add a quick tutorial video on my YouTube channel soon – but added a visual below (3rd image)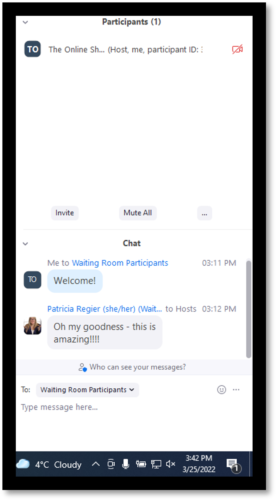 New Video Avatars are so much fun!
Check out the new Zoom video filter options. There are some adorable avatars that you can use as a fun option to break things up and create a lighter mood. It's also another option for those who are camera shy and want a bit of anonymity. I hope that they have people/human avatar options in the future. What is on your Zoom wish list? Please note that you must turn on the Avatars in your Zoom account settings first, see the images below: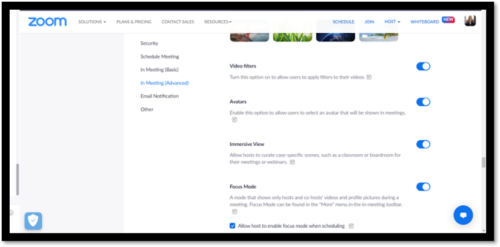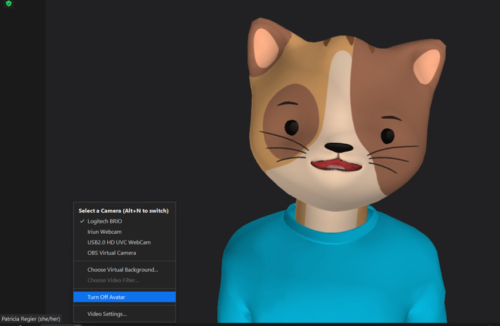 More to come…
As I learn more about these new options in Zoom, I may create additional quick tips and tutorials that are designed to help you turn your audience into participants! If you missed the last update of features I shared, including ADVANCED POLLS, check out that video and blog here.
The LATEST updates:  https://youtu.be/hN6pz6Nt03I  (Zoom 5.11.49)
Hot Bonus Tip:
When you don't want your avatar to be activated anymore, pick 'Turn Off Avatar' in the menu beside the video icon. If you end up going to the filters and picking 'none' your camera settings may change.
Video & Podcast
Author

Patricia Regier, MEd is the Online Expert who's built a career on the belief that training and online learning doesn't have to be boring. As Owner of Regier Educational Services and with a Master of Adult Education, Patricia is known for making her audience feel empowered, engaged, courageous and confident. Her debut book and keynote, The Online Shift teaches newcomers to the online space and seasoned professionals alike how to optimize their online presence and maximize engagement. She's tried, tested and refined using the latest behavioral science, research and psychology to make sure your next online experience is a hit!
Complimentary 15 Minute Meeting
To book Patricia as a speaker or consultant:
Please use the button above or email patricia@regiereducation.com
Regular Quick Tips & Full Tutorials
Sign-up for Facilitator Tips & Resources email member news
Subscribe to our YouTube channel!   
Like us on Facebook 
Pin this on Pinterest
Share on LinkedIn
Listen as a Podcast
Take the Learning Quiz
Register for our Course
Additional resources