Three years of videos, blogs and resources!
It's time for a brief break for me to focus on a few projects and get them ready for you. In the meantime there is a plethora of resources, including there are three years of videos, blogs and resources for you to browse! These tools and information are to help you reach the variety of learning types in your audience. Let me know what topic would provide you the most help. Your requests help shape my content creations. (Check out the plethora of resources below.) Plus if you keep scrolling to the bottom, additional links to tools I use, and other resources are at your finger tips.  Enjoy checking out the plethora of resources these next two weeks. See you soon!!
During my pause from regular programming, I will complete a client project that is on the go, and always welcome new projects and referrals!  I'm just hitting pause on the daily posts, and weekly new videos & blogs. This is just for a week or two. I have great content already filmed, but I need to sort out, what is the highest priority. Thank you in advance, for sticking with me! Check out the PLETHORA of  great resources I have curated for you:
Some resources that you may not have viewed yet
Train the Trainer, Workplace Learning Playlist of  40 Videos/Blogs:  https://www.youtube.com/playlist?list=PLwuDrDs8XN4HujuHKYmS29DQOmOJxcWnZ
Some Blogs to Read/View
Podcast Versions of  Older Videos/Blogs
Right now you may be working on new collaborative projects, to move your training online, or create new policies and procedures. Here are some keys to partnership success:
A lot of engagement and leadership is now online, including if you have clients, customers, volunteers or your team you are trying to engage. Videos are a great way to reach, engage and train your audience. Heather and I talk about taking your engagement to the next level:
What is Your Learning Personality?
Take the Free Quiz

Want More Tips & Resources?
Join our email list, and gain access to downloads, resources and tools you can use, through our secret and exclusive member web page. Get this free two page download, packed with TIPS, when you join the email list.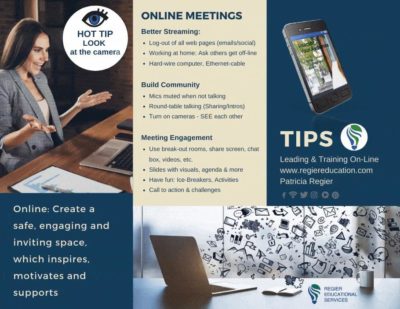 Book a complimentary meeting if you are interested in exploring to design your next learning experience or event.
Author

Patricia with Regier Educational Services, helping you reach and engage the variety of learning personalities in your audience. Education includes a Master of Adult Education, a BA in Psychology, and twenty years experience developing and facilitating workplace, community and collaborative training.  Online learning experience facilitator, and workshop trainer. Utilizing teaching adults best practices, and innovative multi-media resources to emphasize your message. As a content creator, speaker, and facilitator, learning experience design ensures that the variety of people in your audience are engaged.
What We Do
Expertise: Multimedia Content Creation, Engaging Variety Learning Types & Online Workshop or Meeting Hosting.
Reach Your Audience
Production Partner, supporting your online learning event: We do more than tech
Content Creation Services  (Tune-up Your Tools)
Speaking & Group Facilitation (Online & In-Person Workshops)
Consultation & Individual Training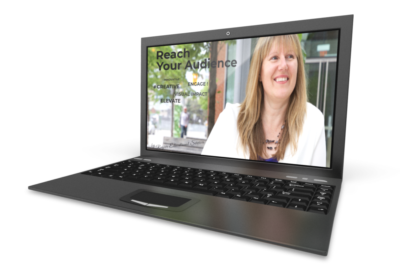 Engage Your Audience 
Regier Education Online Courses
Inspired Learning Personality Quiz
Affiliate Links: Tools I Use
CyberLink PowerDirector: https://bit.ly/2Tn4bZz
LATER Referral Program: https://later.com/r/7bb9ed
Canva Affiliate Link: https://canva.7eqqol.net/reachyouraudience
PresenterMedia Affiliate Link: https://bit.ly/2YqBk7H
ZOOM Affiliate Link: http://bit.ly/2DZ3gWE
TOOLS I USE Video Playlist: https://bit.ly/2TkGqS6
Additional Information About ZOOM Breakout Rooms: https://support.zoom.us/hc/en-us/articles/206476313-Managing-Breakout-Rooms
[social_warfare buttons=" "]
To request more information about learning and development opportunities, or book Patricia as a speaker please use the contact form below, or Email patricia@regiereducation.com