Did you know about the green shield in Zoom?
Sometimes we use platforms that help us perform our tasks without exploring all of the little icons. A client was asking me a question the other day, and after I provided my answer, she told me she didn't realize she could click the green shield. This inspired a tutorial.
Have you noticed it?
Have you ever clicked the tiny green shield, or even noticed it at the top left corner of your Zoom meeting room? I am constantly learning about and exploring all of the updates and features in Zoom and other platforms. I am happy to share tutorials, tips and 'did you know?' highlights with you. Let's take a look and uncover the mystery of Zoom's little green shield.

It does more than you might think.
When you click on the green shield icon, it first shows you all of your meeting information. Your meeting ID, passcode, link, etc. However, when you then click on the gear icon in the upper right corner of that box, you will see the settings options. From there you can do at lot more.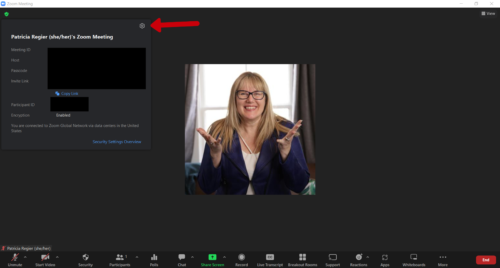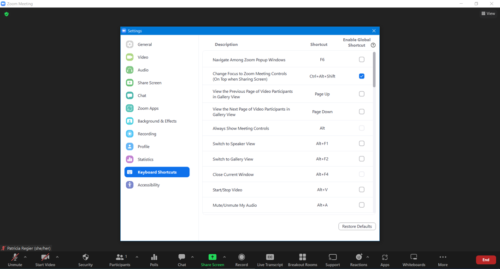 In the settings menu, you can change your video and audio options. You have access to your share screen settings, chat, Zoom apps, background, recording, profile, statistics, keyboard shortcuts and accessibility functions (CC). Within the live Zoom meeting, you can make some of these changes in settings in real-time.
Let's look a bit closer.
Video settings will allow you to change your camera, touch up your appearance, adjust lighting, video quality, gallery view and more
In the audio settings, you can test your speaker and mic, and adjust your settings for background noise, set original sound and more
Share screen settings give you window size, share and positioning options, such as side-by-side mode, and more
The chat options allow you to move your chat box, customize your sidebar, adjust your unread messages, push notifications and more
The ability to change your background, filters and (Beta) the new Avatars, can help get people to turn on their cameras
Recording, profile and statistics are also available to explore and adjust settings
Keyboard shortcuts
It was the keyboard shortcuts that sparked this tutorial. My client was wondering about a keyboard shortcut that is currently not on the list.  However, if you use a StreamDeck, or keyboard shortcuts in another way, these options are handy! Please note that you do have to click and activate them here if you want them to work.
If you have ever used a Stream Deck or other control panel while you're facilitating or producing an online event, you will appreciate the ability to use shortcuts directly from your keyboard to do a number of different things.
You can switch to speaker view, mute, start or stop screen sharing, video and recording, switch camera, copy, raise or lower hand, start & stop remote control permissions, switch your window view, change to dual monitors and show or hide your meeting controls.
I hope you'll give this a try.
Be sure to check out your little green shield the next time you're on a Zoom call. It really does keep all of the control at your fingertips!
Hot Bonus Tip:
You can also find these settings options (from the Green Shield), in your Zoom Account (via your browser), and in the Zoom App itself.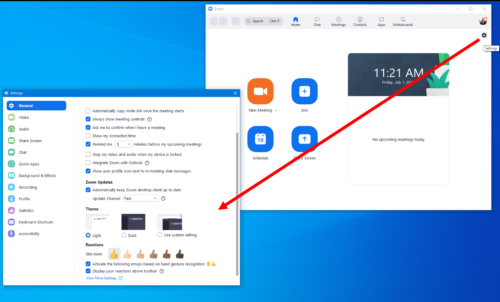 Video Tutorial: Click the Green Shield
Podcast
Author

Patricia Regier, MEd is the Online Expert who's built a career on the belief that training and online learning doesn't have to be boring. As Owner of Regier Educational Services and with a Master of Adult Education, Patricia is known for making her audience feel empowered, engaged, courageous and confident. Her debut book and keynote, The Online Shift teaches newcomers to the online space and seasoned professionals alike how to optimize their online presence and maximize engagement. She's tried, tested and refined using the latest behavioral science, research and psychology to make sure your next online experience is a hit!
Complimentary 15 Minute Meeting
To book Patricia as a speaker or consultant:
Please use the button above or email patricia@regiereducation.com
Regular Quick Tips & Full Tutorials
Sign-up for Facilitator Tips & Resources email member news
Subscribe to our YouTube channel!   
Like us on Facebook 
Pin this on Pinterest
Share on LinkedIn
Listen as a Podcast
Take the Learning Quiz
Register for our Course
Additional resources