Looking Back & Forward
There is a month left of this calendar year, and I thought I would share a major life moment that just happened to me. Even though the year is not finished yet, this may be a good time to start reflecting on the year 2022. Plus, I will prompt our planning ahead.
Prompts for your looking back reflections
Any big milestones to recognize for yourself professionally and personally?
Do you create content? Review what you have shared with the world can help put into perspective the value you give others.
Count all the people you have worked with, whether it was paid or a bonus you provided as a gift
Do you lead workshops? Have you spoken at conferences, on webinars, or podcasts or at your workplace or group; count it all!
Are you part of associations, participate in collaborative work, or volunteer?
What happened this year, looking back, Year in Review.
I published my first book,  THE ONLINE SHIFT: 101 Pro Tips for Online Facilitators, Workplace Trainers, & Virtual Speakers
So far, 42 videos have been uploaded to my YouTube channel (with around 5 more to be posted yet)
We reached 1000 subscribers on YouTube – thank you! (And 292.8 K views – wow!)
Reached Five years in Business
39 Blogs so far, and possibly 3 more to wrap-up this year.
12 workshops and speaking gigs (virtual & in-person). I want to double that next year!
35 amazing clients! It is such an honour to work with you!
I also joined the CAUCE (Canadian Association for University Continuing Education), plus I am part of the I4PL (The Institute for Performance and Learning), and CAPS (The Canadian Association of Professional Speakers)
Achieved some added learning badges: Virtual Speaker Certified, Master Virtual Producer, & Virtual Classroom Facilitation Mastery.
My business got Incorporated!  Now Regier Education Inc. … I still have a few more steps to wrap up.
Some very big personal milestones happened, including my oldest daughter, was married this past weekend. (Picture below)
And there are milestones we don't always share publicly; acknowledge those to yourself. I have some of those too!
Oh, and another big change was that I went from blond to brown hair colour. I was always a natural blond, but my hair naturally kept getting darker, so I finally embraced it and stopped highlights. This is me – now.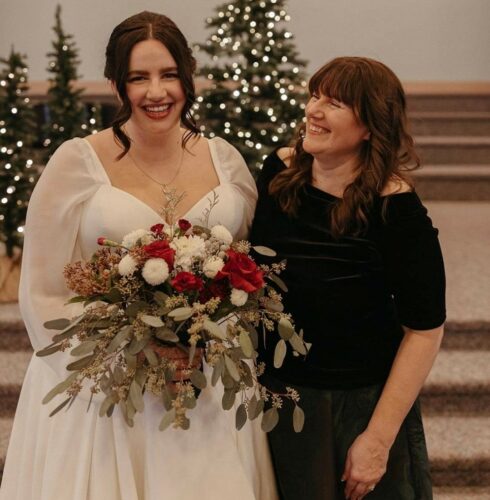 Gratitude
I am grateful for the communities that I get to be part of, people who have become friends, my writing group and mentors.
Full of gratitude and joy for the major life milestones personally and professionally this past year
Thankful for some rest this past year, as the pace was not the same busy as the two previous years.
Hopeful for the year ahead that some aspects will get busier while continuing to work on balance
I honor the year past and the year ahead for what it is, can be and what it provides
Looking Forward Prompts
Any wishes for next year?
What goals do you want to accomplish?
Any perspective or balance you want to achieve?
Are there experiences you want to have?
Personally and Professionally, set some goals – big or small!
Bonus Options: Do you come up with a word for the year? Or do you create a vision board?
 Hot Bonus Tip:
You can reflect at any point of the year, and sometimes the end of the year or the beginning of the next is so busy. Pause and reflect is a great practice. I would love to hear what your thoughts are after you have reflected on your year. Did you have any surprises?
UPCOMING VIDEOS & BLOGS: iSpring Course Authoring Platform Series, WebEx, Zoom, MS Teams, Learning Experience Design Tips, Behind the scenes at an in-person workshop, reflections from I4PL conference & More!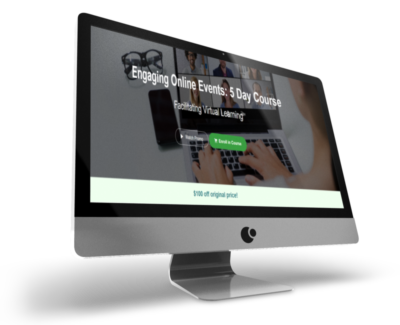 Turn your audience into participants!
Author

Patricia Regier, MEd is the Online Expert who's built a career on the belief that training and online learning doesn't have to be boring. As Owner of Regier Educational Services and with a Master of Adult Education, Patricia is known for making her audience feel empowered, engaged, courageous and confident. Her debut book and keynote, The Online Shift teaches newcomers to the online space and seasoned professionals alike how to optimize their online presence and maximize engagement. She's tried, tested and refined using the latest behavioral science, research and psychology to make sure your next online experience is a hit!
Complimentary 15-Minute Meeting
To book Patricia as a speaker or consultant:
Please use the button above or email patricia@regiereducation.com
 Engage Your Audience 
Regular Quick Tips & Tutorials: I share quick tips and tutorials with you, saving you time and helping you create engaging online learning experiences! Keep following us on social media for regular quick tips, our videos for weekly insights and tutorials and our blogs to access added highlights! If you have not subscribed to our YouTube channel, we invite you to do this. It just lets you know when a new video is posted. Not all videos are included in blogs. However, our Blogs do provide additional tips!
[social_warfare buttons=" "]
To request more information about learning and development opportunities or book Patricia as a speaker, please use the contact form below or email patricia@regiereducation.com