New Zoom Feature
Hosts can now broadcast their voice into all the breakout rooms. This is an exciting new opinion! Now, instead of only typing a message, such as a warning that the breakout groups have five more minutes remaining, you can TALK into the breakout rooms to give the warning. It's only one-way communication, but this can be very helpful.
Broadcast Voice
Here are the steps to broadcasting your voice into the breakout rooms:
Open breakout rooms
Broadcast and pick Voice
Hold down the spacebar AND click the voice symbol
Don't forget to end the broadcast!
Zoom Broadcast Voice  Video Tutorial  & Podcast
Hot Bonus Tip
Breakouts are an important learning experience design feature. Small groups allow for social learning and the opportunity to practice and apply what has been learned.  [Also, If you didn't already know, you can share screen and video with sounds directly into all the breakout rooms in Zoom. Check out this other blog and video to learn more.]
UPCOMING VIDEOS & BLOGS: WebEx, iSpring Learning Solutions Course Platform, Learning Experience Design Tips & More!
If you missed it, here's the last blog post about the Hybrid Tool OWL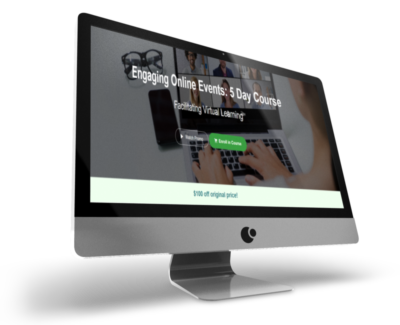 Turn your audience into participants!
Author

Patricia Regier, MEd is the Online Expert who's built a career on the belief that training and online learning doesn't have to be boring. As Owner of Regier Educational Services and with a Master of Adult Education, Patricia is known for making her audience feel empowered, engaged, courageous and confident. Her debut book and keynote, The Online Shift teaches newcomers to the online space and seasoned professionals alike how to optimize their online presence and maximize engagement. She's tried, tested and refined using the latest behavioral science, research and psychology to make sure your next online experience is a hit!
Complimentary 15 Minute Meeting
To book Patricia as a speaker or consultant:
Please use the button above or email patricia@regiereducation.com
 Engage Your Audience 
Regular Quick Tips & Tutorials: I share quick tips and tutorials with you, saving you time and helping you create engaging online learning experiences! Keep following us on social media for regular quick tips, our videos for weekly insights and tutorials and our blogs to access added highlights! If you have not subscribed to our YouTube channel, we invite you to do this. It just lets you know when a new video is posted. Not all videos are included in blogs. However, our Blogs do provide additional tips!
[social_warfare buttons=" "]
To request more information about learning and development opportunities or book Patricia as a speaker, please use the contact form below or email patricia@regiereducation.com