Adding More Time
I receive some great questions after posting tutorial videos on YouTube. To answer a recent question, I created a new video showing how to add more time to ZOOM breakout rooms. After the countdown timer has expired a box will pop up, and let you know. At this point you can either close the rooms or add more time. The video below demonstrates, PLUS provides some great extra tips! Communication is really important online, especially when using the great engagement tool, breakout rooms.
Did You Know:
You can turn off the 'chime' when people are coming in late to a meeting
You can start with the waiting room and then turn it off later
You can send a message to the waiting room
UPDATE: You can 'unclick' any cohosts, when you have created randomized rooms, and move people automatically. Because you have unclicked the cohosts, or guest speakers, they won't be moved into the rooms. Recommend testing this next time you are hosting a meeting with breakouts.
Canva Free Trial:
Here is a link to access Canva Pro for 45 days free, to get a chance to play and create. CANVA – 45 Days Pro Level, for free
Online Courses
We also have a ZOOM course, where additional in-depth tutorials and other resources/tools are provided. If you want to check it out, click here.
MICRO COURSE: This offer is also for a limited time, and a limited number of coupons, a special price for our email list members. Lifetime Access for a special price for you.
Don't Forget About
Our Free Quiz, about different learning preferences.
Author

Patricia with Regier Educational Services, helping facilitators engage the variety of learning types in your online audience. Education includes a Master of Adult Education, a BA in Psychology, and twenty years experience developing and facilitating workplace, community and collaborative training.  Online learning experience designer and facilitator. Utilizing teaching adults best practices, and innovative multi-media resources to emphasize your message. Engaging content creator,  facilitator and online production partner.
 Engage Your Audience 
Affiliate Links:
LATER Referral Program: https://later.com/r/7bb9ed
Canva Affiliate Link: https://canva.7eqqol.net/reachyouraudience
PresenterMedia Affiliate Link: https://bit.ly/2YqBk7H
ZOOM Affiliate Link: http://bit.ly/2DZ3gWE
CyberLink PowerDirector: https://bit.ly/2Tn4bZz
Tubebuddy: https://www.tubebuddy.com/PatriciaRegier
SurfShark VPN: https://surfshark.club/friend/8epqkB3N?locale=en
FYI:
Regier Educational Services recently changed some of my social media channel, handles to @RegierEducation
UPDATE on our SERVICES: We provide support as your Production Partner. Patricia can train you about ZOOM, and be your technical support for you online learning event.
Want More Tips & Resources?
Join our email list, and gain access to downloads, resources and tools you can use, through our secret and exclusive member web page. Get this free two page download, packed with TIPS, when you join the email list.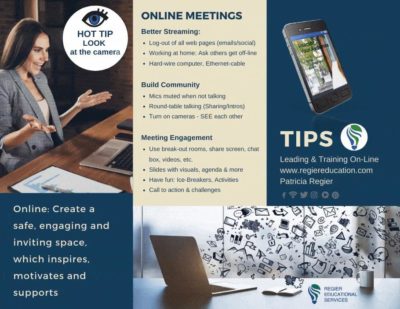 [social_warfare buttons=" "]
To request more information about learning and development opportunities, or book Patricia as a speaker please use the contact form below, or Email patricia@regiereducation.com