Let's get started…
We've chosen a date and time and length of the meeting. So now we want to schedule our Zoom meeting and invite the participants.  Let me take you through the necessary steps to create your meeting invitation, add the link to your calendar and invite others who can use that invitation to add it to their calendar too!
These easy-to-follow steps will help you add all of the pertinent information to your invitation that the participants will need to prepare for and attend your meeting as well as add it to their calendar with just a couple of simple clicks.
What you'll learn:
Navigating the Zoom Meeting Scheduler
Creating your meeting
Finding your calendar
Inviting guests using your calendar
Hot Tip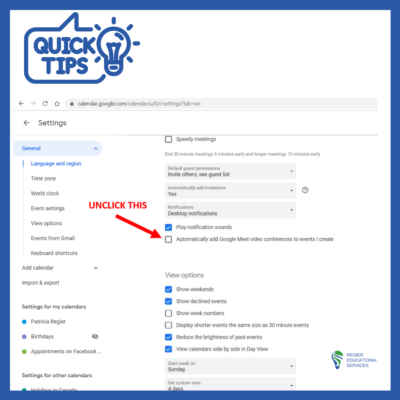 When you connect ZOOM with your Google calendar and then add people's emails to invite them, UNCLICK this in your Google Calendar setting!
Communication is so important and it's confusing when the invitation includes a Google Meet-up link AND the ZOOM link, so be sure to unclick this box to avoid two conflicting links from being in the same invite.
Tutorial Video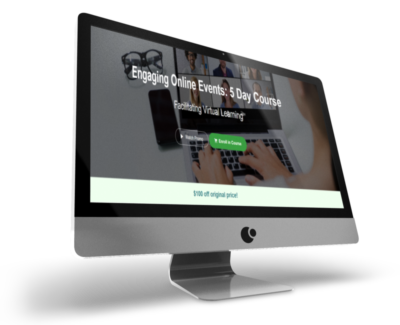 Click for your exclusive offer
Don't Forget About:  Our Free Quiz, about different learning preferences.
Author

Patricia with Regier Educational Services, helping facilitators engage the variety of learning types in your online audience. Education includes a Master of Adult Education, a BA in Psychology, and twenty years experience developing and facilitating workplace, community and collaborative training.  Online learning experience designer and facilitator. Utilizing teaching adults best practices, and innovative multi-media resources to emphasize your message. Engaging content creator,  facilitator and online production partner.
 Engage Your Audience 
Affiliate Links:
LATER Referral Program: https://later.com/r/7bb9ed
Canva Affiliate Link: https://www.canva.com/affiliates/CCCPR45
PresenterMedia Affiliate Link: https://bit.ly/2YqBk7H
ZOOM Affiliate Link: http://bit.ly/2DZ3gWE
CyberLink PowerDirector: https://bit.ly/2Tn4bZz
Tubebuddy: https://www.tubebuddy.com/PatriciaRegier
SurfShark VPN: https://surfshark.club/friend/8epqkB3N?locale=en
Want More Tips & Resources?
Join our email list, and gain access to downloads, resources and tools you can use, through our secret and exclusive member web page. Get this free two-page download, packed with TIPS, when you join the email list.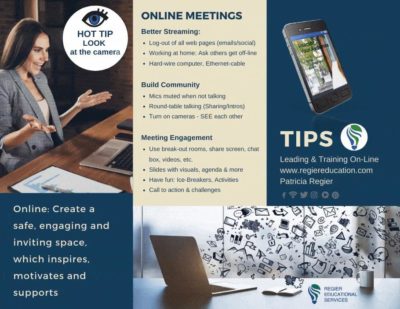 [social_warfare buttons=" "]
To request more information about learning and development opportunities, or book Patricia as a speaker please use the contact form below or Email patricia@regiereducation.com