Not Just a Talking Head
Creating the best video tutorials requires more than talking to the camera.  Video tutorials can be for an online course, YouTube, IGTV or a website, for employees or clients/members' page. Long or short, elements to layer and include, will make an impact that the message is learned and can be applied. Even if you are demonstrating the technology navigation, or' how to guide', video tutorials are a great way for people to reference just in time, when they need a resource to remember or learn.
Points from our PART ONE video:
Clear, concise, and relevant communication
No assumptions & don't skip steps
Click record WHEN you are learning something for the first time
SHOW & TELL
Say it out loud, every step, and describing the placement of where to look
Precise – be very specific! It is good to OVER explain.
Demonstrate visually, by adding layers of arrows and circles – during Editing
LIVE tutorials, workshops or meetings: Use your curser with a 'Share Screen'
LIVE tutorials ask your participants if they can see what you are describing. Use the participant engagement tools: Chat, Checkmarks, or ask them to come onto camera and/mic to ask questions or verify that they understand.
Add a download, or a written step by step guide
Add screen shots in a document to show, and aid as a quick reference guide
Support the learning types: See, Hear, Think, Do by layering the content
Add a call to action, apply the learning as soon as possible
Chapters, Timestamps and segment your information
Consider the Learning Experience Journey
TIP: Be aware of your 'figuring it out' face, when live on camera and providing a demonstration tutorial.
PART TWO: Will include more about the HOW, and give examples of different types of video tutorials, animations and step by step guides.
TEACH BACK METHOD: In addition to what was shared in the video, the teach back method is a great way, when you are working with an individual, to ask them to explain what they understood, or how they would apply the learning.
Podcast
Canva Free Trial:
Here is a link to access Canva Pro for 45 days free, to get a chance to play and create. CANVA – 45 Days Pro Level, for free
Online Courses
We also have a ZOOM course, where additional in-depth tutorials and other resources/tools are provided. If you want to check it out, click here.
MICRO COURSE: This offer is also for a limited time, and a limited number of coupons, a special price for our email list members. Lifetime Access for a special price for you.
Don't Forget About
Our Free Quiz, about different learning preferences.
Author

Patricia with Regier Educational Services, helping facilitators engage the variety of learning types in your online audience. Education includes a Master of Adult Education, a BA in Psychology, and twenty years experience developing and facilitating workplace, community and collaborative training.  Online learning experience designer and facilitator. Utilizing teaching adults best practices, and innovative multi-media resources to emphasize your message. Engaging content creator,  facilitator and online production partner.
 Engage Your Audience 
Affiliate Links:
LATER Referral Program: https://later.com/r/7bb9ed
Canva Affiliate Link: https://canva.7eqqol.net/reachyouraudience
PresenterMedia Affiliate Link: https://bit.ly/2YqBk7H
ZOOM Affiliate Link: http://bit.ly/2DZ3gWE
CyberLink PowerDirector: https://bit.ly/2Tn4bZz
Tubebuddy: https://www.tubebuddy.com/PatriciaRegier
SurfShark VPN: https://surfshark.club/friend/8epqkB3N?locale=en
FYI:
Regier Educational Services recently changed some of my social media channel, handles to @RegierEducation
UPDATE on our SERVICES: We provide support as your Production Partner. Patricia can train you about ZOOM, and be your technical support for you online learning event.
Want More Tips & Resources?
Join our email list, and gain access to downloads, resources and tools you can use, through our secret and exclusive member web page. Get this free two page download, packed with TIPS, when you join the email list.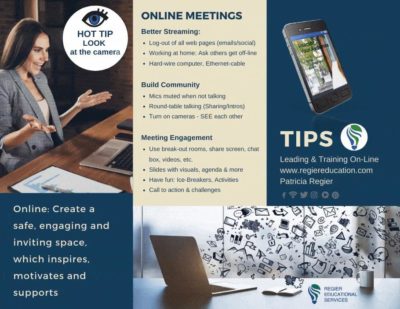 [social_warfare buttons=" "]
To request more information about learning and development opportunities, or book Patricia as a speaker please use the contact form below, or Email patricia@regiereducation.com