Are you "Zoomed out"?
Some of you are feeling what is being referred to as "Zoom Fatigue".  After a year of mainly digital and online interactions, through a pandemic, many of us are feeling fatigue. One of the potential reasons is that with 'in-person' meetings, we did not have a mirror in front of us. We were looking people in the eyes, and not through a camera. We were looking at the person talking and not at 25 plus people at the same time.
Many people were also adjusting to working from home, or at home with kids in school, or along side other family members working from home. Everything shifted. We also used to have time in-between meetings to walk to the room, or drive to the meeting. Now we often have back to back, to back meetings online.  In fact many people have dropped the social get-togethers online, because all of our work meetings are on line.
The Good Parts of Online Video
Don't get me wrong, I think there are a lot of positive aspects of working online too! The fantastic thing is that we can 'see' people. Work was able to continue, and we could still connect with our colleges, share documents, presentations and people's smiles, hear their laughter. When we go back to in-person meetings, things will still be different. Social distancing and masks are here for a while. Therefore on-line meetings means we can see each other's full faces. This is also helpful for hard of hearing or other different abilities, and needs.
We are not all the same
Just as we all don't light up or get excited about the same things, we learn differently and socialize differently. (Take our free learning personality quiz if you are interested in learning more.) Some of us thrive on social interactions, and some of us need to recharge and not see people every day. Zoom (the company's blog) just wrote a really interesting article about this. Bottom line, is that we have to find different strategies that work for us. Turning off our self-view is one option. This may be one way to still be engaged, where other people see you and you don't have to see yourself.
Let's turn our Self-View off!
It's really easy to turn off your Self View so you don't have to see yourself in your gallery view while in Zoom which will enable you to pay closer attention to what's actually going on.
While you're in the meeting, look in the upper right corner of your screen for the 3 dots …
Click to open the dropdown menu
Click on "Hide Self View"
It's as easy as that.  Now you can spend your meeting learning, listening and enjoying those around you without the distraction of you.  You should note that everyone else can still see you…this only removes you from your view.
If you decide you want to see yourself again, just go to the VIEW options at the top right of your screen and click on "Show Self View".  It really couldn't be any simpler than that.
That felt weird
Just as everyone had to quickly adapt to online work, tackle the technical learning curves and pivot to a new way of doing things. We now are used to seeing ourselves online. I know it's hard for me to not fix my hair when I catch a glimpse of what I look like. However, I do look around and I have trained myself to look into the camera when I talk, so people feel like I am looking at them. Recently I showed a training class how to turn off their view, and someone mentioned that would make them more anxious. It's a choice, and some choices take a bit to get used to. It must be the right choice for you. Not seeing yourself does not mean you have disappeared from the meeting. I do find it interesting that our behaviour and adaptations have now impacted us in other ways…. that's my BA in Psychology popping up. Information can help us make informed decisions. Please note that any choice we make, can still feel weird at first, even if it helps us.
Watch the video tutorial or listen to the podcast below.
How to turn off your Self-View video tutorial
If someone you know is suffering from Zoom Fatigue, share this post with them.  They'll be sure to thank you.
Regular Quick Tips & Full Tutorials
I share quick tips and tutorials with you, saving you time, and helping you create engaging online learning experiences! Keep following us on social media for regular quick tips, our videos for weekly insights and tutorials and our blogs to access added highlights! If you have not subscribed to our YouTube channel, we invite you to do this. It just lets you know when a new video is posted. Not all videos are included in blogs. However, our Blogs provide additional tips!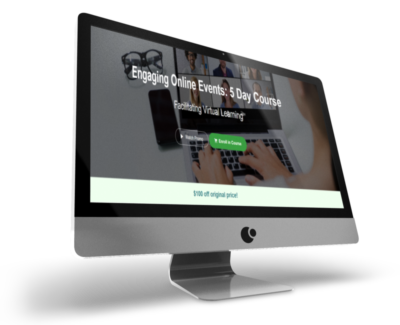 Click for your exclusive offer
Don't Forget About:  Our Free Quiz, about different learning preferences.
Author

Patricia with Regier Educational Services, helping facilitators engage the variety of learning types in your online audience. Education includes a Master of Adult Education, a BA in Psychology, and twenty years experience developing and facilitating workplace, community and collaborative training.  Online learning experience designer and facilitator. Utilizing teaching adults best practices, and innovative multi-media resources to emphasize your message. Engaging content creator,  facilitator and online production partner.
 Engage Your Audience 
Affiliate Links:
LATER Referral Program: https://later.com/r/7bb9ed
Canva Affiliate Link: https://www.canva.com/affiliates/CCCPR45
PresenterMedia Affiliate Link: https://bit.ly/2YqBk7H
ZOOM Affiliate Link: http://bit.ly/2DZ3gWE
CyberLink PowerDirector: https://bit.ly/2Tn4bZz
Tubebuddy: https://www.tubebuddy.com/PatriciaRegier
SurfShark VPN: https://surfshark.club/friend/8epqkB3N?locale=en
Melon Live Streaming APP: https://melonapp.com?ref=patricia
Want More Tips & Resources?
Join our email list, and gain access to downloads, resources and tools you can use, through our secret and exclusive member web page. Get this free two-page download, packed with TIPS, when you join the email list.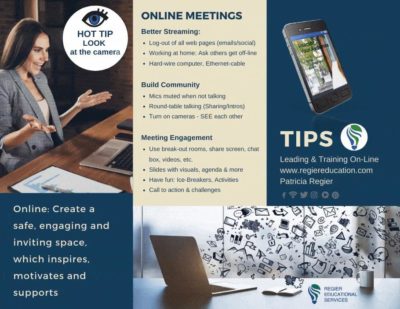 [social_warfare buttons=" "]
To request more information about learning and development opportunities, or book Patricia as a speaker please use the contact form below or Email patricia@regiereducation.com