Collaborating with Chat GPT
The following blog is written by Chat GPT , an AI generated content – Edited by Patricia Regier

This is an example Blog (precurser for the next blog – which includes all Patricia's thoughts)
Testing a new tool
Title: Harnessing the Power of ChatGPT: Benefits and Cautions of Relying on AI
A couple of months ago, I decided to explore the fascinating world of ChatGPT (Generative Pre-trained Transformer), an AI language model developed by OpenAI. As we explore the benefits of using this cutting-edge technology, it's also essential to discuss the cautions we should take when solely relying on AI-generated information.
The Benefits of ChatGPT
ChatGPT has undeniably transformed how we approach various tasks, from copywriting to brainstorming. Here are some key benefits of incorporating ChatGPT into your daily work:
Increased productivity: ChatGPT enables users to generate high-quality content in a fraction of the time it would typically take. This can lead to significant productivity gains for individuals and organizations.
Enhanced creativity: By providing AI-generated suggestions and ideas, ChatGPT helps users think outside the box and overcome writer's block, spurring greater creative output.
Cost and time savings: ChatGPT can help reduce the costs associated with hiring additional staff for content creation or translation while also saving time spent on repetitive tasks.
Improved communication: The ability to translate text into multiple languages and generate content tailored for different audiences can help enhance communication across industries and professions.
Proceed with Caution: Reliance on AI-generated Information
While ChatGPT offers numerous benefits, it's important to remember that it is, at its core, an AI model. As such, there are inherent limitations and concerns that we should be aware of:
Biases in AI: AI language models like ChatGPT learn from vast amounts of data, which may contain biases. These biases can inadvertently influence the content generated by the AI, leading to potentially offensive or inaccurate information.
Verifying accuracy: AI-generated content may not always be accurate or reliable. Fact-checking and verifying any information generated by ChatGPT is crucial, especially when sharing it with others or using it for decision-making.
Lack of contextual understanding: ChatGPT may not fully understand the context or nuances of a specific topic. This can result in superficial, irrelevant, or even misleading content.
Ethical concerns: As with any powerful technology, AI language models can be misused. Considering the ethical implications and potential harms of using AI-generated content is important.
Final Thoughts
ChatGPT is an impressive AI language model with numerous applications and benefits. However, it's crucial to approach its use cautiously, especially when sharing AI-generated information with others. By understanding its limitations and conducting due diligence, we can harness the power of ChatGPT while minimizing potential risks.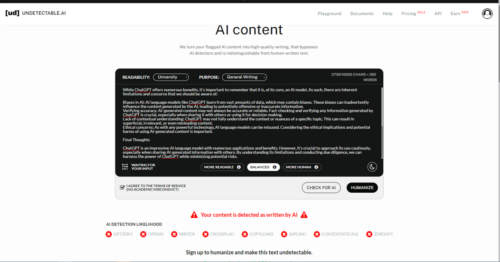 There are many AI detection web pages. Screenshot above is one I just tried: Undetectable.ai
Hot Bonus Tip  
Play with a new tool, test the limits and remember that shifting to a new pattern for creating content can take time.
How this measures up
AI-generated content may be great, but it will likely need editing, especially if you don't ask it to write at a certain readability level. This is the score this blog received:
Subheading distribution: 1 section of your text is longer than 300 words and is not separated by any subheadings. Add subheadings to improve readability.

Transition words: Only 17.5% of the sentences contain transition words, which is insufficient. Use more of them.
UPCOMING VIDEOS & BLOGS: Working with Vendors/Content Creators; Zoom, The OWL, MS Teams, More Learning Experience Design Tips, reflections from a conference & More!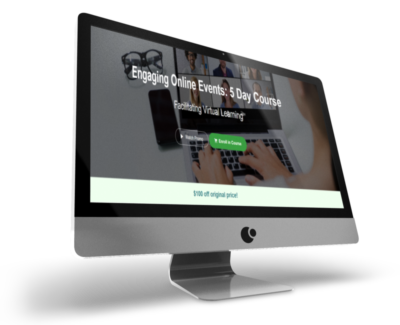 Turn your audience into participants!
Author

Patricia Regier, MEd is the Online Expert who's built a career on the belief that training and online learning doesn't have to be boring. As Owner of Regier Educational Services and with a Master of Adult Education, Patricia is known for making her audience feel empowered, engaged, courageous and confident. Her debut book and keynote, The Online Shift teaches newcomers to the online space and seasoned professionals alike how to optimize their online presence and maximize engagement. She's tried, tested and refined using the latest behavioral science, research and psychology to make sure your next online experience is a hit!
To book Patricia as a speaker or consultant:
Please use the button above or email patricia@regiereducation.com