What Patricia Thinks
Abbreviated version – faster read than the video/podcast

Firstly, here is a video of me testing Chat GPT; it is a behind-the-scenes look. Secondly, Chat GPT's blog is an example written by Chat GPT for you to check out. As always, a hot bonus tip at the end, plus links to the current video and podcast. This is what I currently think about Chat GPT and some food for thought.
A New Shift
I remember only several months ago when I received my first question from someone asking me what I thought about Chat GPT…. I honestly had not heard too much about it at that point. Then I started thinking about it and unpacking what this meant to me and to the world. Then, when I was ready, I jumped in to test it before coming to any conclusions – and I still reserve the right to choose how I use this tool in my life and work.
Uses
Workshop and training ideas
Title ideas
Summary or synopsis of a workshop or book
Hashtag ideas
Write your blog for you (then edit)
Write policies for your organization
Research gathering
Starring place for any writing
Report Template
Cover Letters
Proposals Writing Partner
AND MORE!
Pros to Chat GPT:
Save me time, money and energy.
Research assistant and writing partner.
This could help Virtual assistants to save time.
It gives me what I put into it, with questions, my prompts and how I make it dig deeper.
I can ask it to pull from my resources and over six years of content 'in the voice of Patricia Regier Inc. from Regier Education or Regier Educational Services.'
This could be an idea generator and what I use as a starting point or template to expand my writing and thoughts.
The time required is more after I get the results, changing it to fully represent my ideas, thoughts, and beliefs. The time is then verifying the facts and sources I have asked for.
Considerations
The difference when we are using AI is our critical thinking and responsibility for how we use it.
Do we take time to unpack the ethics of using this new tool?
How do we authenticate whose voice is in the words? Does it make it less valuable?
People hire ghostwriters – and we don't always know it – is that OK? These are not judgments!
Do we take responsibility for how I was potentially using a tool when it's AI?
Is it OK to ask Chat GPT to write in the 'voice of' someone else? Should we reference that?
We can ask students to dig deeper and go further with how they think about and use this tool.
Ask Chat GPT to source what it pulls, and then I verify those sources and links, and references.
Your Context
If your context includes academics, then this discussion may be very different.
For learners and students, writing and critical thinking skills are essential!
The context of referencing, sourcing, and developing one's original ideas must be part of the conversation.
Your organization may need to consider a new policy for using AI supports in the context of accessibility and learning disability needs.
Responsibility and transparency should be part of the conversation, including using AI checkers when reviewing submitted work.
Not new
That is the thing- AI has been around for a long time. AI is not new beyond chatbots and automatic responses – algorithms and computer code! We depend on spell and grammar check programs and suggestions to support and improve our writing. If we think about it – what are other examples of AI-supported functions we have used for a long time? But yes, Chat GPTs is a whole new level of how we can use AI – and how we think about it.
We are part of the process and outcomes.
If I pull something from Chat GPT or AI-generated anything, I need to change it and make sure it is in my voice and I believe what is being said. We can add our stories, examples, and experience to the writing.  However, this is a wonderful tool to help speed up the painful process of writing policies, cover letters and proposals. It can be a research assistant and prompt for writing articles, blogs, books, etc. It can be like the person we bounce ideas off and a writing partner.
We can also be responsible for fact-checking, verifying, or thinking about writing from AI. If fantastic writing and thought-provoking insights are pulled from well-written and thought-provoking prompt research questions, are we not part of the outcomes? We often get what we put in – with anything in life.
Transparency about using Chat GPT
At the bottom of a blog or article, should we reference that part of the writing process was with Chat GPT as a partner? We are still responsible for it if we put it out for others to read. Do we care? Are we ashamed? Should we be? Do we care if others judge us? Could we be transparent as a sign of authenticity? We may not be able to say how much is AI and how much we changed… or should we have to? Does it take away from what we are learning or thinking about?
This is the next level of writing skills. We read books, write school papers, and expand on someone else's ideas. Or we look for evidence to back up or dispute our ideas. Writing skilled questions are essential, and critical thinking skills are imperative! Referencing is now in a new era, and we don't know how this will all turn out.
What do you think?
Typically, I write differently than this – when I share blogs and articles. Usually, my process includes talking on camera first and then writing a more synthesized version. This time I did it the other way around. You get to see inside my thought processes and how I write in my journal or for potential future books. Would you like to see more of this style of writing from me? I will continue to provide pro tips and tutorials, but the deep-thinking stuff could be interesting to share. This type of writing is more vulnerable than the other style I have recently shared.
How are you processing this new era we are in?
Why do we write in our own words? Why do we care?
Video & Podcast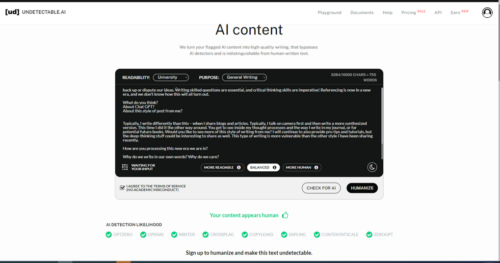 I passed! My thoughts and words are checked in an AI checker called Undetectable.ai
Hot Bonus Tip  
Explore new tools; there is a learning curve, and a shift in the process takes time. Test the limits; you get what you put into it.
UPCOMING VIDEOS & BLOGS: Working with Vendors/Content Creators; Zoom, The OWL, MS Teams, More Learning Experience Design Tips, reflections from I4PL conference & More!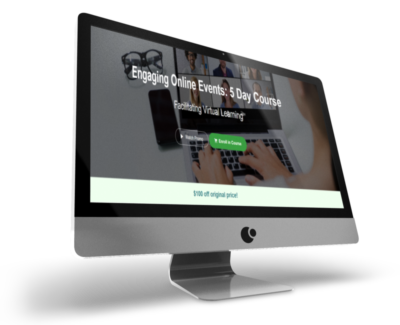 Turn your audience into participants!
Author

Patricia Regier, MEd is the Online Expert who's built a career on the belief that training and online learning doesn't have to be boring. As Owner of Regier Educational Services and with a Master of Adult Education, Patricia is known for making her audience feel empowered, engaged, courageous and confident. Her debut book and keynote, The Online Shift teaches newcomers to the online space and seasoned professionals alike how to optimize their online presence and maximize engagement. She's tried, tested and refined using the latest behavioral science, research and psychology to make sure your next online experience is a hit!
To book Patricia as a speaker or consultant:
Please use the button above or email patricia@regiereducation.com