Hot News: New Zoom Features
If you follow my blog or subscribe to my YouTube channel, you'll know how excited I get when there are updates or new features to explore in Zoom!  So when I saw that there were new options I just had to get on there to take a look around and share them with you.
Keep checking back with me to learn about improvements Zoom continues to release through updates, based on their customer's wish lists.  If there's something you wish Zoom would do, it probably won't be long before you see it as a new feature as they are always creating new and useful features and I will be there to share them with you!  To see the new options, be sure that you are always using the Latest Version of Zoom   (As of August 24, 2021, the version is 5.7.6)
Zoom Apps are now an option to download fantastic games and tools directly into your Zoom meeting. I shared my first look and impressions about Zoom Apps, and another video about what is hot and new in Zoom.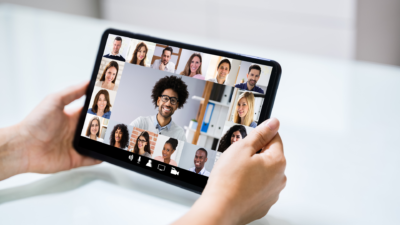 Let's take a look at some of the new features…
You have the option to record in your immersive view which will negate the need to do a screen recording.  Please note that when you share your screen, it will stop the immersive view.
There is a new reaction that includes a coffee/tea cup that indicates when you're away.  This is very helpful when you have break-out rooms going on, especially if you have people paired off.  You can see if someone is alone and get them together with someone else who needs a partner.  Very handy for facilitators!
In the chat section, there is a new emoji symbol that you can use to add any emoji.  Great for when you want to post a reaction without words.  (Side note, I changed my emoji colour back to yellow (as in the default setting) because there were times that it didn't show up well on my real background.)  It's wonderful that we have so many more options for inclusivity.
LATEST UPDATE: Even after posting this blog, I have reviewed some additional changes with the update this week. Open up your Zoom account (via the browser and log-in), after you update your app.  You may find being offered a tour of Zoom, where you can add another update into your account settings. Here are a few screen shots from my tour: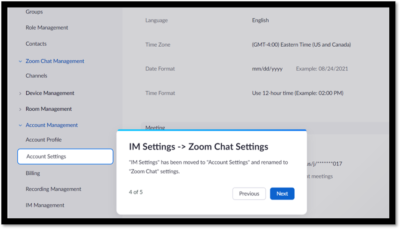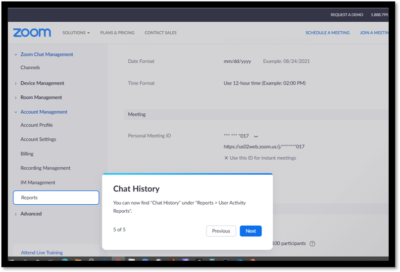 Coming soon?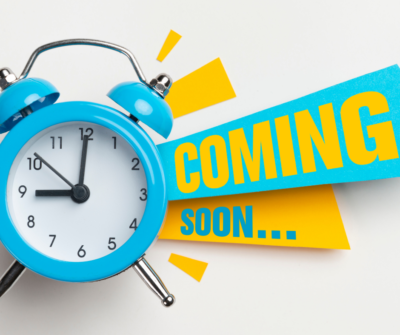 There are a few things that I am looking into further and will create videos for you in the future.
The first one is the ability to set up a follow-up survey right after a meeting and create a link to it as people end and are leaving the meeting.  The survey is supposed to pop up right away, after you close a meeting. You are able to use your third-party survey or the survey feature in Zoom.  It even includes long answers, not just multiple choice and there's a scale option, which I am really excited about that.  When I have a chance to look into it further and make sure that it's working, I will create a future tutorial.
I have also heard that we will be able to add a video into the waiting room, this is currently in Beta testing. This is an exciting option to look forward to. When it's available I will share about it. Make sure you subscribe to our YouTube channel, and follow us on social media, plus consider joining our email list, to be the first to learn about new developments.
I've been hearing some things also about potential options in breakout rooms that are coming.  It would be nice to have and easy record and playback option in breakout rooms, for example when training via role plays. I find that Zoom keeps improving! If you would like me to create a video about how to give your suggestions to Zoom, leave a comment under one of the videos in YouTube.
Click here and SUBSCRIBE to my YouTube Channel so you don't miss any of these informative and educational videos.
HOT AND NEW FEATURES IN ZOOM
New Zoom Apps!
A new and exciting feature in Zoom is the ability to add apps to your Zoom account so you can play and integrate the apps into your meeting.  And once again you are seeing this with me for the first time!
First, be sure that you have the latest version of Zoom (CLICK HERE for a previously recorded tutorial on how to do that) and once you're all set, we can get going!
You will look for the Zoom icon on your computer and click on it to open your Zoom account.  Once you've opened it, you will see the INTRODUCING ZOOM APPS notification on your screen and the new App icon on your screen.
When you click on the App icon, you will see a side panel open up where you can download and manage your new apps to add great new interactive features to your meetings!  As of now, there are 56 apps to choose from.  Some are games and some are productivity tools that will enhance the Zoom experience for both yourself and your audience.
You have to be logged into your Zoom account in order to download the apps.  Once you've chosen a game, you can invite other players to join you by adding an invitation into the chat.  Then your attendees can click the link to install the app and start playing along with you.
I'm going to take a deeper look into this and create a more in-depth tutorial for you very soon.  In the meantime, take a look around with me to get familiar with the navigation and available apps.
FIRST LOOK AT THE NEW ZOOM APPS!  
Be sure to comment and let me know what you would like to see for video tutorials in the future.  I love creating them for you and want your feedback and opinions on what you would like to see.
I hope you found these tips and tutorials helpful!  My goal each week is to give you some lightbulb learning moments that will help you create a more memorable online learning experience for your participants.
Podcast
If you missed the last blog: 
A Facilitator's Summer Reading List – In case you missed it, check out his fantastic blog and video as well!
Regular Quick Tips & Full Tutorials
I share quick tips and tutorials with you, saving you time, and helping you create engaging online learning experiences! Keep following us on social media for regular quick tips, our videos for weekly insights and tutorials and our blogs to access added highlights! If you have not subscribed to our YouTube channel, we invite you to do this. It just lets you know when a new video is posted. Not all videos are included in blogs. However, our Blogs provide additional tips!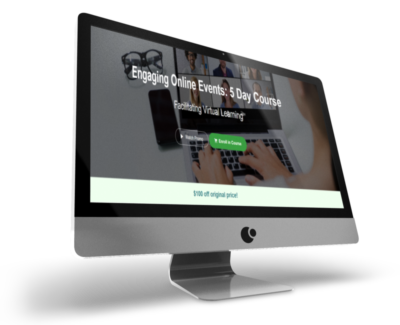 Click for your exclusive offer
Don't Forget About:  Our Free Quiz, about different learning preferences.
Author

Patricia with Regier Educational Services, helping facilitators engage the variety of learning types in your online audience. Education includes a Master of Adult Education, a BA in Psychology, and twenty years experience developing and facilitating workplace, community and collaborative training.  Online learning experience designer and facilitator. Utilizing teaching adults best practices, and innovative multi-media resources to emphasize your message. Engaging content creator,  facilitator and online production partner.
 Engage Your Audience 
Affiliate Links:
Jackery Battery Back-up System: https://www.jackery.com?aff=567
Canva Affiliate Link: https://www.canva.com/affiliates/CCCPR45
PresenterMedia Affiliate Link: https://bit.ly/2YqBk7H
ZOOM Affiliate Link: http://bit.ly/2DZ3gWE
CyberLink PowerDirector: https://bit.ly/2Tn4bZz
Tubebuddy: https://www.tubebuddy.com/PatriciaRegier
SurfShark VPN: https://surfshark.club/friend/8epqkB3N?locale=en
Melon Live Streaming APP: https://melonapp.com?ref=patricia
LATER Referral Program: https://later.com/r/7bb9ed
Want More Tips & Resources?
Join our email list, and gain access to downloads, resources and tools you can use, through our secret and exclusive member web page. Get this free two-page download, packed with TIPS, when you join the email list.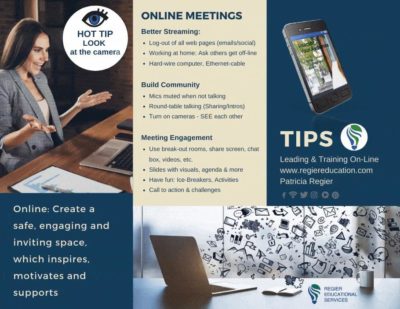 [social_warfare buttons=" "]
To request more information about learning and development opportunities, or book Patricia as a speaker please use the contact form below or Email patricia@regiereducation.com