Webinar is a bad word, but…
Webinars can be a bad word for many people. With a webinar, there can be a limited increase in knowledge transfer and a decrease in attendance. This blog, video and podcast provide tips on facilitating engagement even on a webinar platform. Webinars are often like lectures, and one-way passive learning experiences, without the experiential parts. This video, blog and podcast will give you quick tips to improve engaging virtual experiences and ensure that your webinar turns an audience into participants! Typically, I don't 'do' webinars, but I facilitate engaging learning experiences, even when it's a webinar platform!
Quick Tips for Webinar Engagement
High Energy  – Your presence on camera.
Consider Live & Recording
Interaction: Likes, Emojies, Chat, Questions (Q/A)
Team Approach: High energy host, supporting with your introduction and monitoring chat
Learning Experience Journey, Before, During and After

Before: links, Biography of the speaker, Intro Video etc.
During: Tech support, QR Codes, and Engagement
After: Resource, Recording Link, Follow-up and evaluation

Check Chat throughout, and respond right away. Have support to manage questions in the comments or chat
Plus, check the chat or comments after the webinar, if it is posted on YouTube or LinkedIn
Share a QR code for people to download a take-home resource about the presentation and as a follow-up support.
Be ready to share the link in the chat and ask your host if it can be shared as a follow-up email.
Add engaging visuals to your presentation
Ask your host if Closed Captions are activated.
Have a tech check ahead of time! Or log in early and make sure you can share your slides and sound if needed.
Increase engagement with polls & surveys, using Menti or another platform for real-time engagement everyone can see & join in on.
Use alternate options, such as asking people to use the chat for their responses.
Build in Participant Directed Engagement and experiential participation opportunities.

I gave a choice at a recent webinar and offered the option of seeing my Avatar or my office.

Share a summary resource or learning booster is a value-added resource!
You can invite people to comment even in a recording (depending on where it's posted).
(At an online conference) Refer back to the speakers before you as a way to draw in presenters.  (Hot Bonus Tips – not in the video)
Many platforms have an 'off camera' engagement culture, like a webinar. Additional tips for using Webex for the first time.
Many webinars are similar to live streaming; here are some live stream tips.  (More coming soon).
Call to Action: Tell me in the video's comments (on YouTube), what you do to make your webinars engaging.
Video & Podcast
Hot Bonus Tip  
If you are the speaker supporting a free webinar (you are not paid), ask for a copy of the recording, ask for evaluation results, and quotes. Plus, invite people to follow you and subscribe to your newsletter or YouTube channel. This is offering additional value, which is ongoing for the participants.
UPCOMING VIDEOS & BLOGS: ChatGPT, WebEx, Zoom, The OWL, MS Teams, More Learning Experience Design Tips, reflections from I4PL conference & More!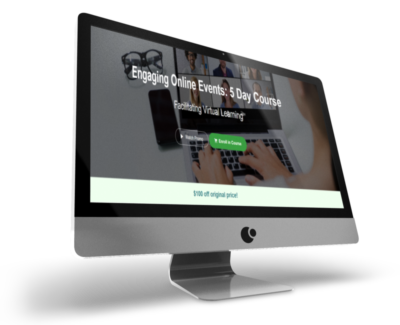 Turn your audience into participants!
Author

Patricia Regier, MEd is the Online Expert who's built a career on the belief that training and online learning doesn't have to be boring. As Owner of Regier Educational Services and with a Master of Adult Education, Patricia is known for making her audience feel empowered, engaged, courageous and confident. Her debut book and keynote, The Online Shift teaches newcomers to the online space and seasoned professionals alike how to optimize their online presence and maximize engagement. She's tried, tested and refined using the latest behavioral science, research and psychology to make sure your next online experience is a hit!
To book Patricia as a speaker or consultant:
Please use the button above or email patricia@regiereducation.com