ZOOM Activity Ideas With New Features 
Fun activities ensure that your team or group loves virtual meetings and training! I shared two YouTube Shorts recently; they are one-minute tutorials about what was hot and new in Zoom. These two new features or options in Zoom are opportunities for warm-up activities for your team or group! You can now create your own custom avatar instead of just picking one of the animal options. The other new option is the ability to screen-capture or take a screenshot in Zoom. Read about the activity ideas and watch the very short video tutorials below.
Zoom Custom Avatar
This is a good camera-off  Zoom activity idea. You can invite your team or group to create their custom avatar in Zoom and meet for a virtual lunch. Sometimes people don't want to eat on camera, but we miss the casual conversations that are great for a team! However, your avatar's mouth will move when chewing – which is funny! Don't forget that you can pick a virtual background using an avatar. You can invite your group to share their favourite vacation photo with their avatar. Create opportunities to get to know each other.
Zoom Screen-Capture
This is a good camera-on Zoom activity idea. Have you ever taken a screenshot of the group of video tiles as a group picture on Zoom? I typically have to click PrtScn and then paste the photo somewhere.  A new way to capture a group photo on Zoom is in the chat panel. You can click the square on the lower left with a plus symbol. This freezes your screen, but when you paste the capture into chat or a word document, your screen will go back to seeing everyone move again. You can continue to hear people talking when you have clicked the screen capture. Another reason to use this feature is if you are asking everyone to wear their favourite hat, or show an object from their desk. Get creative! This is a great way to invite everyone to turn on their cameras.
Video Tutorial Shorts
Hot Bonus Tip
Get creative and try new things! Ask your group what they would find fun as a team building activity or warm-up before a meeting or learning session.
UPCOMING VIDEOS & BLOGS: WebEx, Zoom, MS Teams, Learning Experience Design Tips, reflections from I4PL conference & More!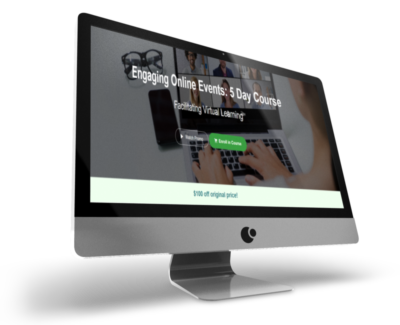 Turn your audience into participants!
Author

Patricia Regier, MEd is the Online Expert who's built a career on the belief that training and online learning doesn't have to be boring. As Owner of Regier Educational Services and with a Master of Adult Education, Patricia is known for making her audience feel empowered, engaged, courageous and confident. Her debut book and keynote, The Online Shift teaches newcomers to the online space and seasoned professionals alike how to optimize their online presence and maximize engagement. She's tried, tested and refined using the latest behavioral science, research and psychology to make sure your next online experience is a hit!
Complimentary 15-Minute Meeting
To book Patricia as a speaker or consultant:
Please use the button above or email patricia@regiereducation.com