My First Book's One-Year Anniversary Celebration
One-year later – today marks the first anniversary of publishing my book, The Online Shift: 101 Pro Tips for Online Facilitators, Workplace Trainers, and Virtual Speakers. It has been an incredibly rewarding and humbling experience looking back on the book's impact!
When I wrote this book, I was determined to provide readers with the tools and strategies they needed to make the most of digital transformation and take advantage of the opportunities digital technology offers. However, beyond the fun new tech, it's all about the learning experience journey.
One-Year Later
It has been incredibly gratifying to hear stories of people using the book's quick tips to successfully transition their educational materials online and enhance their workplace training skills. I am deeply humbled and thankful for the support and recognition the book has received over the past year. I hope The Online Shift will continue to be a valuable resource for anyone looking to make the most of the digital transformation.
[Check out the video series, podcasts and more from the past five weeks. PLUS, I admit something about this post. –
scroll down
.]
Get Your Copy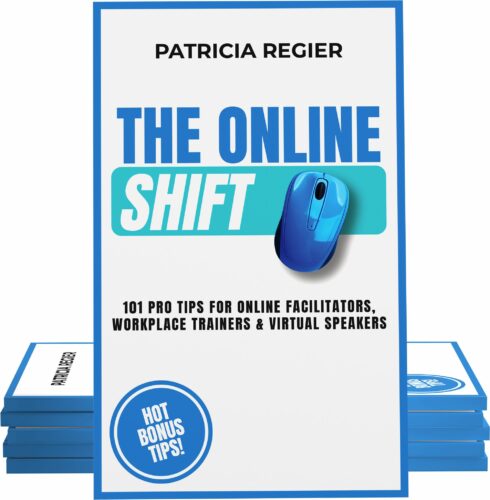 The whole world is now online. We've shifted. Whether it caught you by surprise and made you pivot your business or you saw it coming a mile away, The Online Shift, will help you handle your online presence like a Pro. With over 101 tips that are far from generic, Online Expert, Patricia Regier, helps you stand out from the crowd, make your meetings, virtual workshops, training and online events memorable and do it with ease. If you think you've got a lot to learn or there's nothing left to know – this book will surprise even the most seasoned of online professionals. Turn your audience into participants, deliver the unexpected, learn to teach online the way your audience learns and retain best, and have fun doing it.
Bonus Gifts & More
The book is packed with over 101 pro tips + HOT BONUS TIPS.  I am celebrating by giving you the gift of a resource with all those bonus tips as a free download.
Videos Packed With Pro Tips
Podcasts for video series – Chapters 1-5 available now 
Plus a bonus for you!! The Podcast of the LIVE STREAM celebration (on LinkedIn & YouTube)
Hot Bonus Tip & Confession
Keep learning, growing and trying new ways that excite you to facilitate learning and make it the best experiences for your participants. I tried Chat GPT to write part of this blog as a test. I typically hit record for a video, and then the blog comes afterwards. In the past, sometimes my Virtual Assistant would pull my words from the video and write the blog. Most of my blogs I have written entirely by me or I heavily edit them if I have had support through the process.  I will expand on my thoughts about GPT in a future blog – and by the way, depending on the questions and specifics you put into GPT, it impacts what you get out of it, and it was pulled from over six years of my content.
Training Budget Hot Tips
Books and courses are a great way to spend year-end dollars or plan to include them in your regular training budget. Inviting the book's author to speak to your group is also a fantastic investment that lasts! And if you want more people to read the book, as your local library to order it.
Fun SHORTS – videos under one minute
UPCOMING VIDEOS & BLOGS: ChatGPT, WebEx, Zoom, The OWL, MS Teams, Learning Experience Design Tips, reflections from I4PL conference & More!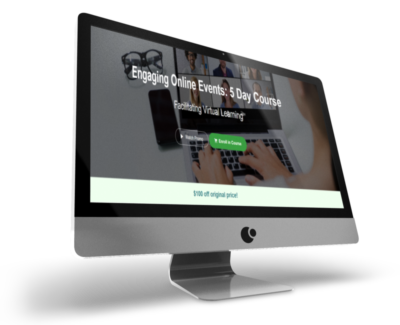 Turn your audience into participants!
Author

Patricia Regier, MEd is the Online Expert who's built a career on the belief that training and online learning doesn't have to be boring. As Owner of Regier Educational Services and with a Master of Adult Education, Patricia is known for making her audience feel empowered, engaged, courageous and confident. Her debut book and keynote, The Online Shift teaches newcomers to the online space and seasoned professionals alike how to optimize their online presence and maximize engagement. She's tried, tested and refined using the latest behavioral science, research and psychology to make sure your next online experience is a hit!
To book Patricia as a speaker or consultant:
Please use the button above or email patricia@regiereducation.com