Who is Patricia?
Hi! My name is Patricia Regier. There are many sides to who I am! There is my professional side, what I do in my spare time, and who I am in my personal life. We are always a mix of all of the above. Our experience, knowledge and skills merge to create a context. This is, in part, why we should consider our learners/team or participants' context when creating and facilitating learning experiences.
Hot News
Exciting Announcement – Regier Educational Services is now Regier Education INC. Yay! This has been one of my summer projects.
Press Release is now available; if you are looking for a speaker, facilitator, podcast guest or interview, please contact: info@regiereducation.com
Professionally
When working with Regier Education INC. and Patricia Regier, you get a basket of services. I am a consultant, facilitator/speaker, producer, and content creator.  With a Master of Adult Education and over 25 years of facilitating learning experience, you can tap into many of my skills and a range of knowledge. Plus, I get excited about what's new in Tech; I stay on top of it, so you don't have to. You are getting someone who can see through various lenses. I understand what it takes to create engaging learning experiences. I support what you need as a facilitator and consider the complexity of what your participants require.

Learning & Development Consultant
Firstly, whether you work with me as a speaker/facilitator, technical producer, or content creator, you get the expertise of the consultant and trainer. You gain the benefits from tech to talk, considering the learning experience journey for your participants and your needs as a speaker, facilitator or what your team needs. This includes various learning preferences and needs, considering diversity and accessibility.
Mia from the College of Family Physicians of Canada writes "I had the pleasure of working with Patricia directly as a member of our HR team, as our part-time Learning and Development Consultant in 2021.  In the short time she was with us (11 month contract), she designed and delivered comprehensive Zoom training virtually to all our staff and coordinated several all staff events including an International Women's Day celebration, annual Staff Appreciation event, and our quarterly events to welcome new staff to our organization. Patricia is a consummate L&D professional, responsive to changing priorities, an excellent communicator, and a true collaborator. I would recommend her without hesitation."

Speaker/Facilitator
Next, I (Patricia Regier) love creating engaging learning experiences! Receive practical actions and tips that can be used right away. Be inspired to try something new. Plus, get a confidence boost to make a lasting impact whether you work or learn online, in a hybrid or in-person context.
Suzannah, a Leadership Communication Expert writes:  "I recently attended Patricia's workshop that shared tools to engage virtual audiences, As a speaker who has now moved to presenting and training through virtual platforms, it has become more and more critical to be able to involve audiences in interesting and fun ways. Patricia delivered an incredible amount of value with a variety of tools, apps, strategies and games to keep an audience interacting throughout the presentation. Despite it being a short workshop of only 30 mins, I was left with a ton of ideas that I could easily implement for my next online presentation. Very actionable content and a fun workshop overall."
Producer
I (Patricia Regier) often provide technical production services combined within a consultation and training package. Especially if you are more familiar with one platform and your client insists that you use their platform, I can help bridge the gap in knowledge/experience and give you a confidence boost! I work with you to ensure that your vision of the engagement and experience for your participants works on a range of platforms. [Cerified Expertise includes Zoom, WebEx, MS Teams, and more!]
If you need some training or consulting on how to adapt your content, I can support you through the whole process. If you need someone to support all the technology so you can focus on content and audience, I am there for you. Your participants remember you and your message because any tech issues and needs stay in the background. It's a wonderful experience when you are not distracted by one person's individual tech needs because you have the confidence that I am taking care of it!
Jessica from Inspired Strategy Group writes: "Working with Patricia is an absolute dream! She put my mind at ease from the moment we first connected to start planning the session. Her simple templates and reference guides ensured a smooth and stress-free lead up. She thought of things that I hadn't even considered and ensured that the participant experience was always front and center. Once we were in session, her adaptability and creative problem solving skills under pressure are second to none. Simply put, having Patricia Regier as my virtual producer gave me the confidence to present with confidence, knowing I only had one thing to focus on – bringing it for my client!"

Author
My Book Bio: Patricia Regier is the Online Expert who's built a career on the belief that training doesn't have to be boring. Her debut book, The Online Shift: 101 Pro Tips for Online Facilitators, Workplace Trainers & Virtual Speakers teaches newcomers to the online space and seasoned professionals alike how to optimize their online presence and maximize engagement. Owner of Regier Educational Services, Patricia was focused online before online became every day. She's tried, tested and refined using the latest behavioral science, research and psychology to ensure your next online experience is a hit!
Stephen, a Speaker/Trainer & Coach writes: "A MUST HAVE for online presenters! I've been presenting in real life and online for years and created my own comprehensive checklist, or so I thought until I read Patricia Regier's "The Online Shift". This is a detailed "must have" resource for anyone presenting online. Patricia breaks down each "tip" into not just the "what to do" but also the "why". Use the handy "checklist" at the end to ensure you didn't miss anything. This is great investment of your time, saving you hours of trial and error, mistakes, often overlooked opportunities, embarrassment, and more!

Content Creator
Finally, I can update your slide decks and create your online courses. Or sometimes I consult as you work with your team.  I love the creative process of content creation, as I also create all my YouTube tutorials and videos. You get the benefit of the learning experience design consultant for your participants, and you can focus on the content instead of the learning curve of the technology. Often content creation is grouped with a consulting or training package. I (Patricia Regier) support you in considering before, during and after a learner-centred experience.
Lauren, from Pibworth Professional Solutions writes:   "Patricia really went the extra mile for me, and for my clients. I was SO pleased to see the transition of what she was given to work with (rough notes, an out of date PowerPoint and an idea) and the powerful, interactive online course she created. Thank you Patricia for making us look good!!"

Short Doc
Last but not least! Please check out this beautiful short documentary! When launching my book  THE ONLINE SHIFT: 101 Pro Tips for Online Facilitators, Digital Teachers, Workplace Trainers, Virtual Speakers & Online Meeting Leaders, my publishing team created this short film. If you would like to order your copy of this fantastic resource, you can buy it on Amazon, or select book stores, or request it at your local library. If you would like to order copies for your whole team, please contact me: info@regiereducation.com
Video  
Hot Bonus Tip
We are many versions of ourselves, and when spending a lot of time online, we must intentionally spend some time offline to recharge.
UPCOMING VIDEOS & BLOGS: WebEx, iSpring Learning Solutions Course Platform, OWL hybrid learning tech equipment,  Zoom, Learning Experience Design Tips & More!
If you missed it, here's the last blog post about the latest features in ZOOM.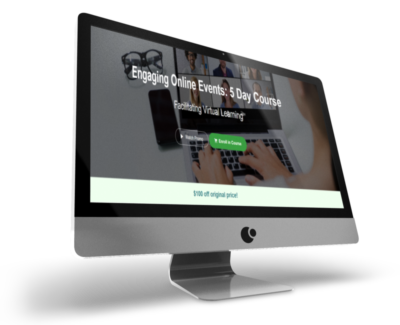 Turn your audience into participants!
Author

Patricia Regier, MEd is the Online Expert who's built a career on the belief that training and online learning doesn't have to be boring. As Owner of Regier Educational Services and with a Master of Adult Education, Patricia is known for making her audience feel empowered, engaged, courageous and confident. Her debut book and keynote, The Online Shift teaches newcomers to the online space and seasoned professionals alike how to optimize their online presence and maximize engagement. She's tried, tested and refined using the latest behavioral science, research and psychology to make sure your next online experience is a hit!
Complimentary 15 Minute Meeting
To book Patricia as a speaker or consultant:
Please use the button above or email patricia@regiereducation.com
 Engage Your Audience 
Regular Quick Tips & Tutorials: I share quick tips and tutorials with you, saving you time and helping you create engaging online learning experiences! Keep following us on social media for regular quick tips, our videos for weekly insights and tutorials and our blogs to access added highlights! If you have not subscribed to our YouTube channel, we invite you to do this. It just lets you know when a new video is posted. Not all videos are included in blogs. However, our Blogs do provide additional tips!
[social_warfare buttons=" "]
To request more information about learning and development opportunities or book Patricia as a speaker, please use the contact form below or email patricia@regiereducation.com