Our Latest 'How To Create' Video
Another episode of 'Tools I use': Canva offers the option of creating animated social media posts which are engaging and fun! Learn how to create your own post, with a step by step view, the video below.  Sign-up for a FREE Canva account,  Affiliate Link: https://canva.7eqqol.net/reachyouraudience
CANVA CREATE TIPS 
Try the free account in CANVA
Play and create, you can do this too!
Use templates to get you started
Explore Elements: Stickers, Clip Art, Gradients, Shapes & More!!
Find pictures/photos that represent your post topic (or upload your own)
Look at the different download types and options (Free or Pro Plan)
Remember to add your logo, or copyright on your creations
It's OK for your posts to not be 'perfect' you will keep growing your skills

Learn About Licencing
Not every creation can be posted anywhere you want. Ensure you stay on top of copyright licencing with these articles:
https://support.canva.com/legal/terms-of-use/selling-canva-templates/
https://about.canva.com/license-agreements/onetime/
Regier Educational Services: Learning Experience Design
Ways we can serve:
Edit your vlogs and teaching content videos, to add layers and reach your audience
Update your PowerPoint presentations and keynotes to reach different learning preferences
Walk you through your first workshops or mentor your facilitation skills
Create your bite size learning resources, with your content
Speak to your employees or group about learning experiences designed to reach your learners
As your production partner, support you to lead engaging online training and workshops
Let us know what you would like to book a free consultation.

Engage Your Audience 
Regier Education Online Courses
Inspired Learning Personality Quiz
[social_warfare buttons=" "]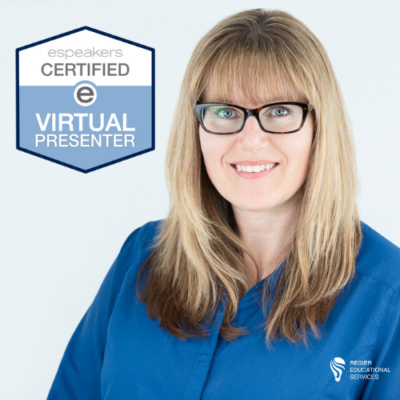 Patricia with Regier Educational Services, helping facilitators engage the variety of learning types in your online audience. Education includes a Master of Adult Education, a BA in Psychology, and twenty years experience developing and facilitating workplace, community and collaborative training.  Online learning experience designer and facilitator. Utilizing teaching adults best practices, and innovative multi-media resources to emphasize your message. Engaging content creator,  facilitator and online production partner.
To request more information about learning and development opportunities, or book Patricia as a speaker or production partner please use the contact form below, or Email patricia@regiereducation.com