New Conference AI Cam
EnFokus sent me their new AI video conference camera called EnSonore.  I share my unboxing first look and, after testing, my review of this new conference room or hybrid facilitation tool.
Pro's
 You can move around, and it will automatically (AI) zoom in or follow where you are. This is great for facilitating that is in a hybrid context or you are just filming yourself running a workshop.
It has a speaker, mic and camera in one.
You can decide if you want to use it as a 2nd view camera
You can still use your other mic if you want to, and only use the camera and/or speaker
Good camera clarity, and it did not blur when I moved around
It's portable
It's a great price point and affordable
It has noise reduction and echo cancellation built-in
It has a plug-in USB connection
No downloads, drivers or programs required
It works on Windows (7-11) and Mac (10.10+)computers
Long cable
Con's or Wishes
The audio quality is not as great as my Blue Yeti, but it's also not bad
The video quality is not as great as my Logitech, but also not bad at all! (and it doesn't get blurry when I move like my Logitech does)
I wish it had an app where I could better control the size of the camera view
I couldn't find an audio version or video demonstrating how to pronounce the product name
I still have to test
 I have not tested it in a room with other people, or the reach of the mic would have to capture me clearly.
Consider
Will it pick up the audio well enough, especially for Closed Captions
How will it work with multiple mics and cameras in the room
Bring a tripod (on the ground) that will be sturdy enough not to tip or fall over with the weight of the EnSonore, and a second one that could be placed on the table. Another option is to prop up the device itself on the table.
Video Tutorial 
 Hot Bonus Tip:
Get creative when you record videos or are facilitating on-site or online, using different camera views can add interest.
UPCOMING VIDEOS & BLOGS: iSpring Course Authoring Platform Series, WebEx, Zoom, MS Teams, Learning Experience Design Tips, reflections from I4PL conference & More!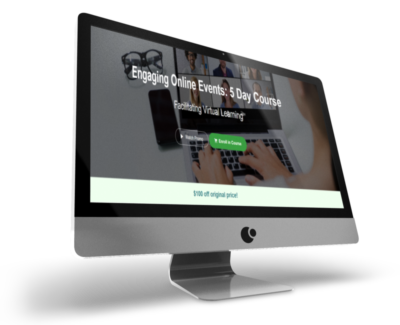 Turn your audience into participants!
Author

Patricia Regier, MEd is the Online Expert who's built a career on the belief that training and online learning doesn't have to be boring. As Owner of Regier Educational Services and with a Master of Adult Education, Patricia is known for making her audience feel empowered, engaged, courageous and confident. Her debut book and keynote, The Online Shift teaches newcomers to the online space and seasoned professionals alike how to optimize their online presence and maximize engagement. She's tried, tested and refined using the latest behavioral science, research and psychology to make sure your next online experience is a hit!
Complimentary 15-Minute Meeting
To book Patricia as a speaker or consultant:
Please use the button above or email patricia@regiereducation.com