Course Platforms Search
What I look for when comparing online course authoring tools and platforms. For transparency, I have been using Teachable for over six years, so they were a top contender because I am the most familiar with them. We also really considered iSpring Marketplace and their iSpring Solutions, which have a lot of value! However, of all the companies I researched, Thinkific came on top for my client's choice. Here are some of the aspects we considered.
What I look for 
Price or cost, and what country's currency is it in
Ease of use for the Instructional Designer, Owner & Users or participants/learners
What is included in that price point and package, and what is included in higher packages for expansion
Landing pages – what they look like for marketing
Easy check-out process  (including if they collect the credit cards and take care of taxes, including VAT – European taxes).
Upsell options and add-ons for additional services
Ability to bundle products
Ability to embed on my or my client's website for each connection
Customized domain
SCORM capacity or compatibility (technical requirements)
Mobile friendly
Engagement and interactive elements
Accessible for participants or learners
Drip Content  (Ability to control participants access from week to week)
Ability to seamlessly embed a live session within the self-directed learning course
That there are systems in place so people can NOT download your videos
And be able to download accessible job aids and resources
Ability to add links within the course and that they open on a new tab
Play videos and be able to host a lot of videos on their site
Systems in place to not be able to skip ahead content if it's a certificate course
Reports
Ability to see if people are watching the whole video or where they drop off in the course
Reports that tell me what questions have the most issues during a quiz to monitor if questions and answers are understood.
Quiz & Evaluations
Certificates
Tech Support
Data Recovery / Back-up
What was essential to my client
Ease of use
Access to support from the platform company
How long the company had been around
The look and feel that matched their current branding
'Hot Tip' I shared with my client.
Purchasing the yearly amount saves money, but it also saves time with bookkeeping and entering receipts. For example, if you live in Canada and are using a US-based course platform, or they charge US dollars for collecting your subscription payments, if you pay monthly, you will then need to check what was charged each month with conversation rates that change day to day. Ultimately, it's a bit more paperwork.
Another hot tip I will share with you if you are switching course platforms
Find out if the company supports you before moving your content from one platform to another. There may also be tools, applications or processes to speed up how much time it will take to make the move.
To conclude
In your course platform search, ultimately, you must make the best choice with current information and research. Many friends, colleagues, or other organizations may use a different course authoring tool for various reasons. If you are a large organization, your LMS or Learning Management System may need to have the capacity to track deliverables for your funders or stakeholders. Your system may need to be able to communicate with other systems already in place. I don't know if you can make the wrong decision; FOMO, or fear of missing out on what someone has, can come up. Ultimately, make the best choice for your context now and think big for the future.
Three Top options we considered, based on our context:
iSpring: https://www.ispringsolutions.com/ispring-suite?#a_aid=63459b61d4216
iSpring Market: https://www.ispringsolutions.com/ispring-market   (not an affiliate link)
Teachable: https://teachable.sjv.io/c/1970737/933427/12646
Thinkific: https://www.thinkific.com/  (not an affiliate link)
Video & Podcast
Hot Bonus Tip  
Many platforms are competing with each other, so when you make your choice that is right for you at that time, and then you later see that someone else has chosen another platform for a feature you don't have – your platform may get that feature at some point. It's not always worth the time and money to switch platforms. However, this industry keeps growing, and if you think it's time to change, that's OK, too. Sometimes, we worry about making the wrong choice. It's not always about the platform, as long as it's easy to use and allows for some interactive elements. After that,  it's up to you to create great content, be engaging on camera or on audio, and then promote it. Often, it's up to us to figure out the marketing – which can be more complicated than developing a great course.
UPCOMING VIDEOS & BLOGS:  More Summer Reading Book Reviews, Hot Tech Trends in Learning & Development, Zoom Updates, The OWL, MS Teams, More Learning Experience Design Tips, & More!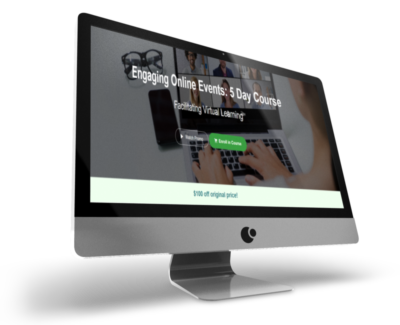 Turn your audience into participants!
Author

Patricia Regier, MEd is the Online Expert who's built a career on the belief that training and online learning doesn't have to be boring. As Owner of Regier Educational Services and with a Master of Adult Education, Patricia is known for making her audience feel empowered, engaged, courageous and confident. Her debut book and keynote, The Online Shift teaches newcomers to the online space and seasoned professionals alike how to optimize their online presence and maximize engagement. She's tried, tested and refined using the latest behavioral science, research and psychology to make sure your next online experience is a hit!
To book Patricia as a speaker or consultant:
Please use the button above or email patricia@regiereducation.com