It's all about control.
I don't like to use the phrase control freak, but when I am producing an online event for my clients, I do like to stay in control of all of the details to ensure everything runs smoothly. If things go awry, I act quickly to recover the situation.
Supporting my clients.
It's always my goal to create the best online experience and offer as much support to my clients and their attendees as possible, but sometimes technology has a way of thwarting our efforts no matter how prepared we are. I thought I would share the story of what happened in a meeting so that you know what to do to recover quickly.
Preparation is key.
I have all of the online platforms, Zoom, WebEx, and MS Teams, and others, but there are times when we are not on my account or maybe not even my client's account. Sometimes we are working on my client's client's account. The more removed we are, the less control we may have if something doesn't go according to plan.
We always meet ahead of time to test the platform, the settings and technology to ensure everything is working well before the meeting begins.
I'm in control…or am I?
Whenever possible, I like to be the host in order to have maximum control. That way, if anything goes wrong, I can very quickly react and take care of everything in the background. Most times, if something goes wrong, the attendees don't even realize anything has happened.
When my client's client made me the host, I was taking care of all the tech needs. At the point where we had everyone in breakout rooms,  everything was going really well. I sent a message to the participants to let them know that I was about to bring them all back. AND just as I am about to close the breakout rooms and restart the recording (it was on pause while the participants were in the breakout rooms), it all went away!!! All my control vanished.
Try not to panic.
I don't know if it's ever happened to you, but at that moment, I am not seeing breakout rooms controls, and I am no longer the host or even the co-host. I'm a participant with no control!
I realized that when my client's client, who was the account owner, came back into the meeting room, the platform made them the host again. So I send a message really quickly to the current host, and they made me the host again. That was great, except that they made my backup computer the host, and I wasn't looking at that computer at that moment. So after a fleeting moment of feeling panicky, I realized what occurred and moved over to my backup computer (now the host) and made my main computer host again. (I always have a backup, and for good reason.)
Getting back on track.
At this point, I am back in control, and honestly, none of the participants even knew that anything was amiss. The meeting flowed well, and the only one who had any idea was the other co-host.
This was a great lesson, and in future, I will check on my backup computer first before asking the client's client to make me host. It's also important to be able to claim host again if it's on your account. Do you know how to host from your phone? Have your backup plans ready to recover quickly from any tech issues or surprises.
Set yourself up for success.
This was not the first time this has happened because an account owner left and came back into a meeting. You can be on your client's account, and they lose power or their internet drops when they return – do they know how to make you host again? [Images below showing Zoom, Webex and Zoom on your phone host settings.]  Be ready to respond quickly to the situation and perhaps discuss the plan ahead of time. I hope that this story will help you when things aren't going as planned. It happens to everyone! Remember to stay calm, and it will help you to recover quickly. [Video tutorial farther down]
Hot Bonus Tip:
Be aware of what can happen, especially when the platform you are using is not through your account. If a client is planning to leave and come back again, make sure they know that if you have breakout rooms activated this could make an impact in that moment. Also, always have a tech check meeting to make sure their settings meet your expectations.
Do you know how to set up a host?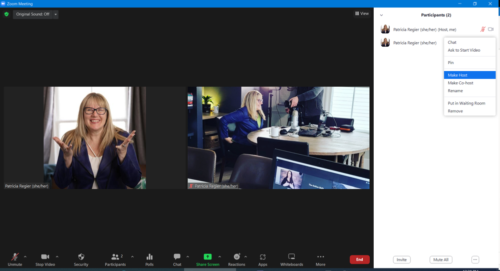 Zoom Host
Video Tutorial: Losing Host Access
Podcast
Author

Patricia Regier, MEd is the Online Expert who's built a career on the belief that training and online learning doesn't have to be boring. As Owner of Regier Educational Services and with a Master of Adult Education, Patricia is known for making her audience feel empowered, engaged, courageous and confident. Her debut book and keynote, The Online Shift teaches newcomers to the online space and seasoned professionals alike how to optimize their online presence and maximize engagement. She's tried, tested and refined using the latest behavioral science, research and psychology to make sure your next online experience is a hit!
Complimentary 15 Minute Meeting
To book Patricia as a speaker or consultant:
Please use the button above or email patricia@regiereducation.com
Regular Quick Tips & Full Tutorials
Sign-up for Facilitator Tips & Resources email member news
Subscribe to our YouTube channel!   
Like us on Facebook 
Pin this on Pinterest
Share on LinkedIn
Listen as a Podcast
Take the Learning Quiz
Register for our Course
Additional resources