Behind-the-scenes & Workshop Prep
This is an authentic behind-the-scenes look at my workshop prep and sharing a sneak peek at what happened. Plus, find out what I always take in my laptop bag. Join me with clips of a recent workshop experience at a conference.
What I always take with me
Slides Clicker
Batteries
Stickers on my stuff
Computer Mouse
Mouse pad
HDMI cable (so you can plug your laptop into a projector)
High-speed internet ethernet cable
Extension cord
Memory sticks with my slides
My laptop
Slides with notes printed
Flip chart markers
What I sometimes take with me
My projector
Projector screen
Small fan
Extra activities
Chocolates & Treats
Play-doh
Back-up Power – Jackery
Lots of engagement activities
Flip Chart Paper
My Workshop Prep
Slide deck creation
Notes in slides
Activities and engagement development
Mentimeter options
QR code for engagement within slides
Testing everything, practice run-throughs
Pack up my suitcases, kit and laptop bag
Set up early in the room
Stickers on my stuff
Books to give away
Flip chart group engagement written out
Activities prepped
Secret web page with additional resources
Come along with me…
Hot Bonus Tip 
Pack your kit and laptop bag even when you don't have an upcoming workshop, plus add a list to the box so you can double-check for next time.
UPCOMING VIDEOS & BLOGS:  More Book Reviews, Hot Tech Trends in Learning and Development, Zoom Updates, The OWL, MS Teams, More Learning Experience Design Tips, and more!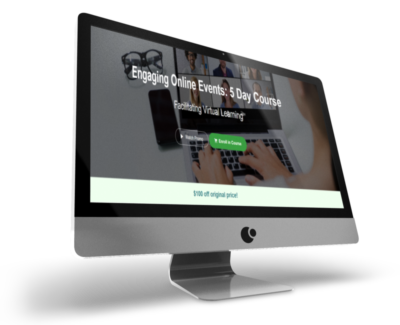 Turn your audience into participants!
Author

Patricia Regier, MEd is the Online Expert who's built a career on the belief that training and online learning doesn't have to be boring. As Owner of Regier Educational Services and with a Master of Adult Education, Patricia is known for making her audience feel empowered, engaged, courageous and confident. Her debut book and keynote, The Online Shift teaches newcomers to the online space and seasoned professionals alike how to optimize their online presence and maximize engagement. She's tried, tested and refined using the latest behavioral science, research and psychology to make sure your next online experience is a hit!
To book Patricia as a speaker or consultant:
Please use the button above or email patricia@regiereducation.com