How to use the Zoom Timer App
How to use the Zoom Timer App option in your meetings and virtual or hybrid learning experiences. I often get asked, "How did I do that?" because some things can seem like magic. Here is the answer to adding a timer to your Zoom video tile (in text, visuals and video quick tutorial). Plus, don't forget to scroll down to the Hot Bonus Tips!
Pre-step – Activate in Zoom Account
Steps
Firstly, click Zoom Apps (If you have activated it in your account settings)
Next, click Discover, and then search TIMER
The third step includes clicking on the app you want to try and then OPEN
Set up the time with the quick preset buttons or manually
Then you are ready to click START and make re that the display for others is also ON
Note that you must have your video on for this to work
Plus, you can PAUSE the timer
You can RESUME after you have paused
Finally, a buzzer sound will play when time is up, and then you can turn off the Display Timer for Others.
The top right of the app panel, with the timer, will show you:  3 dots for pop out, refresh or close, invite others & share app screen options.
Video Tutorial  – Watch the YouTube Short
 Hot Bonus Tips:
If you don't want to be on camera when you are using the Zoom Timer App, use a virtual background and cover up your camera.
Spotlight yourself so that it's easier to see your Zoom Timer App.
UPCOMING VIDEOS & BLOGS: iSpring Course Authoring Platform Series, WebEx, Zoom, MS Teams, Learning Experience Design Tips, Behind the scenes at an in-person workshop, reflections from I4PL conference & More!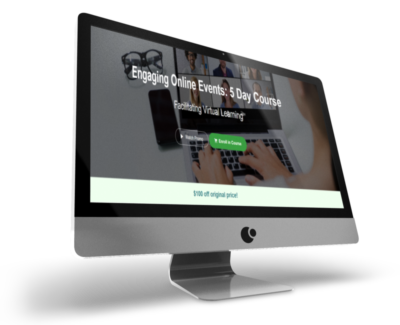 Turn your audience into participants!
Author

Patricia Regier, MEd is the Online Expert who's built a career on the belief that training and online learning doesn't have to be boring. As Owner of Regier Educational Services and with a Master of Adult Education, Patricia is known for making her audience feel empowered, engaged, courageous and confident. Her debut book and keynote, The Online Shift teaches newcomers to the online space and seasoned professionals alike how to optimize their online presence and maximize engagement. She's tried, tested and refined using the latest behavioral science, research and psychology to make sure your next online experience is a hit!
Complimentary 15-Minute Meeting
To book Patricia as a speaker or consultant:
Please use the button above or email patricia@regiereducation.com
 Engage Your Audience 
Regular Quick Tips & Tutorials: I share quick tips and tutorials with you, saving you time and helping you create engaging online learning experiences! Keep following us on social media for regular quick tips, our videos for weekly insights and tutorials and our blogs to access added highlights! If you have not subscribed to our YouTube channel, we invite you to do this. It just lets you know when a new video is posted. Not all videos are included in blogs. However, our Blogs do provide additional tips!
[social_warfare buttons=" "]
To request more information about learning and development opportunities or book Patricia as a speaker, please use the contact form below or email patricia@regiereducation.com