Are you using Stream Deck?
I started using Stream Deck a few months ago and am loving it!  The Elgato Stream Deck is a control pad for live-streaming or producing online events, that includes customizable hotkeys for switching scenes, launching media, and playing audio with just a click of a button.  Here are 2 previous blogs that I think you'll find helpful about Setting Up My Stream Deck and Productivity Tips for Stream Deck
Love the visuals!
No matter how I am using my Stream Deck, whether it's for music, sound effects, live program facilitation or just for everyday business. I really appreciate using visual icons, because it helps me to efficiently click the correct button.  I create many of them in Canva.

Let's get creative in Canva.
I have a Canva Pro account and I use it almost every day to create posts, visuals and resources.  This isn't a sponsored post, but here is my Canva affiliate link in case you're interested in giving it a try.
So to start with logging in to Canva and get creating.  I usually choose either the Instagram or Logo option as they create a square image.  Next, you will choose Elements and search for what icon you would like to use.  They have many options, and once you have decided what you want, you can download the image.  From there, you will upload it into Stream Deck.

Adding icons to Stream Deck
In order to add your icons to Stream Deck, you have to open the program, and first set up the customized key. After you have set up your key (or button) on the Stream Deck, with the link, you can just drag and drop your icon into the image box.
.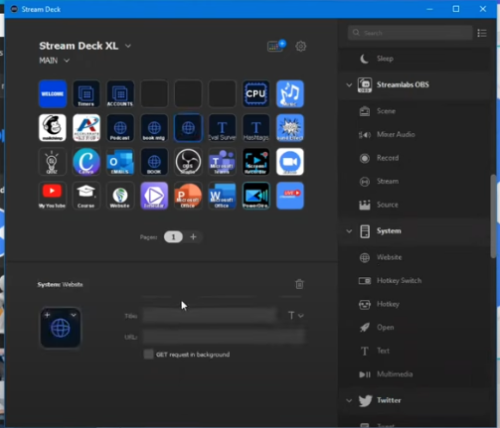 Using Stream Deck
Here are examples of what types of buttons and icons you can customize:
Your logo for your website
Microsoft Teams
Email
Swoosh for that sound effect
Camera for that sound effect
OBS
YouTube Channel
My Quiz
Mail Chimp
Music
Accounts such as Canva
PowerPoint Slides
And much more!!
Get creative and use your branding.
It's fun and easy to be creative and you have the option in Canva to use your brand colours.  You can also choose between a transparent background (which will show up black on the Stream Deck) or a white background, or whatever colour you have chosen.  I encourage you to get creative in Canva, and think about innovative ways to use the tools you have.  The icons are easy to create, download and change so don't be afraid to switch things up whenever you feel like it.  It will keep things interesting and fun.
Try Canva!
You can sign up for a free account with Canva, or the paid Canva Pro Plan. In my opinion, it is 100% worth it! NEW Canva Affiliate Link: https://partner.canva.com/PRegier
Bonus Pro Tips & Tutorials:
Additional Tutorials mentioned in the video:
Productivity Tips for Stream Deck
Video & Podcast
Check out our other videos…
Our YouTube channel offers tutorials on various topics, including Zoom, Canva and many other platforms. We also provide Quick Pro Tips for Virtual Facilitators. If you would like me to create a YouTube tutorial or video about a particular topic, I welcome your comments below any of our videos on YouTube.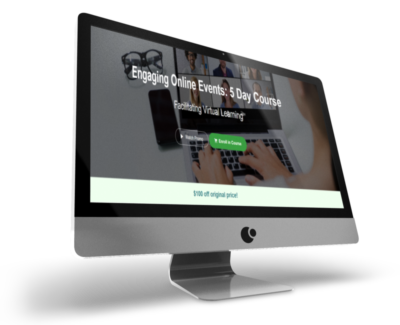 Turn your audience into participants!
Regular Quick Tips & Full Tutorials
I share quick tips and tutorials with you, saving you time and helping you create engaging online learning experiences! Keep following us on social media for regular quick tips, our videos for weekly insights and tutorials and our blogs to access added highlights! If you have not subscribed to our YouTube channel, we invite you to do this. It just lets you know when a new video is posted. Not all videos are included in blogs. However, our Blogs provide additional tips!
Author

Patricia Regier is the founder of Regier Educational Services. Expertise in helping facilitators engage the variety of learning types in your audience. Education includes a Master of Adult Education, a BA in Psychology, and twenty years experience developing and facilitating workplace, community and collaborative training. Learning and Development Consultant, Facilitator, and Master Virtual Producer. Utilizing teaching adults best practices, and innovative multi-media resources to emphasize your message.
Affiliate Links can be found under the description of the video on YouTube, or on our LINKS library page.
Want More Tips & Resources?
Join our email list, and gain access to downloads, resources and tools you can use through our secret and exclusive member web page. Get this free two-page download, packed with TIPS, when you join the email list.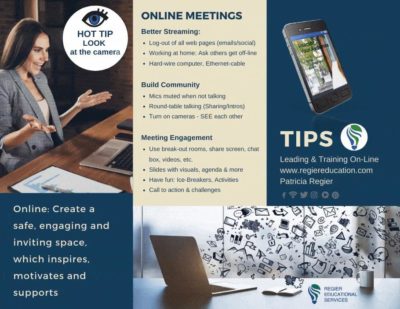 To request more information about learning and development opportunities or book Patricia as a speaker, please use the contact form below or email patricia@regiereducation.com
 Engage Your Audience