10 Ways to invite your participants to turn on cameras  
Many facilitators, workplace trainers and leaders feel a lot more connected to their participants when cameras are on. I share 10 ways to invite and encourage attendees to turn ON cameras.
Are the cameras always necessary? Firstly, let's understand that there may be really good reasons that some of your participants may want to keep their cameras off. Are they feeling like they're not camera-ready? Do they have their kids at home and show up in their background? Do we always have to be on camera or is it okay to sometimes not even ask people to turn them on? I talk about how to engage your participants when their cameras are off in another video/blog. However, here are 10 ways you can encourage and invite participants to turn their cameras on!
1. Let's make sure everyone's comfortable
Our goal as facilitators is to always make everyone feel like they are in a fun, safe and engaging space when we're online. We are trying to create a connection but also want to make sure our participants are at ease. It can feel vulnerable to turn on cameras, and always feel like you need to be camera-ready. Consider this when you are establishing expectations and cultivating a culture that comes together online and offline.
2. Don't Record
Another way to help people turn on cameras is not record. If you would not typically set up a video camera for a meeting (in the past when in-person), in order for those who couldn't attend, to watch it, then you don't need to record your online meetings.
Most people don't watch recordings, and it may be a lot more efficient, to send a summary from the meeting, than for people to find the time to watch it. If you are also editing the recording and then upload it, these steps could be skipped. Sometimes the outcomes for a meeting are not met, because of hitting record. The ultimate goal is to have people participate and feel comfortable talking and sharing their thoughts.
3. Take it outside
Consider inviting participants to turn on cameras while getting outside. Being outdoors and out of the office is a great stress reliever for many so you might want to suggest that everyone spend part or all of your meeting outside (when/if possible). There will always be some who don't have the access to the internet outside or maybe don't want to use their phone, but giving the option to be outside has the ability to create a calm and relaxing atmosphere.
You can ask those willing to participate outdoors to take a walk or show their surroundings. This may actually create great connections among your audience and give them the opportunity to get to know each other a little better.
4. Virtual Backgrounds
Give the option for people to use their virtual backgrounds. There are options available already created in Zoom. If you plan ahead, they can really have some fun creating and downloading their own virtual background in Canva. There are templates available to customize or you can start from scratch and put your own personal spin on it. Maybe using a picture from a holiday or a favourite memory, again giving the opportunity to get to know each other a little bit better.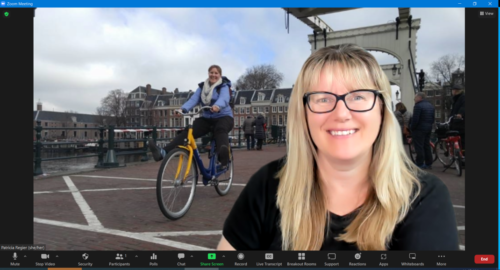 5. Avatars are fun
If everyone has the latest version of Zoom, you can all choose and use an avatar. There are several really cute options and it's just another way to offer your audience the "off-camera feel" while still being engaged and on camera.

6. Blur your background
If people don't want to upload a background, but it's the background (or others walking around), that is the issue for being on camera, then blurring the background may be a great option, to encourage turning on cameras.
7. Immersive View
Depending on how many are in your meeting, you can offer the Immersive View in Zoom. They have several options for anywhere from 2 up to 25 people. You can choose the view you want and your participants will pop into the "seats" in the immersive view.  I am always amazed at how many cameras all of a sudden turn on when I have shown people the Immersive View. People want to see themselves in the context.

8. Personal Whiteboards
You can play quick games where you ask people to write something on a paper, whiteboard or sticky note and show it to the camera. If you have people draw something, you can also take a picture of everyone's drawings as a different kind of group picture.
9. Show & Tell
Do you remember participating in show and tell from grade school? You can also do this from your desk, by grabbing something within reach and telling us about it, as part of a get-to-know-you game.
10. Take a Pic
After your group has turned on their cameras, you can let them know you would like to take a picture. This may cause some people to turn off their cameras, and it's important to not worry about that too much. Some people will turn on their cameras only for the picture. Online the cameras on or off is a choice and part of the culture you develop.
Remember to keep it fun and interesting.
There are many ways to add fun and participation to your meetings. Don't forget to give alternate options when you are inviting people to turn on cameras so that no one feels bad or left out. Asking people to type in chat, or unmute, can make sure that you stay inclusive. Be creative and your audience will be responsive and appreciate the effort you are putting in to make a unique and enjoyable online experience. Plus when you give recommendations, such as virtual or blurring backgrounds, remember to also share the navigational steps, so everyone knows how to participate in this way.
Hot Bonus Tip:
Always be sure that you are looking into the camera to make your participants feel the connection to you whether you can see them directly or not.
Get Them to Turn Their Cameras On
Podcast
In case you missed it, here's the previous blog post:  Online Accessibility
Author

Patricia Regier, MEd is the Online Expert who's built a career on the belief that training and online learning doesn't have to be boring. As Owner of Regier Educational Services and with a Master of Adult Education, Patricia is known for making her audience feel empowered, engaged, courageous and confident. Her debut book and keynote, The Online Shift teaches newcomers to the online space and seasoned professionals alike how to optimize their online presence and maximize engagement. She's tried, tested and refined using the latest behavioral science, research and psychology to make sure your next online experience is a hit!
Complimentary 15 Minute Meeting
To book Patricia as a speaker or consultant:
Please use the button above or email patricia@regiereducation.com
Regular Quick Tips & Full Tutorials
Sign-up for Facilitator Tips & Resources email member news
Subscribe to our YouTube channel!   
Like us on Facebook 
Pin this on Pinterest
Share on LinkedIn
Listen as a Podcast
Take the Learning Quiz
Register for our Course
Additional resources