Love it or Hate it, this is what you need to know.
When you shift from one platform to another, it can be difficult! Learning a new platform is challenging, and it's hard to feel uncomfortable again. However, creating an engaging experience on Webex is possible, even though you may prefer Zoom. I am sharing over 12 things you need to know first! (I am certified as a Webex Producer.) The video, blog and podcast are from the perspective of a facilitator and producer, who also prefers Zoom and has supported many speakers' shift onto Webex with confidence and success. (Don't forget that I always share a Hot Bonus Tip after the blog, video and podcast, so scroll down to avoid missing anything.) Please note: The video includes screenshots and visuals from Webex itself.
Webex Need to Know
Culture: Maybe an Off Camera Culture
Slide Sharing is Different! Decide how you work best and test the new process with a producer or client. Get your own WebEx even for a few months to look around and feel more comfortable. On Webex, the slides are typically uploaded into the platform – this really is what works best on that platform, but it can shift how you usually do things.
Video Clips can be shared (the way you would in Zoom); don't forget to share computer sound.
Settings: Talk to your client about their settings!
Documents: They may not allow you to share a document, so you must plan to share it via email. Sharing documents is also very different!
Polls are different too; learn how to, or ask your producer to set up and share the polls.
Producer & Tech Check: Working with a team and someone certified or experienced on the Webex platform is important when shifting from another platform. You don't need to learn everything if you work with people you trust to support your facilitation approach. Always have tech checks and practice runs, especially when new to a platform. Plus, every Webex account can be set up differently, therefore, don't assume that what you want to do, is possible until you test it out.
Interactions & Options: Even if the culture of your group is to be off-camera, there are interactive elements on Webex (Chat, Reactions, Annotation, Breakout Rooms and more). Closed Captions are also available. Even if your group typically meets on Webex, they may not use all the features. Always assume that someone needs to be walked through how to use all the options to create an inclusive experience.
Name Change: Be aware that changing your name can only happen Before you enter the meeting!
Fun Feature: You can be on camera in front of your slides. This is built into the platform. Consider how you are setting up your slides if you want to use this option.
Co-Presenter: One thing Webex does well is the option to 'pass the ball' back and forth between co-presenters. There is an easy way to have the same slide deck up in the training session, and two or more presenters take turns controlling the slides.
Layout: Test ahead of time how you want to have your Webex experience set up. For example, those on camera you can have at the top or on the side.
Additional Tips for the Company/Agency or the Client
You are investing in a fantastic speaker for an engaging learning experience for your team. If your speaker is uncomfortable on your preferred platform, this can impact the experience for everyone.  Professional speakers and excellent facilitators can adapt quickly! However, a support team in place and arranging tech checks are essential to set up the event for success.
Additional Tips for the Speaker or Facilitator
Forcing your client to shift to your platform because you feel that (i.e.) Zoom is more engaging is not the only option. I may agree with you on which platform facilitates the most engagement during a virtual learning experience, but there is more to consider. If your client and all the participants don't feel comfortable learning a new platform, especially if they don't trust it, "resistance may be futile."
Focus for Everyone
It's not helpful to have a tug of war and try to convenience someone to change their mind. Insisting on a platform shift may not be the best approach to making everyone feel safe and confident. You want them to focus on your fantastic facilitation skills and the content you will share. Therefore, working with a great team that helps you shine despite the platform change is essential. Insist on tech check meetings and discussions to ensure that how you want to facilitate engagement is possible.
Words of Encouragement
Every platform competes with each other. There has been a lot of change these past three years! Change and ever-evolving technology can be challenging if you feel too saturated and are tired of always learning. However, be confident that you have a lot of transferable skills; navigation may not be as complicated when you get to look around. You are continually building on what you know, not starting over. And if you like something on the platform but are more experienced on another platform – wait; it probably will be an option in the future. If you thought you knew a platform and hated it, and it's been a while, you may like it a bit more now….or not 😉
In Conclusion 
I could have created a full tutorial (and there is a look around on Webex with screenshots in the video – don't skip the very end), but as I filmed segments, I shifted my approach. After working with many excellent speakers and facilitators on different platforms these past six years, highlighting what you needed to know would be of more value to you. [I did pull some great articles from Chat GPT about Webex and Zoom, and maybe they will be part of a future follow-up – but this time, this is all me! 🙂 ]
Video & Podcast
Hot Bonus Tip  
Have the Webex Menu Bar open, look around at all the possibilities, or at least work with someone who knows the platform.
UPCOMING VIDEOS & BLOGS: ChatGPT, WebEx, Zoom, The OWL, MS Teams, More Learning Experience Design Tips, reflections from I4PL conference & More!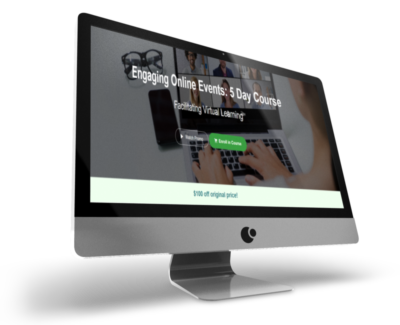 Turn your audience into participants!
Author

Patricia Regier, MEd is the Online Expert who's built a career on the belief that training and online learning doesn't have to be boring. As Owner of Regier Educational Services and with a Master of Adult Education, Patricia is known for making her audience feel empowered, engaged, courageous and confident. Her debut book and keynote, The Online Shift teaches newcomers to the online space and seasoned professionals alike how to optimize their online presence and maximize engagement. She's tried, tested and refined using the latest behavioral science, research and psychology to make sure your next online experience is a hit!
To book Patricia as a speaker or consultant:
Please use the button above or email patricia@regiereducation.com