Tips from a Production Partner
6 TIPS to consider when facilitating online learning events and training, from a production partner. When we move our learning online there are some different aspects to consider and plan for. Of course the technology is a big difference from an in-person experience, and this may be why you are expanding your team to include production supports. Stay tuned for all the tips coming up in our posts. PLUS download your quick reference resource to improve the engagement level of your virtual learning events: https://bit.ly/2R8Aiu7 ⁠
Did you know: You don't have to do it all alone?
TIP ONE: Clarify a detailed timeline and plan for your online event's support team is an important part of great communication.⁠
TIP TWO: Back-Up Plans! This is a big one! I even have a back-up computer, back-up internet options and just ordered something to boost my cell signal for my cell phone (data option). You may not be able to have those options but make sure you send links, passwords, phone numbers and options ahead of time! Have them ready to send to people last minute if they need it. Make sure your online support team has everything they need. #BackupPlans
TIP THREE: Breaks for your participants, speakers and your technical production support team are important for 'bio breaks' and for time to troubleshoot any issues.⁠
TIP FOUR: Have you ever felt that you were interrupting someone when you did not mean to online? There are delays which is why we cannot all sing together and sound good. Give a brief pause after someone else has spoken before you talk. This shows good listening and helps reducing 'interrupting'. We are all learning in the context of online communication.⁠
TIP FIVE: Your Production Partner is looking after a lot of tech in the background. This could be setting-up your next breakout groups, answering private chats from your participants with tech issues, and a variety of other tasks.⁠ Consider adding details and enough time in your production list.⁠
TIP SIX: Flexibility is good, but stick to your timeline as much as possible, and communicate any changes in the moment. Your production partner or support team are working with the initial plan, while also paying attention the needs in the moment for your participants, & speakers.⁠
Extended LinkedIn Article: https://www.linkedin.com/feed/update/urn:li:activity:6712152686093053952/
Additional blog written for InSync Training  https://blog.insynctraining.com/creating-positive-learning-experiences-the-team-approach
Download Your Quick Resource for Engaging Online Learning Events
Free Download:
 FYI:
Regier Educational Services recently changed some of my social media channel, handles to @RegierEducation
UPDATE on our SERVICES: We provide support as your Production Partner. Patricia can train you about ZOOM, and be your technical support for you online learning event.
I hope that you have a light bulb learning moment today and that you're able to reach and engage your audience and create those light bulb aha moments when you're creating your learning experiences.
Want More Tips & Resources?
Join our email list, and gain access to downloads, resources and tools you can use, through our secret and exclusive member web page. Get this free two page download, packed with TIPS, when you join the email list.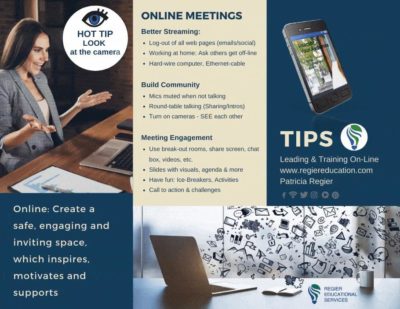 Book a complimentary meeting if you are interested in exploring to design your next learning experience or event.
Author

Patricia with Regier Educational Services, helping facilitators engage the variety of learning types in your online audience. Education includes a Master of Adult Education, a BA in Psychology, and twenty years experience developing and facilitating workplace, community and collaborative training.  Online learning experience designer and facilitator. Utilizing teaching adults best practices, and innovative multi-media resources to emphasize your message. Engaging content creator,  facilitator and online production partner.
What We Do
Expertise: LIVE Online Events and Engaging Virtual or Remote Training Workshops, ZOOM, Multimedia Content Creation, Variety Learning Types. Plus Online Workshop or Meeting Production Partner Support and Training.
Engage Your Audience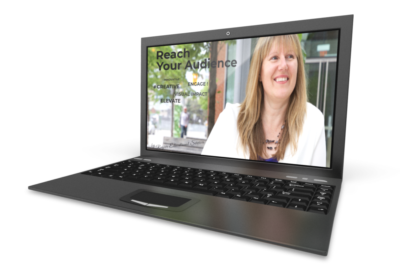 Online Production Partner Support & Training
Content Creation Services  (Tune-up Your Speaker Tools)
Speaking & Group Facilitation (Online & In-Person Workshops)
Consultation & Individual or Group/Organizational Training
Engage Your Audience 
🔓 Affiliate Links:
LATER Referral Program: https://later.com/r/7bb9ed
Canva Affiliate Link: https://canva.7eqqol.net/reachyouraudience
PresenterMedia Affiliate Link: https://bit.ly/2YqBk7H
ZOOM Affiliate Link: http://bit.ly/2DZ3gWE
CyberLink PowerDirector: https://bit.ly/2Tn4bZz
Tubebuddy: https://www.tubebuddy.com/PatriciaRegier
SurfShark VPN: https://surfshark.club/friend/8epqkB3N?locale=en
[social_warfare buttons=" "]
To request more information about learning and development opportunities, or book Patricia as a speaker please use the contact form below, or Email patricia@regiereducation.com