Live Stream Tips to Get You Started
Tips for getting started with your first live stream (or if you already have some experience) what you need to know to set yourself up for success. Our blogs include text (a tips list), videos, podcasts, and don't miss the hot bonus tip towards the end of the blog (after the video and podcast).
You got this! 
Celebrate each milestone and especially when you are trying something new!
Consider the live experience for your participants and those watching the recording.
It's OK not to be perfect! It's all learning!
Start with the live streaming platform to create an upcoming event so that it's connected to the live stream.
Ensure your platform is recording, and save it. LinkedIn does not let you download, but YouTube does.
Have a high-energy opening and closing; remember your presence on camera.
There is a slight delay between your live and the streaming platforms.
Turn off the sound on a second device you may have open to ensure you are streaming on the channels you picked.
Invite interactions during the live: Likes, Emojies, Chat, Questions, Comments.
Have links ready to drop into chat; if your platform has QR codes, also have them ready.
Drop links you shared into the comments after the live stream. YouTube's live chat goes away after the stream.
If you don't have your event and live stream connected, be ready to drop the link into the location where your registrants are waiting.
A  Team Approach can make the difference in focusing on your viewers and the content you share.
Look into the camera like you are looking into a friend's face. Only occasionally check yourself or your other device.
Invite people to drop comments and questions into the live chat. You can also do this with a Ticker or Banner (in the live stream app).
Check Chat throughout, and respond right away.
Remember the comments after the live stream for those that watch the reply, and respond to those interactions.
Following the live stream, complete the other steps on YouTube, such as the description and thumbnail.
If something is imperfect, consider it something you could clip or edit out afterwards on YouTube (not on LinkedIn). Taking a sip of water gives you a more manageable portion to cut out. However, don't sweat the small stuff!
Plan for Closed Captions if the live-stream platform has them available.
Don't forget to introduce yourself and the live stream topic at the beginning and wrap up with a call to action (comment/like/subscribe) and your name.
Prepare your introductions ready for any guests as well.
Have a tech check and practice ahead of time! Especially with Guests.

Ensure they can use your live stream application and that their camera, mic and internet strength is strong.

It's OK to have mock live streams on your LinkedIn and YouTube channels; you can delete them afterwards.
The best way to get comfortable is to jump in and practice!
You could increase engagement with polls & surveys, using Menti or another platform for real-time engagement everyone can see & join in on.
Live streams can be like running a webinar; here are some related tips.
More live stream tips and getting started with the Restream platform.
Also, having music as part of an intro and outro. You can create these in Canva with your branding look.
Finally, don't forget to enjoy yourself! Have fun!
To Conclude
Using technology or new tools can include a learning curve, but it's worth it if you want to reach and engage your audience differently. Adding value and showing your knowledge in a live stream can be a way to demonstrate what it's like to work with you. If you think everyone else is live streaming and you have waited, it's never too late to try something new!
Video & Podcast
Hot Bonus Tip  
Don't forget to introduce yourself and your guests, but also jump into the content quickly!
UPCOMING VIDEOS & BLOGS: ChatGPT,  Zoom, The OWL, MS Teams, More Learning Experience Design Tips, reflections from I4PL conference & More!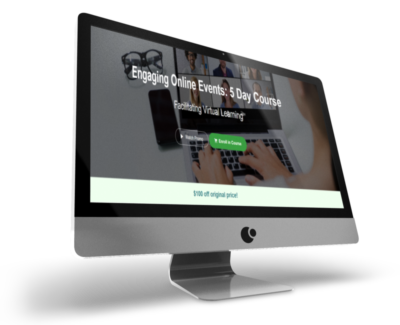 Turn your audience into participants!
Author

Patricia Regier, MEd is the Online Expert who's built a career on the belief that training and online learning doesn't have to be boring. As Owner of Regier Educational Services and with a Master of Adult Education, Patricia is known for making her audience feel empowered, engaged, courageous and confident. Her debut book and keynote, The Online Shift teaches newcomers to the online space and seasoned professionals alike how to optimize their online presence and maximize engagement. She's tried, tested and refined using the latest behavioral science, research and psychology to make sure your next online experience is a hit!
To book Patricia as a speaker or consultant:
Please use the button above or email patricia@regiereducation.com