Participant Directed 'Pick your own adventure'
Do you remember the 'pick your own adventure' chapter books when you were in school? Recently the streaming platform Netflix added a show where you can pick any episode and watch it in any order. Many people like a chronological order when learning or watching, but having choice adds an element of interest. There are many ways you can incorporate choice into your workshops and training, but participants need to feel supported and guided through the process.
Learning Experience With Results
I recently facilitated a participant-directed (choice) pick-your-own adventure workshop; find out how it went and get a sneak peek. This material has been shared with virtual and in-person audiences and received very well. I had a lot of fun with the in-person audience because I had more time to dive into the materials (90-minute workshop). It would work just as well online, but my virtual presentations were 20 minutes each (4x). However, I loved seeing those light bulbs ignite each time the content sparked ideas for the participants.
Adult Learning Best Practices
Participant-directed learning experiences include choice. When asking learning and development professionals, facilitators and speakers what activities gave them the most eye rolls from their audiences, roll-plays were at the top. Eyes also rolled when breakout groups or case studies were on the agenda. When producing for speakers, I do see that when an audience is forced to attend a session (student curriculum or mandatory training), there seem to be a lot of internet issues, and people drop off  the virtual meeting when we are about to open the breakout rooms. Adding elements of choice and solid activities to warm up a group is essential before jumping into roll-plays and breakout groups.
Try the choice method
We should apply what we have just learned when we learn something. The key is picking one item, tip or activity to implement as soon as possible. It was wonderful to hear what people were going to try first.

If you want to know more
Connect with me if you are interested in levelling up or spicing up your training. I can offer a 90-minute or two-hour workshop (virtual or in-person), or customize a learning experience and program for your team. I can consult on your training materials development or updates if you want to work with me directly. Book a meeting to discuss options with this calendar link, or send me an email directly:  https://calendly.com/patriciaregier/discuss-services
Workshop Sneak Peek  
 Hot Bonus Tip:
Adding fun with this adventure option can help spark your enthusiasm for your content if you have become a bit bored with the materials.
UPCOMING VIDEOS & BLOGS: iSpring Course Authoring Platform Series, WebEx, Zoom, MS Teams, Learning Experience Design Tips, reflections from I4PL conference & More!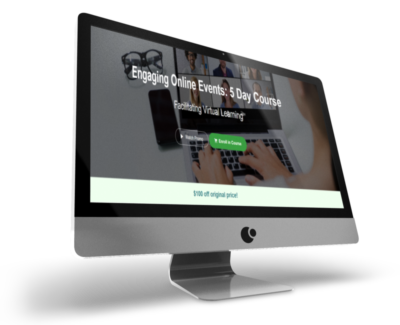 Turn your audience into participants!
Author

Patricia Regier, MEd is the Online Expert who's built a career on the belief that training and online learning doesn't have to be boring. As Owner of Regier Educational Services and with a Master of Adult Education, Patricia is known for making her audience feel empowered, engaged, courageous and confident. Her debut book and keynote, The Online Shift teaches newcomers to the online space and seasoned professionals alike how to optimize their online presence and maximize engagement. She's tried, tested and refined using the latest behavioral science, research and psychology to make sure your next online experience is a hit!
Complimentary 15-Minute Meeting
To book Patricia as a speaker or consultant:
Please use the button above or email patricia@regiereducation.com
 Engage Your Audience 
Regular Quick Tips & Tutorials: I share quick tips and tutorials with you, saving you time and helping you create engaging online learning experiences! Keep following us on social media for regular quick tips, our videos for weekly insights and tutorials and our blogs to access added highlights! If you have not subscribed to our YouTube channel, we invite you to do this. It just lets you know when a new video is posted. Not all videos are included in blogs. However, our Blogs do provide additional tips!
[social_warfare buttons=" "]
To request more information about learning and development opportunities or book Patricia as a speaker, please use the contact form below or email patricia@regiereducation.com