Happy New Year!!
This blog is sharing some background about myself. Since you take the time to read the blogs, I thought that some background on what qualifies me to write about these topics may be of interest. Thank you for taking the time to read the blogs! I hope that you are having a fantastic first week of 2022! Value-packed blogs, videos, quick tips and tutorials are coming soon.
Who Is Reading This?
You may know me from my YouTube videos, podcasts, posts or blogs. You may have attended a course or workshop that I facilitated (in-person or online), or you have listened to me on stage as a speaker. You may have worked with me for training, consulting or content creation. I may have produced an event or workshop for you, or you attended an event where I was the producer. Or you are on my email list because you downloaded a resource, or came across this blog post on my website. Whatever way you may have found your way to me, just know that I'm glad that you did.
Who is Patricia?
Who is Patricia might be a question that you want an answer to, so I thought I'd share a little bit about myself and give you some insight into who I am and what I do. I share something about my credentials, professional background and a little bit about me from a personal note as well.  Why I do what I do, is because I think all learning experiences should not be boring. I picked the light bulb as my logo because I love facilitating and seeing those ah-ha moments for my participants.  I also care about virtual facilitators thriving within the online context. It's been an amazing journey since starting Regier Educational Services in 2017 and I am thrilled to do what I do!
What are my credentials?
I have a Master of Adult Education, Bachelor of Psychology and additional professional development and training/courses. I have several badges or certifications, as an Online Facilitator and Master Virtual Producer. My experience extended more than twenty years of developing and facilitating workplace/community training (online & in-person). I'm an innovative content creator, speaker and facilitator. I am also an online learning experience designer, consultant and producer.  I am passionate about inspiring facilitators, leaders and speakers to tune up their presentations and training materials with intentional engagement. The goal is to connect with your audience and turn them into participants. Visuals and activities are a couple of the many ways you can engage your participants and emphasize your training message. I facilitate and speak about a variety of topics and tools.
Some helpful hints.
Most facilitators present information the way they like to receive it. I invite you to take our Learning Types Quiz to discover your preferences.  It can also give you insight into how others want to receive information.  We also offer a wide variety of downloadable resources that I know you'll find informative and helpful.
Help me, help you.
Our YouTube channel offers tutorials on various topics, including Zoom, Canva and many other platforms. We also provide Quick Pro Tips for Virtual Facilitators. If you would like me to create a YouTube tutorial or video about a particular topic, I welcome your comments below any of our videos on YouTube.
A personal note…
Aside from all the professional facts about who I am, I thought I would add a bit of a personal note as well. I live with my wonderful husband and adult children, plus our two cats.  I like to Stand-Up-Paddle in the summer and I used to play hockey in the winter (it's been a while, but I will do that again someday). I love to travel with my family, but have also discovered how great solo-travel can be! I like to read, write and get creative with multi-media. Connecting with clients, friends and family is important to me. I will admit, building a busy business means that I connect more often with clients and colleagues at the moment, but I am super grateful! I always have a checklist but also value the times when I intentionally slow down and hit the pause button. I am excited to publish my first book in 2022!  Thank you for reading this far, if you have. You are awesome!!
Know me a bit better
I hope this gives you a bit of insight as to who I am and what I do.  My goal is to provide you with light bulb learning moments and support you to turn your audience into participants.
Video & Podcast
If you have any news, questions or topics that you would like me to create quick tip videos or tutorials about, please be sure to click through the video above and leave a question/comment.
If you missed it, here's the blog post from last week: Most Popular Topics in 2021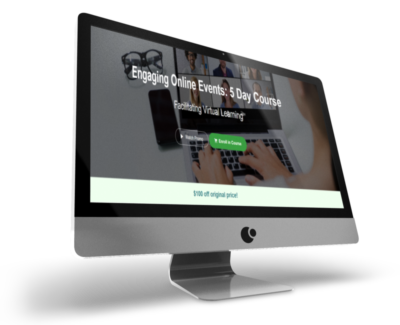 Turn your audience into participants!
Regular Quick Tips & Full Tutorials
I share quick tips and tutorials with you, saving you time and helping you create engaging online learning experiences! Keep following us on social media for regular quick tips, our videos for weekly insights and tutorials and our blogs to access added highlights! If you have not subscribed to our YouTube channel, we invite you to do this. It just lets you know when a new video is posted. Not all videos are included in blogs. However, our Blogs provide additional tips!
Author

Patricia Regier is the founder of Regier Educational Services. Expertise in helping facilitators engage the variety of learning types in your audience. Education includes a Master of Adult Education, a BA in Psychology, and twenty years experience developing and facilitating workplace, community and collaborative training. Learning and Development Consultant, Facilitator, and Master Virtual Producer. Utilizing teaching adults best practices, and innovative multi-media resources to emphasize your message.
Affiliate Links can be found under the description of the video on YouTube, or on our LINKS library page.
Want More Tips & Resources?
Join our email list, and gain access to downloads, resources and tools you can use through our secret and exclusive member web page. Get this free two-page download, packed with TIPS, when you join the email list.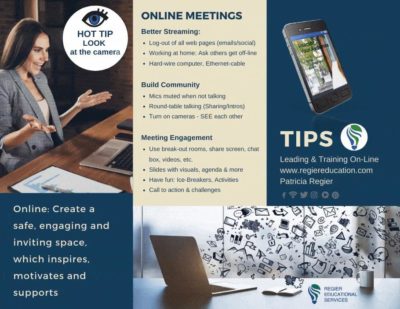 To request more information about learning and development opportunities or book Patricia as a speaker, please use the contact form below or email patricia@regiereducation.com
 Engage Your Audience