Working with Vendors or Clients 
Depending on your context, you may review this article based on the vendor/entrepreneur perspective or as the client who works with consultants, vendors, content creators and designers. You can use this to review your current checklist or onboarding process and when reviewing your contracts or agreements. Please share this with your clients/vendors as a discussion tool or quick tips for working with a vendor or consultant. This is NOT legal advice.
Tools of the Trade
Your agency, organization or company may use contracts. Some people like to have one or 2-page contracts or lengthy ones that a lawyer has fully vetted. What I share with you today can be part of an agreement and communication tool to set up your experience and project for success. People don't read every email or remember everything from each meeting; an agreement communication tool can be part of building a collaborative working partnership. Firstly, assume the best about people and consider including these aspects to avoid missteps in the collaborative working experience.
Items I expand on in my video:
Communication
Communication Tools or Agreement
Collaborate to create together or be open to making changes
Assume the best, and plan for the worst to avoid problems
A screening process that weeds out Red Flags
Agreements help avoid frustrations later on.
Be kind, gracious, professional and friendly in your communications (occasionally, you may need to be direct, but this can still be kind and professional).
Diversity of Communication – emails, phone calls (Do you have their phone number?), face-to-face virtually or onsite, or texts – you decide together.
Easy-to-read and understand communication tools
Services Included – clarity of what you can offer or what may be added or not as part of the initial quote.
Unforeseen Circumstances
What happens when the client has delays or unforeseen circumstances? What happens if the consultant or vendor becomes ill?
Is there room for extensions? Sometimes there are a lot of variables that no one person can control.
Response Expectations – a few days, a week, and what covers your due diligence to ensure communications are being received?
Regular Touch Points
People are Busy – again, assume the best from people.
Staff Changes – consider this in your agreements, as it does happen. How will you share the expectations established at the beginning of the project?
What happens if the platform you are working on (client's control) is interrupted?
Be Specific
Be specific: Number of slides, number of modules, how many hours worked, i.e. How long the course should be for a learner to experience, etc. (depending on your context).
What happens when there are additional requests? i.e. the client sent a recording you need to edit, but that was not part of the quote.
Clarify the parameters for how many edits or changes and what happens when additional 'asks' occur.
Track Your Time
Clear Timelines & Expectations
Be clear on the goals & outcomes.
Trust
Prompt Payments – this is being kind to the vendor/consultant because they don't always get regular paychecks and demonstrate respecting their time and efforts.
Build Trust – this is important at the beginning of working together and throughout the process.
Payment Schedule – and arranging how payments are received is helpful to get out of the way so that the work and relationships can be the focus.
No one likes to chase for communications, tools needed, access to platforms or payments.
Mutual respect is a must!
Wrap-up
Wrap-up Tasks – don't forget this step. Sending final files, etc. – where are you sending files, especially if they are large files?
Licensing of images and content created.
Final Meeting – this is a helpful part of the process for the client and vendor.
Testimonial – this is an excellent way to say thank you to the vendor/consultant for all their hard work.
Expectation to be added to your email list and your website?
Intellectual Property & Copyright
Passwords – Clients may change them after the project, or can ongoing support be offered?
Regular updates to your contracts and communication tools can cover your learning, through experience.
Bonus Perks – will you add these or surprise your clients as a thank-you gift
Signatures and initials on each page
What do you think?
Learn from your experiences to continually improve the process for yourself and your clients or vendors. Being easy to work with is essential! I have found that communication tools can support the process of collaboration! What do you think? Please add your comments and additional tips under the video on YouTube. This blog and video/podcast does not include everything from every service I provide. Is there something missing that you think I should have covered? Thank you for reading, and watching or listening.
Video & Podcast
Hot Bonus Tip  
I try to learn from my missteps to continue improving the process for myself and my clients. Update your agreements along the way as you learn something you want to include NEXT TIME so you don't forget. Assume the best, and prepare to avoid the worst-case scenarios from happening.
UPCOMING VIDEOS & BLOGS:  Zoom Updates, The OWL, MS Teams, More Learning Experience Design Tips, reflections from I4PL conference & More!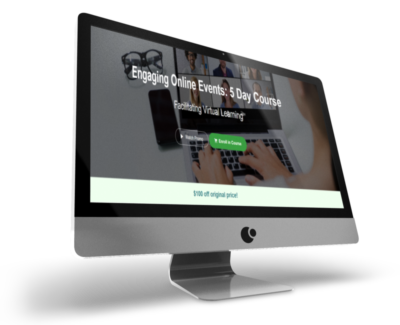 Turn your audience into participants!
Author

Patricia Regier, MEd is the Online Expert who's built a career on the belief that training and online learning doesn't have to be boring. As Owner of Regier Educational Services and with a Master of Adult Education, Patricia is known for making her audience feel empowered, engaged, courageous and confident. Her debut book and keynote, The Online Shift teaches newcomers to the online space and seasoned professionals alike how to optimize their online presence and maximize engagement. She's tried, tested and refined using the latest behavioral science, research and psychology to make sure your next online experience is a hit!
To book Patricia as a speaker or consultant:
Please use the button above or email patricia@regiereducation.com