How to Record Yourself in PowerPoint
Did you know that you could record yourself in PowerPoint (PPT)? This is a great way to create a tutorial or training materials for a self-directed course. This file can be uploaded to YouTube, Vimeo or your learning management system. See the video tutorial, screenshots with bonus information, podcast and other ways you can create training content in this blog post. The video tutorial will give you a full tour of how to record in PowerPoint, including bonus tips. However, these screenshots can remind you of the mouse clicks step-by-step guide.
PowerPoint Features
PowerPoint has a lot more features that you may not be aware of. Recording in Powerpoint is just one way to build on your knowledge. Check out these PPT options to build in a hyperlink skip logic power, or add an interactive element for live learning experiences by inserting Mentimeter .
Learning & Development
Recording in PowerPoint is an easy way to create content, but there are other options. If you use iSpring you can add interactive elements in PowerPoint too. If you use another course development platform such as Articulate, StoryLine or others, the recording you created in PPT could also be used as a module. Sometimes I use the audio from a PowerPoint recording and overlay other video clips or visuals. (I have used Lumen5 and CyberLink PowerDirector to create video modules).  You can also use Zoom and Canva to record modules for courses and workplace training materials. Recording tutorials on my YouTube channel.
If you want to know more
Connect with me if you are interested in levelling up or rejuvenating your training. I can offer a 90-minute or two-hour workshop (virtual or in-person), or customize a learning experience and program for your team. If you want to access some of my insights quickly, bonus options are to check out my book, The Online Shift with 101 Pro Tips and/or my online course first. I can also consult on your training materials development or updates if you want to work with me directly. Book a meeting to discuss options with this calendar link, or send me an email directly:  https://calendly.com/patriciaregier/discuss-services
Let me know if you have a topic that you would like featured in a future blog, video and podcast.
Recording Content
 Hot Bonus Tip:
There are various ways you can layer engagement into your self-directed training materials. Get creative and keep exploring options in the platforms and tools you use. Plus remember that technology is ever-changing, and that is good news. If a platform couldn't do something in the past, it doesn't mean that is still the case.
UPCOMING VIDEOS & BLOGS: iSpring Course Authoring Platform Series, WebEx, Zoom, MS Teams, Learning Experience Design Tips, reflections from I4PL conference & More!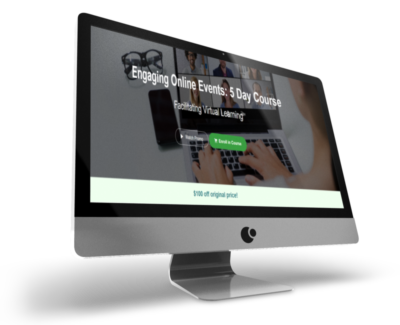 Turn your audience into participants!
Author

Patricia Regier, MEd is the Online Expert who's built a career on the belief that training and online learning doesn't have to be boring. As Owner of Regier Educational Services and with a Master of Adult Education, Patricia is known for making her audience feel empowered, engaged, courageous and confident. Her debut book and keynote, The Online Shift teaches newcomers to the online space and seasoned professionals alike how to optimize their online presence and maximize engagement. She's tried, tested and refined using the latest behavioral science, research and psychology to make sure your next online experience is a hit!
Complimentary 15-Minute Meeting
To book Patricia as a speaker or consultant:
Please use the button above or email patricia@regiereducation.com