Is this A new term?
Everything is figureoutable! This is one of my beliefs, and it often drives finding solutions to problems, which turn into videos and posts. It may not be a new term, I have heard others use it as well, yet it's not in the dictionary.
Solutions
My sister messaged me the other day, looking for a solution to her problem in Canva.  I responded how I often do by jumping into action. When I get a question, I look for an answer, if I don't already have one. If there is a problem, I find a solution. If something is not working, I see a workaround. This time, as it often does, it became a quick tutorial (video below). And this video also happens to be the first YouTube Summer Short, for season three.
Figureoutable
My eldest daughter has been having computer issues this week, which stressed them out. Because of their neurodiversity, we have to ensure that we support them in specific ways. The advice I shared this time was that "Everything is figureoutable and we will figure it out!" If they decide to make changes on their computer, and it's not the correct fix, that is OK. I told them, "Any choice they make is never wrong; it's either learning or the solution."  Often our learning leads to the solution at some point, because we find out what doesn't work first.
Figuring it out
These two experiences and stories I share with you, got me thinking for this week's blog. My belief in 'Everything is figureoutable' drives my tenacity for solving any problem. It makes me flexible in my responses, creative in my thinking and innovative when curiosity is the only option. Critical thinking is essential, to asking questions and experimenting when trying new things. When I find solutions to problems, I often share them with you!
Segway transition 

A metaphor to describe our figureoutable belief, is that we all may like shorts of different lengths and colours – in fact, I often like the short pants style called capris. Still, I wouldn't know that is the best fit for me if I had not tried different options, which is a segway to lead me into the following announcement for this summer's blogs, videos and posts. Hot bonus tip: Shorts or short video content is a great way to give your team or clients information that is retainable and applicable for just-in-time problems.

Summer Shorts Season 3 Begins
Today is the first day of summer, and we begin season three of summer shorts. Shorts are under one-minute videos on YouTube. My short videos sometimes make their way on our Instagram and TikTok channels, but not always. Especially in the summer, people may want to slow down and not read as much work-related content. For this reason, the summer shorts seasons of videos, containing content with less than a one-minute video and some quick highlights in the blog post, is for your easy reading.
You can expect next
Summer Reading Best tips
Quick tutorials & tips answer your questions
Hot trends to know about
And some longer videos too, such as about The OWL, hybrid events and meetings equipment
You can be part of this summer's series.
What do you want to learn? What would you like me to create short or longer videos about? Are there any questions that you would like answers to? You can have your say here. You can also email me directly to ask your question for a future video and post. And, click the links (embedded in this sentence) to see what summer shorts videos were in season one and season two. Enjoy your summer and this season's summer shorts video series and posts! Thank you.
Summer Shorts Season 3 Begins
Hot Bonus Tip  
We can expect that sometimes tech will fail and problems will arise that need solutions, and we can get excited about all the learning we can accomplish by finding solutions.
UPCOMING VIDEOS & BLOGS:  Summer Shorts Series, Summer Reading Tips, Hot Tech Trends in Learning & Development, Zoom Updates, The OWL, MS Teams, More Learning Experience Design Tips, reflections from I4PL conference & More!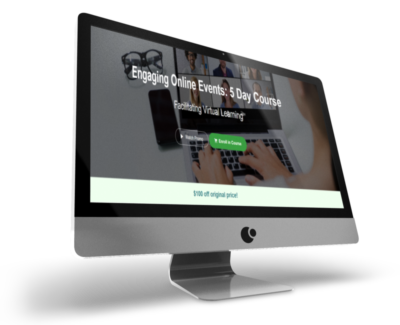 Turn your audience into participants!
Author

Patricia Regier, MEd is the Online Expert who's built a career on the belief that training and online learning doesn't have to be boring. As Owner of Regier Educational Services and with a Master of Adult Education, Patricia is known for making her audience feel empowered, engaged, courageous and confident. Her debut book and keynote, The Online Shift teaches newcomers to the online space and seasoned professionals alike how to optimize their online presence and maximize engagement. She's tried, tested and refined using the latest behavioral science, research and psychology to make sure your next online experience is a hit!
To book Patricia as a speaker or consultant:
Please use the button above or email patricia@regiereducation.com