Update & Value
It's been a busy season! I will give you a brief update and share some highlights from the recent I4PL conference. Plus, don't miss all the videos I have posted while not writing, linked below. My goal is always to give you value when you pause to read, watch or listen – and then do.
Where Have I Been?
This has been an extra busy season, and I have never taken such a long break from writing blogs over these past 6.5 years! I'm sorry I have been unable to be as regular for the blogs recently. My goal is to write once a month for a little while.
My focus has been on client work (in particular, a fantastic course) and a new contract (very exciting). Plus, I have had a couple of speaking gigs to get ready for at two conferences in November and December. Since it's been extra busy, I also took time to expand my team for in-house work and curate solid referral options.
My heart is overflowing with gratitude!

My heart is grateful for so many experiences these past couple of months.  At the recent I4PL conference, someone thanked me for writing my book, and he said that he uses it all the time and recommends it; he finds it super practical (thank you!!). A few other people stopped me after my workshop and asked me to sign their copies of my book and take pictures with me – wow, that was a memorable experience! Plus, I was thrilled to congratulate the person who won the prize I donated to the I4PL conference. I share this not to brag but to extend my thanks and share these gratitude moments!!

Regular Content You Can Check Out
Even though it's been an extra busy season, I have still been able to share a video almost every week on YouTube; if you subscribe there, you won't miss the tips and tutorials. As always, when I discover something, say WOW when learning something new or figure something out that I think you would want to know; those videos are created to add value to your Learning and development work.
What types of videos and blogs/articles are you interested in? You can take this survey to tell me more or email me!
Future Exciting Videos and Blogs
However, even though I have not had time to edit yet, I have filmed for an upcoming series on Facilitator Self-Care (stay tuned!) and, behind the scenes, getting ready for a workshop, and using The OWL (hybrid tool). These videos will become blogs and articles, plus podcasts. By the way, the topics for my two November and December (CAPS) workshops are' Engaging the diversity in your learners' and 'The learning experience journey in a Hybrid era'. These may become blogs/articles as well.  I have summary highlights from the November I4PL conference that I will share in this post. 
Your added value today from the I4PL conference:

I4PL , stands for the Institute for Performance & Learning.
Elliott Masie (First Keynote)
"We are only effective as facilitators/workplace trainers if we are also a learner." Elliott Masie
Look out for Multimodal Conversation Learning and the future of AI being incorporated in onboarding in the workplace.
Videos should be 3-4 minutes, with value learning.
People like active learning and may even skip to a quiz instead of sitting through e-learning.
eLearning was never intended as a stand-alone option for learning in the workplace.
With the trend of career disruptions and employee turnover, onboarding should happen before being hired.
Build skills in employees beyond their current job or role.
Focus on everyday learning.
Other highlights
"Every solution brings new problems and challenges." Juan Naranjo
Improve and warm-up activities can help learners prepare to learn and be present in the moment. Jason & Moe, Shift Learning
Create safety and curiosity, not judgment. Jason & Moe, Shift Learning
Consider the diversity (including neurodiversity) of learners in your group to intentionally facilitate participation. (My workshop)
Need to work from a place of purpose. Betsy Allen Manning
Videos you may have missed:
Plus some fun SHORTS (including clips from the vault):
https://www.youtube.com/@PatriciaRegier/shorts
Hot Bonus Tips  
Always be curious, and don't be afraid to click around and explore; you will discover something new!
When the workload shifts and it's a season of transition, sometimes we can't do it all or keep going the same way we used to. Giving yourself time and grace during these seasons of change is essential!
UPCOMING VIDEOS & BLOGS:  More Book Reviews, Hot Tech Trends in Learning and Development, Zoom Updates, The OWL, MS Teams, More Learning Experience Design Tips, and more!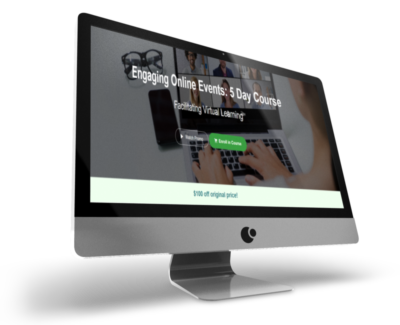 Turn your audience into participants!
Author

Patricia Regier, MEd is the Online Expert who's built a career on the belief that training and online learning doesn't have to be boring. As Owner of Regier Educational Services and with a Master of Adult Education, Patricia is known for making her audience feel empowered, engaged, courageous and confident. Her debut book and keynote, The Online Shift teaches newcomers to the online space and seasoned professionals alike how to optimize their online presence and maximize engagement. She's tried, tested and refined using the latest behavioral science, research and psychology to make sure your next online experience is a hit!
To book Patricia as a speaker or consultant:
Please use the button above or email patricia@regiereducation.com